This post may contain affiliate links, which means if you click through and purchase something using my links, I receive a small commission. You can click here to read my disclosure policy ? Thank you!
In honor of Meatless Monday, today we're highlighting one of the cheaper ways to eat: eating vegetarian! If you've ever wanted to try vegetarian food but assumed it was boring or bland, think again! Not only can eating vegetarian really save you money, but it's a fun way to switch up your dinner meals if you primarily eat meat.
As a vegetarian, I can personally attest vegetarian food is delicious, filling and, yes, cheap! As long as you buy natural ingredients and not artificial ingredients frequently, you can save money and eat well.
Do you eat vegetarian meals, and if so, which recipes are your favorite?
30 Vegetarian Dinners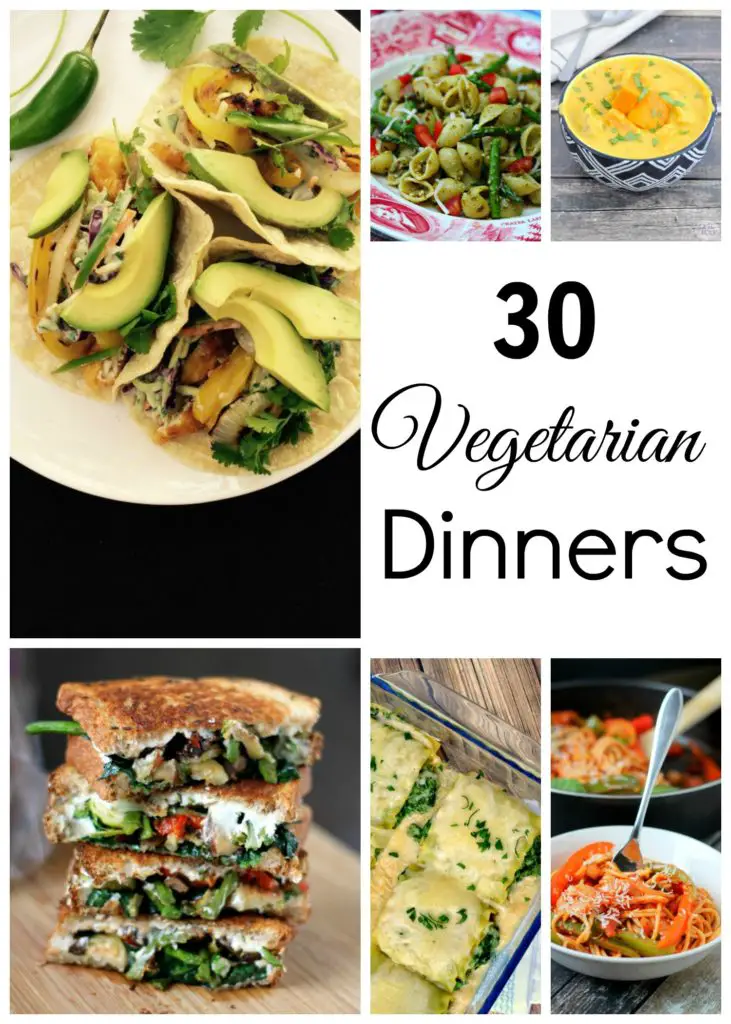 Spinach Artichoke Lasagna ­ A lightened up version of a traditional Italian classic.
Pesto Pasta with Asparagus ­ Adding sun­dried tomatoes, pesto and asparagus will transform your favorite pasta into a hearty meal.
Spaghetti with Peppers and Onions ­ Toss in a few unexpected ingredients to this kitchen staple.
Zucchini Lasagna ­ Eliminate the pasta and replace with extra portions of vegetables to make your dinner extra healthy (and delicious!)
Mushroom and Artichoke Linguine with Creamy Tomato Sauce ­ Meaty mushrooms add heartiness to a creamy pasta.
Feta and Spinach Macaroni and Cheese ­ A grown­up version of a childhood favorite.
No Boil Crockpot Baked Ziti ­ Super quick meets super tasty!
Roasted Vegetable Grilled Cheese ­ Kick the classic up a notch by adding some delicious vegetables and goat cheese.
Mediterranean Grilled Cheese ­ Bringing Greek flavors to your sandwich plate, ooey gooey deliciousness.
Paleo Potato Soup ­ Curry and coconut milk bring Thai flavors to the dinner table.
Asparagus Orzo Soup ­ Bring fresh flavors to the lightened up dinner table
Basil Gnocchi Soup ­ Easy to prepare and and sure to please!
Vegetarian Crockpot Chili with Bulgur Wheat ­ Using your crockpot will help take the stress out of dinnertime planning.
Quinoa and Mushroom Vegetarian Chili ­ Creating a filling chili without meat can be hard to do, but this dish accomplishes it.
Southwestern Salad ­ Bright colors and bold flavors combined with your own homemade dressing.
Apple Salad with Lemon Vinaigrette ­ A quick, light dinner salad with a tangy homemade dressing
Roasted Sweet Potato Taco Salad with Avocado Creme ­ Don't give up your south­of­the­border favorite, just switch it up with this meatless substitute.
Chili Relleno Cups ­ Homemade crust with all the heat of your favorite chilies.
Mexican Vegetarian Casserole ­ From frozen spices to your dinner table in no time flat!
Vegan Sweet Potato and Black Bean Burrito ­ Don't compromise taste when going meatless, try this delicious protein­packed burrito.
Crockpot Layered Bean Burritos ­ Did you know you can make burritos in the crockpot?  Now you do!
Vegan Fishless Tacos with Cilantro Lime Broccoli Slaw ­ No fish, no problem!  Enjoy all of your favorite Baja flavors without compromising your diet.
Avocado, Cilantro, and Lime Farro Salad ­ Have you added farro to your menu yet?  Start here!
Quinoa Stuffed Peppers ­ Peppers stuffed full of delicious vegetables and whole grains, yum.

Sweet Potato Frittata ­ Adding sweet potatoes to a classic egg dish adds extra nutrition and deliciousness.
Stovetop Pizza ­ Did you know you could make pizza without an oven?  Me either.
Vegan Mushroom ­Tofu Lettuce Wraps with Peanuts and Cilantro ­ Asian flavors mingle to create a delicious Vegan main dish
Healthy Veggie Fried Rice ­ Weight Watchers and waistline friendly
Red Lentil Curry with Basmati Rice ­ Customize your  favorite vegetables to make this dish one of a kind.
Barley and Lentil Casserole ­ Have you tried lentils (or barley) yet?  Today's the day!