This post may contain affiliate links, which means if you click through and purchase something using my links, I receive a small commission. You can click here to read my disclosure policy ? Thank you!
Did you know that eating vegetarian meals can save $750 a year? The study, which you can read more about here, followed a full, year-long vegetarian meal plan, but many of us wouldn't be able to live vegetarian 365 days a year. I know my husband certainly would miss bacon after a while!
That said, wouldn't saving a few hundred dollars a year by going meatless most or some days out of the week be great? Best of all, I bet many of our favorite meals are actually meatless, like macaroni and cheese, veggie lasagna, cheese enchiladas, etc.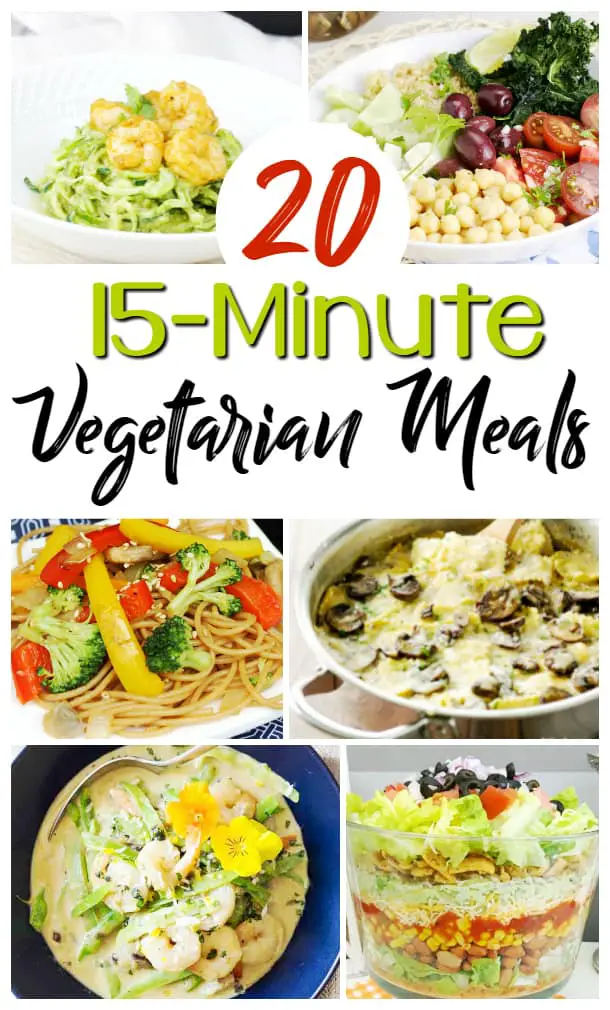 One thing I always struggle with though is time: time to cook delicious meals. I'm actually a vegetarian, and yet even I have trouble finding quick, delicious meals! Until now 🙂
These 20 vegetarian meals are quick to make (15 minutes or less!) and delicious. Some of my favorite meals on this list? Happy Herbivore's Tuna Salad and Black Bean Burgers – simple to make, leaves lots of leftovers, and tasty!
Looking for more vegetarian dinner meals? Check out 30 Delicious and Frugal Vegetarian Dinners here!
Bacon is Magic – Spagheti Aglio Olio
Kicking it With Kelly – Easy Vegetable Lo Mein
Happy Herbivore – "Tuna" Salad
Happy Herbivore – Quick Black Bean Burgers
Happy Foods Tube – 10 Minute Baked Bean Pasta and Sauce
Amanda's Cookin' – Mushroom Ravioli
Our Table For Seven – Creamy Tortellini Skillet
The Foodolic – Greek Buddha Bowl
DIY Candy – Cauliflower Fried Rice
Dancing Through the Rain – Taco Salad with Fritos
I Was Born to Cook – Bean and Cheese Quesadilla
Happy Herbivore – Tofu Scramble
Dinner Mom – Easy Zucchini Noodle Alfredo
Wholesome Yum – Cauliflower Mac and Cheese
Salt and Lavender – Garlic Lime Cashew Zoodles
Pinch of Yum – Vegetable Lo Mein
Jessica in the Kitchen – Mediterranean Chickpea Salad
The Stay at Home Chef – Penne Rosa
My Fussy Eater – Stovetop Broccoli Mac and Cheese
Delish – Tortellini with Peas
I Was Born to Cook – Gnocchi with Mascarpone and Gorgonzola Sauce
What are your favorite vegetarian meals? Any tasty suggestions?