This post may contain affiliate links, which means if you click through and purchase something using my links, I receive a small commission. You can click here to read my disclosure policy ? Thank you!
This time of year in Phoenix, AZ is perfect: temperatures in the 60s and 70s, the patios are open, and hey, you can still even go swimming if you really want to. Phoenix is so nice this time of the year, the Arizona Office of Tourism has spent the last two years marketing Arizona in Chicago by placing giant sunglasses and flip-flops around the city.
From November to mid-March is the perfect time to visit Phoenix. While the hotels and resorts may be a little more expensive in the winter than they are in the summer, you can still find a lot of great deals, even around the holidays! Many of our winter visitors own their own (second) homes here, so even in the busy wintertime, the hotels and resorts still try to lure guests with terrific specials.
If you are planning to visit Phoenix in the winter, I've outlined some of the best things winter activities to do in Phoenix. Some of them cost money (Cardinals' games!), but some are dirt cheap (free!).
Best yet? You don't have to deal with any snow or sub-zero temperatures! Without further ado, some of the best winter activities in Phoenix!
Winter Activities in Phoenix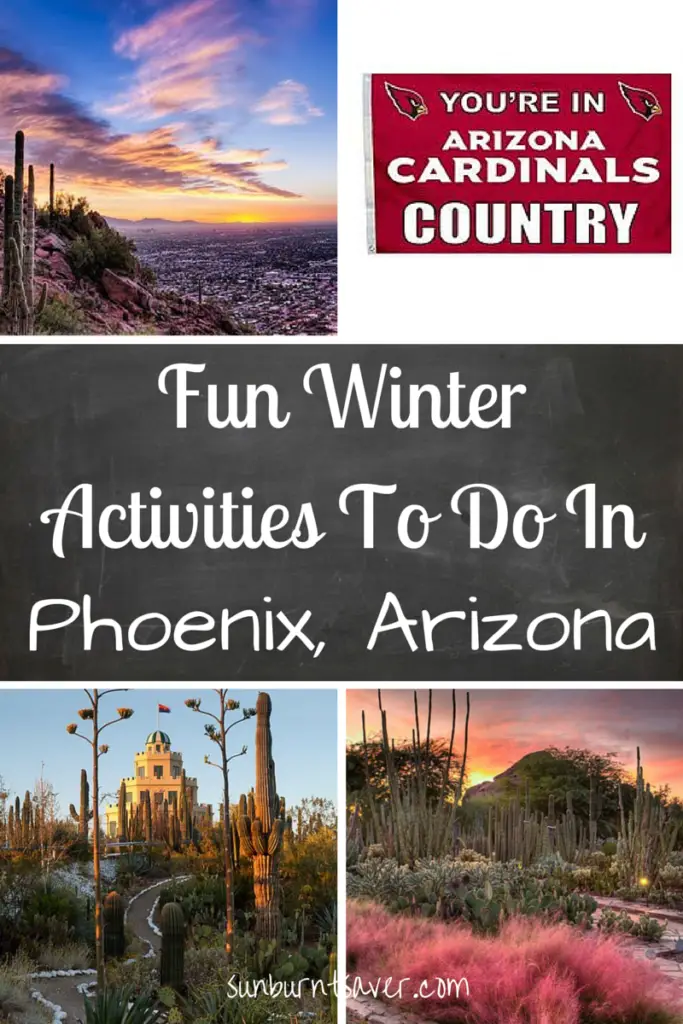 References from top to bottom, left to right.
No trip to Phoenix is complete without hiking some mountain: South Mountain, Camelback (the one in the picture), Piestewa Peak, Echo Canyon… the list goes on and on. Sure, the trails can be a little crowded due to the influx of winter visitors, but you cannot beat the temperature.
Pro tip: Go hiking before sunset and time your hike so that you reach the summit just as the sun is setting. There are very few things in life as beautiful as an Arizona sunset, and seeing one from the top of a beautiful mountain like Camelback is a must-do!
A little pricey, but well worth it if you enjoy football: a trip to see the Cardinals play! Technically, the Cardinals stadium is in Glendale, but you'll think it's Phoenix if you're not from here. 😉 You don't even have to have a Cardinals banner!
Did you know Phoenix has a castle? A desert castle, at that! Tovrea Castle is a gem in the desert of Phoenix, one that if you have time, you should definitely visit!
If you're interested in taking a tour, the link to days, times, and cost can be found here.
 
Last but certainly not least, one of my favorite places to visit in the winter is the Desert Botanical Gardens. Not only are the Gardens beautiful, but they really showcase the desert beauty found in the Southwest. You wouldn't think cacti (the plural of cactus) could be beautiful, but they really are! A bit pricey, but well worth a visit.
Have you ever visited Phoenix, and if so, what did you like the most or least about it? What activities did you do while you were here?