This post may contain affiliate links, which means if you click through and purchase something using my links, I receive a small commission. You can click here to read my disclosure policy ? Thank you!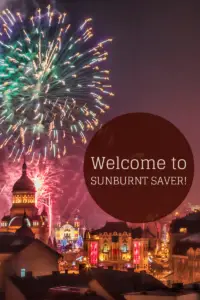 Welcome to the blog! This is my very first post for this blog and, while I've had others of varying success in the past, this is my first blog devoted to the 'grown up' world. Yup, I'm all finished with grad school and now happily ensconced in my first full-time job!
So why the name Sunburnt Saver? Easy part out of the way: I live in the awesome state of Arizona, Phoenix to be specific. If you've ever experienced Phoenix, you know that we get sunshine over 300 days of the year – yeah, almost the entire year. I also happen to have Irish ancestry. Put that together, and you have me: someone who burns practically anytime she goes outside. And yes, I use sunscreen! Actually, it doesn't even matter if I'm in Phoenix. I've sunburned in Portland, Oregon and in Dublin, Ireland. Anywhere there's sun, I'll inevitably get a tinge of pink on my nose.
As for the 'Saver' part of the blog's name, I am devoted to saving, but I wasn't always this way. It wasn't until I got my first real job and really understood what it meant to have savings, watch it grow, and have the ability to pay for cool things, that I appreciated saving. I started to loathe parting with my money, even if it was for worthy stuff, like replacing my worn work clothes or visiting friends from college.
I decided I needed to prioritize and, once I did that, I started having money for almost everything I needed or wanted: ability to pay bills and student loans, plus have savings, and save for 'splurges' like new clothes or trips to visit friends.
However, I was annoyed that it took me so long to figure out how to save, budget, and prioritize my finances. Enter: this blog! I've been inspired by so many great personal finance blogs out there, particularly Common Sense Millennial, Savvy with Savings, and Making Sense of Cents, that I decided to share my experiences in saving and budgeting.
I call this blog my adventures in saving (and avoiding sunburns) because I'm nowhere near perfect about budgeting and saving. Example: I have a bunch of student loan debt. While I'm not one of those who regrets where I went to school, it's still a kick in the pants to realize I've been out of school for two years, and I haven't paid a cent back yet of my principle. Yes, I've been making all interest-only payments for the last two years. I'm not proud of that. That's something I plan on addressing and tackling in this blog.
Also, I have a lot to learn about financial planning. Now that I am amassing some small savings, eventually I'd like to invest in the stock market, maybe through mutual funds. I've done some research, but I hope to explore the stock market and options out there for investing, and discuss that here at Sunburnt Saver.
I hope you're interested in joining me on my adventures in saving, and let me know if you have any questions – about saving, budgeting, or even about Phoenix! If you'd like to learn more about the cast of characters here at SS, click here to go to my About page!