This post may contain affiliate links, which means if you click through and purchase something using my links, I receive a small commission. You can click here to read my disclosure policy ? Thank you!
Tell me if this sounds like you: you have an awesome holiday season, enjoying Thanksgiving, Christmas and any other holiday traditions with your family and friends, then January rolls around and you receive your credit card bill. It's higher than you expected and now you're stressed, wondering how you're going to pay off your credit card this month and pay all your other bills. You could pay half the bill, but then you're charged 19% (or higher!) interest on some credit cards…
That was the beginning of my 2017. Stressed and, worst of all, annoyed at my family for making me spend all that money on them. We know that's not fair – no one is actually making you spend all that money, and those feelings of stress and annoyance just make you mad at your family – which is a terrible way to feel after the holidays!
I told myself "no more" this holiday season and challenged myself to save money, enjoy time with my family, and not worry about being in debt January 2018.
Holiday Savings Challenge
Are you tired of feeling like the Grinch during the holiday season? You don't have to feel that way! Going over your budget and having a miserable January is not a default feeling after the holidays.
This is why I've created a free 5-day holiday savings challenge from now until before Christmas. It's a free, 5 day challenge delivered to your email inbox every day designed to get you feeling like Santa, not the Grinch, during the holidays.
Curious about what you'll find in the challenge? This isn't your typical "don't get anyone gifts and hide in the woods from your family and friends" – that's not realistic! As much as people tell us not to buy family/friends gifts, in some families that's just not possible.
But that's okay! With this holiday savings challenge, we'll cover:
Setting a realistic holiday budget
Getting over holiday guilt
Figuring out tricky co-worker gift-giving
And more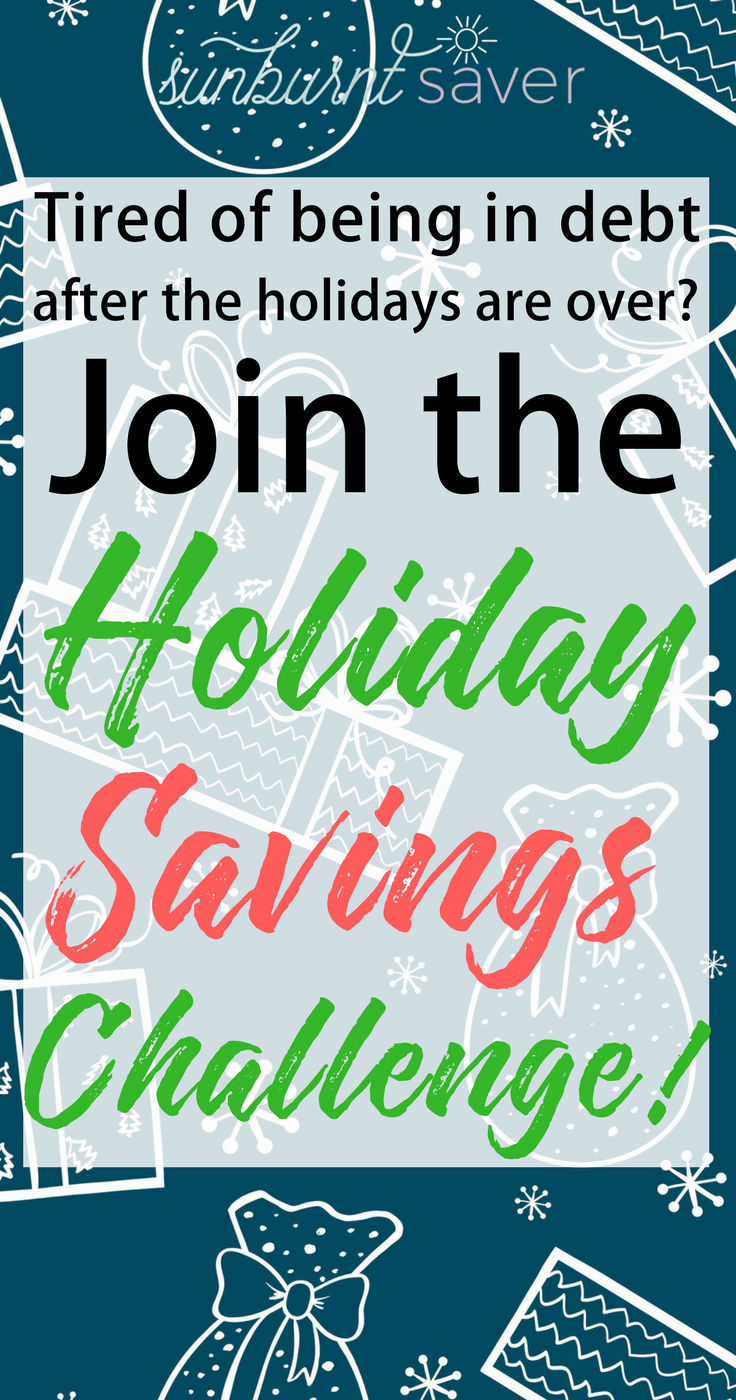 Are You In?
Sign up below to join me on this Holiday Savings Challenge! Once you receive the first email, please email me back and let me know why you signed up. Let me know what you want to learn from this free, 5-day challenge! I'd love to know what's going on in your life this holiday season 🙂
I'm so excited to see what we all accomplish – here's to the new year!