This post may contain affiliate links, which means if you click through and purchase something using my links, I receive a small commission. You can click here to read my disclosure policy ? Thank you!
"Is that guy real or fake?" I asked my husband nervously on one of my first visits to Vegas. "He's real!" my husband said, laughing. He had been to Vegas many times before me, but this was my first time seeing a guy, painted head to toe in gold, including his clothes! I had seen street performers before, but this guy had gone all out in painting himself, his clothes, and his props. As I stared, a curious tourist poked him in the nose – and he didn't move.
Then she stood in front of him, tried to take a selfie, and… he jumped to life a second after the flash went off, grabbed her camera, and held out his hand – he wanted a tip! Luckily, she was a good sport and gave him a few bucks in exchange for her cash. It was a great lesson to me – no selfies with street performers unless you want a tip! In fact, very little is free in Vegas – it was a great first night on the Strip to introduce me to one of my favorite places to travel: Las Vegas, Nevada!
Vegas can be insanely fun if you're into crowds of people, shows, entertainment, delicious food, and experiences you can get in very few places. Where else can you "visit" the Eiffel Tower, a pyramid, and a German beer hall all in one place? But Vegas is not a cheap city, and while people-watching is fun and free, eventually you're going to have to find a place to sleep, something to eat/drink, and ways to entertain yourself.
Here, I'll lay out what you can expect to spend in Vegas – from a $500 for two people budget to a $1000 for two people budget, for one weekend (2 nights) in Vegas. I won't cover the cost to get to Vegas – you might be able to drive depending on where you live, otherwise you'll have to factor in flights. Let me know what you think and tips you have in the comments!
Lodging in Vegas – $500 Budget
When I go to Vegas, I want to stay on the Strip – that's where the action is! But I don't want to pay a ton of money for that privilege. Luckily, you can stay on the Strip and not pay a ton for it – if you know the tricks.
No matter what your budget, lodging will probably be your biggest expense. The last time I went to Las Vegas, I split the cost with friends (3 girls in one room) and was able to stay in the Bellagio (on the Strip) for $300 for 3 nights. If you're not familiar with Vegas, this is pretty good for the Bellagio! (To jog your memory, the Bellagio was the hotel referenced in Ocean's 11!)
While I typically wouldn't stay at the Bellagio (there are cheaper rooms with just as great amenities on the Strip), we did end up getting a great deal. How did we do it?
Staying midweek – we stayed from Wednesday to Saturday. We still were able to have fun in the clubs on Thursday and Friday nights, and we avoided an expensive Saturday stay in the process.
Booking after major holidays – everyone likes to visit Vegas during the holidays, including New Year's Eve. Those are some of the most expensive times to stay on the Strip, so by staying during a fairly "dead" week, we saved a bunch of money!
Looking up deals online – There are many Vegas deals site. We were able to book rooms at the Bellagio and received a $75 room credit per room.
In this hypothetical budget, staying in Vegas for one weekend with a total $500 budget, you could stay at one of the following hotels depending on how much you want to splurge.
Lodging in Vegas – $1000 Budget
Got a little more money to spend and/or want to ball out like you're in The Hangover? Okay, you'll probably spend more than $1000 if you want to live a Hangover lifestyle, but you don't have to spend a ton to stay on the Strip! If your budget for a weekend in Vegas is $1000 for 2 people, here are some options for your budget:
Food in Vegas – $500 Budget
You can't go wrong with eating in Vegas. There are so many good places to eat there.
The last time I was in Vegas, I ended up spending $60 in food. The ways I saved money on food, even in Vegas, was by doing 3 things:
Splitting meals – I know, I know, I was in Vegas! A delicious place to eat lots of food! Before you get too upset, portions in Vegas (like portions in a lot of restaurants in the US) are big! And you can't bring home your leftovers, because the refrigerators in the Bellagio are stocked full of alcohol and mixers (and we were too afraid to move them lest we get charged a million dollars for raiding the mini-bar!) So I split most of my meals, saving me serious cash.
Using our room credit for the buffet – I really like the buffets in Vegas, but they can be pretty expensive. Luckily, we were able to use our room credit towards anything in the hotel, and instead of using it on drinks, we used it on buffets for 2 mornings (late breakfast/early lunch) that kept us going throughout the day.
If you only have $500 for two people/two nights in Vegas, here's how you can portion out your dinner budget. You can save money on breakfast/lunch by bringing your own snacks and eating light throughout the morning and afternoon. You probably won't be up too early anyway!
Food in Vegas – $1000 Budget
Got a little more cash to spend on food in Vegas? Then you're in for a treat! You're still on your own for breakfast and lunch, but get there early for these buffets and you can get by on a protein bar for breakfast.
Drinks in Vegas – $500 Budget
During my last Vegas trip, drinks were my biggest expensive (but I was there for celebrations, so that made sense!). I ended up spending $100 on drinks… and let's just say, it was worth it 🙂 I saved on drinks by:
Not paying any entrance fees into the clubs – some clubs let you in for free before 10 p.m., so we planned our club hopping around this. Paying a cover doesn't even get you free drinks in Vegas (unless, I suppose, you know someone), so it wasn't worth it to me to pay cover and then still pay for drinks.
Buying the opening round of drinks – the minute we got into the clubs, I was the first person buying the birthday girls a round of drinks. Getting it out of the way meant I was sober (enough) to a) remember buying drinks and b) counting out the correct tip. Everyone remembers who buys the first drink, but they may not remember the middle or last drinks of the night. Yes, this isn't really a money-saving tip, but maybe a friend-making tip! 🙂
Bringing cash – While this could be dangerous (it's hard to carry cash as a woman, because our dresses typically don't have pockets and sometimes clutches get lost…), I brought cash and carried it in a cross-body strap small purse. I was able to give the correct tip and keep track of how much I was spending all night. I didn't bring all my cash, but rather just $40, depending on where we were going.
Another way to save money in Vegas on drinks is to, of course, bring your own drinks and pre-game in the hotel. We had dinner plans almost every night before club hopping, so we didn't take advantage of that, but it's certainly an option if you want to save on pricey Vegas drinks!
Another way to save money on drinks is going off the Strip. You can find really great deals on drinks off the Strip, especially on Fremont Street. Fremont Street is another entertainment area just a few minutes from the Strip, and is definitely well worth a visit – both for drinks and for people-watching!
If you're bringing $500 for two people, two nights in Vegas, here's what your drinks budget could look like:
And more drink options in Vegas can be found here!
Drinks in Vegas – $1000 Budget
Want to spend a little more on drinks? You can do that, but make sure you're in it for the ambience, not necessarily the drinks themselves. Yes, some bartenders make amazing, fabulous and cool drinks, but at the end of the day: it's just alcohol. So keep that in mind 🙂
Also, this drink budget is just a guess of what you might drink in one weekend in Vegas! You might drink less, you might drink more. What I can tell you though is The Chandelier (in the Deluxe section below) is fancy but expensive AF. I went a few years ago and got a mixed drink there with some friends… I about passed out when they told me my drink (one drink!) was $20. And this was several years ago so it's only become more expensive!
All that said, ball out, ballers!
Shows and Clubs in Vegas – $500 Budget
Now that I've gotten older, I've gotten really into Vegas shows. Vegas has some super cool shows, including the Cirque de Soleil crew, plus artists (always rotating, but Lady Gaga has a residency there, as does Celine Dion!) and dance crews. Shows typically are pricey, so if you're not excited about going, there are plenty of other things to do, too!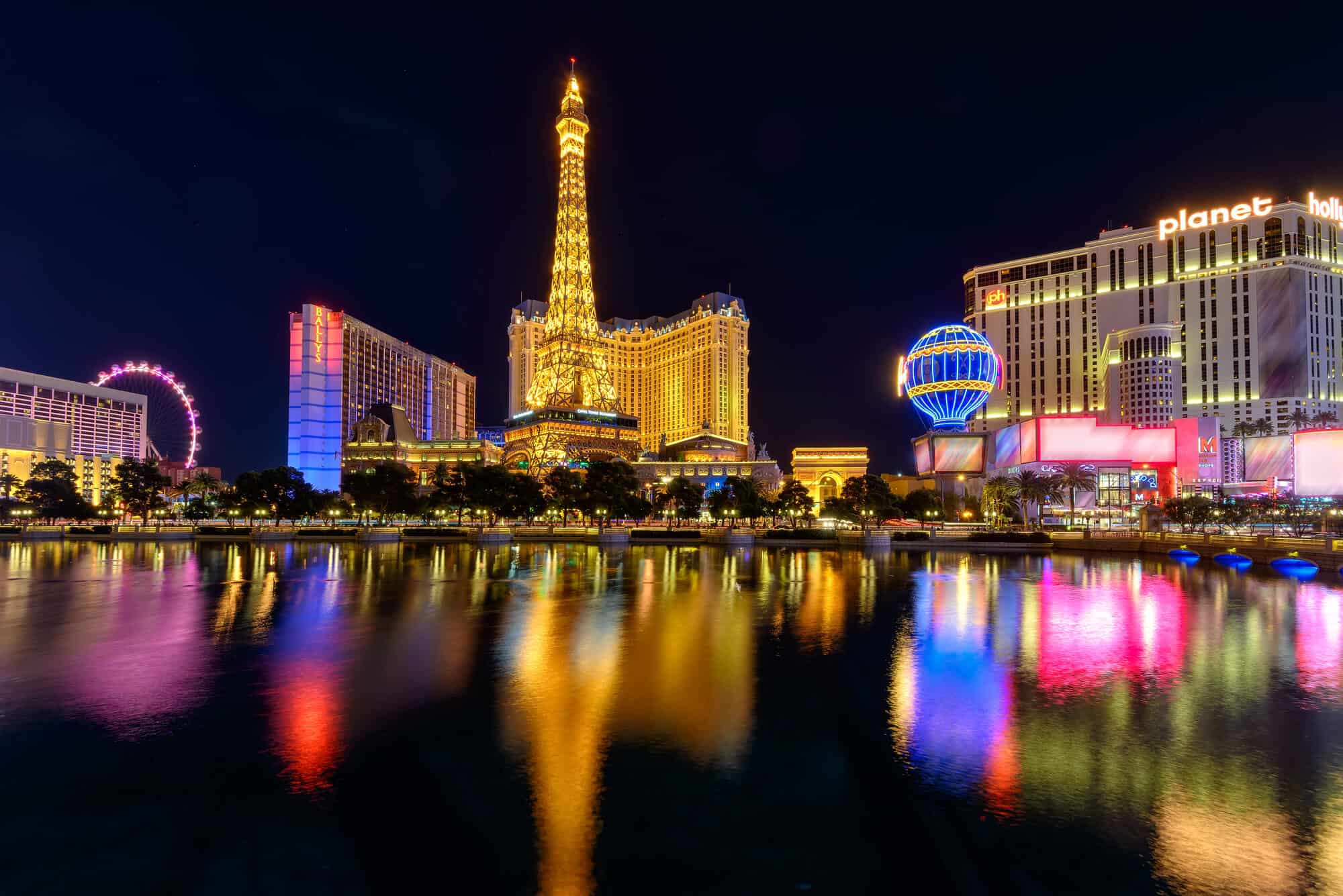 One thing you might be up for? Clubbing! Oh man, the clubs in Vegas… now, unfortunately, I have not clubbed enough in my life, so I cannot compare clubbing in Vegas to clubbing in NYC. If you've clubbed in NYC, please let me know in the comments!
Clubbing in Vegas is fun, but it can be expensive. If you're a guy, chances are it will be expensive. If you're a gal, it might be less expensive! The key is to dress up as much as you can – ladies, we know what this means! A night out in a Vegas club is not a sneakers night. While it can be expensive, going out in Vegas might be a once in a lifetime opportunity, so if you're up for it, you should do it!
Also, if you're lucky, you might see a celebrity in Vegas! I am absolutely terrible at recognizing famous people, but my friends have seen TV stars, music artists (no one super famous), and reality TV stars (different from real TV in my opinion…) If that's something that intrigues you, Vegas is a pretty good spot to see famous people out and about! (Have you seen famous people in Vegas? I would love to know who in the comments!)
*Most clubs charge a cover of about $30 men, $20 women. You can maybe find a little bit cheaper, $18-20/person on weekends for a lesser-known DJ.
Shows and Clubs in Vegas – $1000 Budget
I am already planning our next eventual trip to Vegas… because I'm planning on saving more and spending it on great shows! If you have $1000 for shows and/or clubs, here are some options for you: (clubs are the same cost as above)
The Total Budget Breakdown for a Weekend in Las Vegas
Curious to see what a total budget breakdown for two people, two nights in Vegas might look like if you have $500 to spend? Here's a hypothetical budget:
| | | | |
| --- | --- | --- | --- |
| | Budget | Mid | Deluxe |
| Hotel (Total for 2 Nights) | 82 | 136 | 174 |
| Food | 72 | 82 | 92 |
| Drinks | 50 | 55 | 60 |
| Shows | 62 | 88 | 98 |
| Clubs | 50 | 50 | 50 |
| Transportation | 40 | 57 | 57 |
| Total Cost | 152 | 195 | 205 |
| | | | (Without a club, total is $481 for Deluxe. I would go to a no-cover lounge instead :)) |
Got a little more to spend? Here's a hypothetical budget breakdown for $1000, two people, two nights in Vegas:
| | | | |
| --- | --- | --- | --- |
| | Budget | Mid | Deluxe |
| Hotel (2 Nights) | 186 | 288 | 328 |
| Food | 158 | 173 | 200 |
| Drinks | 100 | 110 | 115 |
| Shows | 126 | 180 | 200 |
| Clubs | 50 | 50 | 50 |
| Transportation | 71 | 72 | 105 |
| Total Cost | 247 | 302 | 355 |
During my last Vegas trip, I ended up spending a total of $495 on my 3 day, 3 night Vegas trip, which was $5 under my set budget. I also ended up splitting a lot of things with 3 other people, including food and lodging, so that definitely helped.
However, even though it seems like you have to bring a ton of money to Vegas, you actually don't! It's possible to have a great time in Las Vegas without spending a ton of cash. Of course, if you don't have $500 to spend, don't put this on your credit card, that's silly. Save up if you really want to visit Vegas, but don't think it's impossible to have a good time for under $1000.
Just remember: the people who like statues are probably real and you should definitely tip them if you take a photo!
Have you ever been to Vegas, and how do you try to save money while you're on the Strip?