This post may contain affiliate links, which means if you click through and purchase something using my links, I receive a small commission. You can click here to read my disclosure policy ? Thank you!
Remember how I mentioned during my last Weekly Update that I was going to do my taxes? Well, that went spectacularly. And when I say "spectacularly", I actually mean it went horribly.
I did them, and I did them right, but my plan really backfired on me because I ended up owing both the state and the federal government money (a few hundred dollars total). So how did it backfire on me exactly? I made a couple mistakes… namely, I believed the hype that owing the government was better than getting a large refund back. Here's a list of mistakes I made this year, in hopes that you won't make them (and I definitely won't in the future!)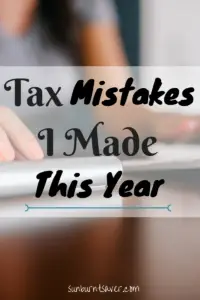 Mistake 1: I Didn't Want to Owe Money
Not owing money to the IRS is good, right? Yes, I thought so too. Last year, I received $900 back from the IRS, and owed around $30 to the state of Arizona. Not bad, right? Right! But in my obsession to not be without my extra money year round, I did a couple of things foolishly.
This year, I vowed I would not receive any money from the government. After completing my 2013 taxes, I made the following mistakes:
Higher number of allowances (in my case, 3, versus the 1 I did in 2013) – meaning I would have less taken out per paycheck
Lower percentage deducted in state taxes
Fixing this mistake: Right after I completed my taxes this weekend, I went into work and reduced the number of allowances I take, and increased how much the state gets in a percent of my pay.
If you work for an organization that takes out taxes for you, this is a really simple step! Contact your HR liaison and ask them about the forms you need to fill out, or some organizations just allow you to change your tax info via their secure online portals.
Mistake #2: Not Re-Evaluating How Much I Was Having Taken Out
I conveniently forgot about the raise I got halfway throughout the year and consequently did not change my withholding amount. If you've gone through anything major throughout the year (new baby, new marriage, divorce, or even if you just received a cost-of-living adjustment), review your W-4 info.
The IRS has a handy withholding calculator and, while it's a little complicated, as long as you have your pay stubs or last year's income tax return, it won't take you very long.
Fixing this mistake: Review, review, review!! I already know I'll have some major changes to my tax info coming up over the next year: the wedding and being married! Even if you're not going through any major changes, schedule a tax review twice a year: once at tax time (April) and once again at the end of the year (around December).
Put these review dates on your calendar: you may be surprised by how something little (like that cost of living adjustment) could affect what you need to withhold. Also, things happen unexpectedly. It's good to review at least twice a year, even if your life is seemingly very stable.
Mistake 3: Not Knowing Myself
In the end, it all comes down to perception. Like Anne mentioned in her comment on my last post, I actually somewhat like getting a little refund back. Or, rather, I don't ever like owing the government. While I'm not one of those people who thinks the government is doing everything wrong (I think they're just doing 50% of things wrong, haha), I just have an unpleasant reaction when I see I owe the government yet more money (because taxes withheld by my job and money I pay monthly for student loans isn't enough *shakes fist*).
When I think about how the average tax refund in America is $3,000, I realize the $900 I got back last year from the feds actually isn't that bad. I think I ended up using it on new tires (not all of it!), which I desperately needed, and I put the rest in my emergency fund.
To me, having to shell out more money (that I didn't plan for) hits a lot harder than getting a small (comparatively) refund back.
I have definitely learned my lesson this year, and I've fixed my mistakes by increasing withholding for the coming year. Who knows, with a marriage and all the tax implications that it brings, next year I still could owe money to both the state and federal government! But I'm hoping that, with the right planning early in the year, I'm able to mitigate some of that (and next year find a good accountant who can sort out our married taxes!)
So what about you – have you done your taxes yet, and do you owe anything, or are you receiving a refund? What has been your biggest refund check, and how close have you come to owing the government $0?