This post may contain affiliate links, which means if you click through and purchase something using my links, I receive a small commission. You can click here to read my disclosure policy ? Thank you!
As the Sunburnt Saver, I would be remiss to not discuss summer skin tips. However, since this blog is mostly about personal finance (and career development, and sometimes fun ;)), I struggled with tackling this topic in relation to saving money.
However, the bottom line on summer skin-saving tips is that protecting your skin now will save you a ton of money in the future. Read on for some summer skin-saving tips from the former sun-worshipper herself, me!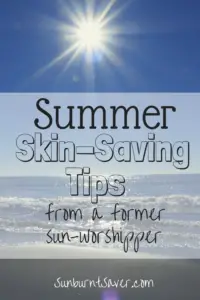 Taking Care of Your Skin Will Save You Money
Sunscreen costs money, but you know what costs even more money? Taking care of your skin after you've burned it a bunch of times.
I used to spend a ton of time in the sun. You can read more on my bio, but the short version is I grew up with a pool and my Mom's favorite vacation spot was southern California beaches. I would spend the majority of my summers in the pool or on the beach.
I vividly remember dark purple sunburns on my chest, nose, back of my shoulders, and top of my legs. I had bright red sunburns on the tops of my feet. I wasn't able to wear clothes sometimes because my sunburns were so bad (well, loose-fitting clothes, but even that hurt).
It was terrible, and my parents even warned me about my sun damage. Did I listen to them? No.
It wasn't until my early 20s when I started going to a dermatologist that my sun habits caught up with me. I had multiple moles removed, and some came back as "atypical" (not necessarily bad, but not great). Each visit cost around $250, before I had insurance. After insurance, visits still cost around $25 plus mole-removal fees, which vary. I also pay for lab tests.
I go to the dermatologist every 6 months, which means at least $50 a year goes to paying for past damage and bad choices. This does not include any money I have to pay for mole-removal or lab work.
Right now, I'm okay. I don't have skin cancer because I'm screened regularly. But you know what I do have? Scars from mole removals all over (luckily, most of them can be covered) and I'm already exhibiting sun damage on my face and chest. And yeah, I'm not even 30.
It makes that $10 or $20 bottle of sunscreen look not so bad now, huh?
The Basics of Keeping Yourself Covered
It really doesn't cost that much to keep yourself protected from the sun. Here are some ways to avoid damaging sun exposure:
Limit your time outside between the hours of 10 and 4 – The hottest time of the day is also the time when sun rays are the strongest, so minimize your time spent outside during those times
Apply sunscreen regularly – The American Academy of Dermatology recommends putting on one ounce of sunscreen 15 minutes before you go outside. 1 ounce is roughly 1 shot glass full, so imagine that while you're applying sunscreen. You can get away with a little less on your face (less area to cover), but be sure to really coat your nose and ears, which are the most exposed areas
SPF doesn't matter as much as re-application – You can wear SPF 15 or SPF 90, but you should still reapply often, particularly if you're sweating or getting in and out of the pool/beach
Cover up! – Cover your face with a hat (that covers your ears, too), wear loose-fitting clothes to cover your chest, and park yourself under an umbrella. It's not glamorous, and you won't get a "sun kissed tan", but those are so overrated anyway. Plus, that's what tinted tanning lotion is for!
Beware of Conflicting Advice
The advice I've just given you is not only based on facts and recommendations from dermatologists. It's also based on life experiences.
I still remember a disagreement I had with an acquaintance about sunscreen. He is vehemently against using sunscreen because he believes the ingredients in most sunscreens are poison. His way of avoiding sunburns? Not going outside.
Unless you're able to keep yourself indoors or shaded from the sun 100% of the time (maybe you work nights?), this is impractical. I'm not a doctor, and I don't know if some of the ingredients in commercial sunscreens are poisonous. One thing I am, though, is someone who has been affected by sun damage, and I personally can't recommend you avoid wearing sunscreen because of "what ifs."
Life is complicated and busy enough, and if the Banana Boat or whatever sunscreen you pick up at Target is what you and your family are going to wear, who am I to argue that you only buy this organic, short-shelf-life, very expensive sunscreen that you can only find online?
One thing I can recommend, if you have the time and are curious, is to check out the Environmental Working Group's 2015 Guide to Sunscreens. Some years, I'll follow this guide to the letter and only buy approved sunscreens. Other times, I buy whatever is on hand on Target.
What type of sunscreen you buy is up to your, your skin, and your budget. Personally, there are some EWG-approved sunscreens I can't wear because they make me break out. Others I don't buy because they're too expensive (and yes, I know I just talked about the expense of dermatologists!) That doesn't mean you don't wear sunscreen – the generic brands you find at Target or Walgreens, I've found, work just as well as the pricey organic stuff.
This year, I've actually splurged and bought Sephora's Sun Safety Kit. It comes with a bunch of different sunscreens, plus some lip treatment and moisturizers (a must in the dry desert climate of Phoenix, AZ!) As a regular sunscreen wearer, this is a splurge I know I'll get value out of, plus it's fine to mix up my routine every once in a while 🙂
Until I moved to a place that didn't get a lot of sunshine (the Pacific Northwest), I didn't realize that some people didn't have a regular sunscreen-application habit. Not all of you will need to apply sunscreen regularly, particularly during the winter months.
However, since summer is (un)officially here, I hope my summer skin-saving tips will come in handy for a lot of you. As the sun gets stronger and it stays lighter longer, really consider throwing on some sunscreen before you head out for the day. I promise it doesn't take very long – and it will save you time, heartache, and definitely money in the future!
What summer skin-saving tips do you have? Is there anything I missed that people should do?
Save