This post may contain affiliate links, which means if you click through and purchase something using my links, I receive a small commission. You can click here to read my disclosure policy ? Thank you!
When it comes to planning my wedding, some things were very easy. It was pretty easy for B and I to agree on a reception place, because the basic requirements were: delicious food and enough seating for 50 people. Luckily, one of our favorite Mexican restaurants fit both these requirements, so we were set!
While we haven't chosen a wedding cake baker yet, choosing your wedding cake is pretty easy too. As long as you don't want anything too complicated (which makes it more expensive) and you and your partner agree on flavors, you basically just have to choose the person with the best design and flavor. Not too difficult!
However, there is a part of wedding planning I thought would be easy, but in reality is difficult and expensive: wedding flowers! My goal is to have a very southwestern wedding, which means great southwestern food, southwestern decor, and everything very authentic-Arizona-feeling. Arizona's my home state, and I want to represent it well, especially to my out-of-state visitors.
The most difficult part of wedding planning, after the people? Flowers! I can't tell you how many people have told me to "just do the flowers" myself, but unfortunately, that's a crazy idea. Most of these helpful coworkers have had several, if not dozens, of people help them design and create their floral arrangements, which I don't have. If you want to do your own floral arrangements, you need 3 things: time, creativity, and help. I don't have any of those.
Enter: florists! The florists I've worked with so far have been incredible. Not only do florists save you time, the right florist will save you money and tons of headaches. Doing your own floral arrangements can be difficult and, if not done right, a complete disaster on your wedding.
That's why I've found some awesome southwestern wedding flower arrangements online, shown below. If you're looking for gorgeous centerpieces, favors, and more and want that southwestern wedding flair, take a look at these ideas and let me know what you think!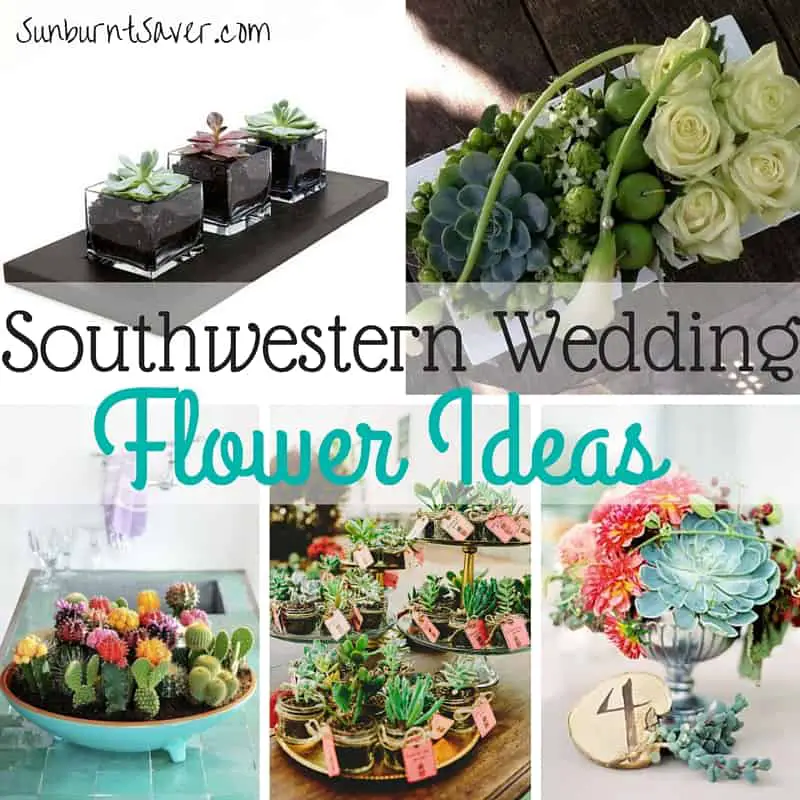 The first two images above (left to right) are from BloomNation:
The Succulent Trio and the Botanical Chic Bouquet
If you haven't yet found a florist for your wedding (or any other occasion), BloomNation is a really neat website to find local florists in your area, which is how I found these 2 florists and their awesome arrangements. I definitely love the Succulent Trio as a centerpiece!
From left to right on the bottom:
Cactus Garden, which can double as a gift for people to take home at the end of the night
Succulent favors – great gift idea!
This gorgeous succulent centerpiece
The 2 flower arrangements above come pre-made, from florists, and the bottom 3 are just ideas. Clearly, if you have the time, creativity, and assistance, you could make any of those 3 below. For me? I'll just be showing these photos to my florist and have them create the magic! 🙂
For more wedding inspiration, check out BloomNation's Wedding board on Pinterest. For affordable wedding ideas, check out my Everything Wedding board on Pinterest, too!
What do you think of these floral arrangements, and what did you find the most difficult when you were planning your wedding day?