This post may contain affiliate links, which means if you click through and purchase something using my links, I receive a small commission. You can click here to read my disclosure policy ? Thank you!
This is going to sound crazy, but I actually love practicing for interviews. Don't get me wrong: I don't love the actual interview process, but I love practicing for potential interviews.
My organization offers self-improvement classes, and I love taking the 'practice interview', 'create a new resume', 'find your purpose in life' classes. Love them! Sometimes I think, even though I've heard lots of horror stories, I would love to work for Human Resources.
That said, most people don't like the interview process, and I'm probably one of the few weirdos who likes to do mock interviews for fun. However, my reputation for loving to practice interview questions and taking classes from experienced HR professionals sometimes comes in handy, particularly for my coworker-friends.
The other day, I helped a coworker-friend prepare for an upcoming interview she has for a promotional opportunity in our organization. She, like most people, hates to interview and dreads the entire process.
We took an hour to go over commonly asked questions, variations of questions, and how she could tackle "sensitive" questions, like "when have you ever not completed an assignment for a supervisor, and what was the outcome?" (Hint: you need to handle that question really delicately!). As well as this, we did look into a site like https://www.berkeassessment.com/solutions, which brings us perfectly into the solution of acing this upcoming job interview. What interviewers are looking for is to access a person's ability and skills for the job.
Today I want to tell you about a wonderful, knock-it-out of the park formula for having a great interview. I've used it a couple of times since discovering it, and it has gotten me amazing feedback (they were mock interviews by the way, so there was no job for me to 'get' out of it).
This a formula you can use for practically any question – "what are your strengths and weaknesses", "tell me about a challenging scenario with a coworker, and how you resolved it", "tell me about a time you had to work together to complete a project", etc. The only ones it won't work for are "Tell me about your background" and "Do you have any questions for me?" 😉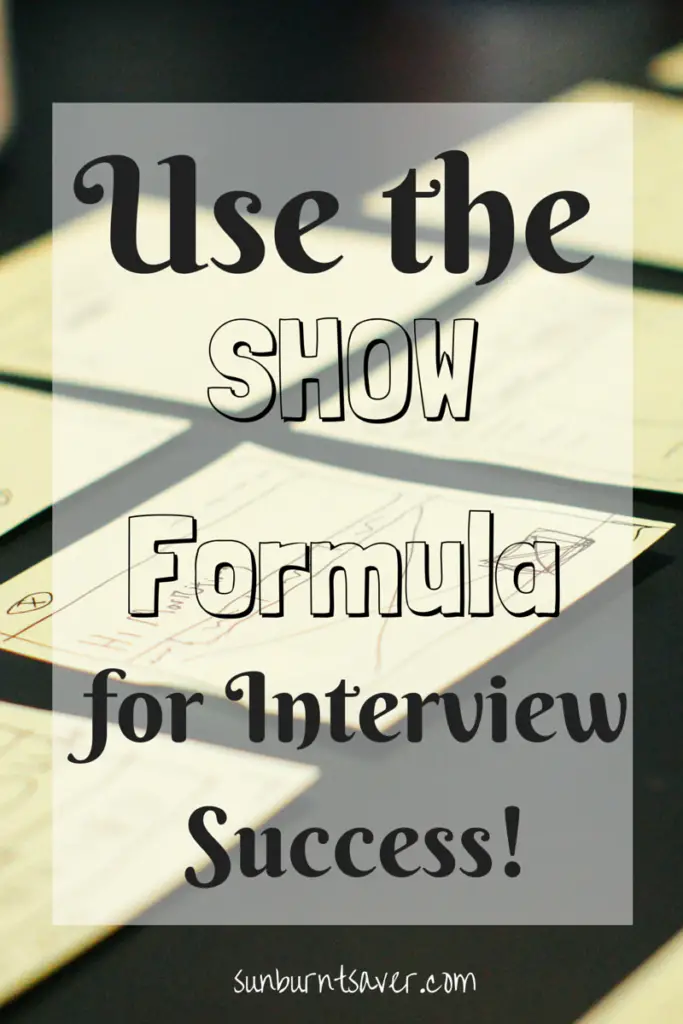 The SHOW Formula
The SHOW Formula is pretty simple, once you get the hang of it. In your interview, SHOW your interviewer (or interview panel) how you're the perfect employee for that job.
Let's say your question is "Tell me about a time you had to work together to complete a project." Here's how to use the SHOW Formula:
S – Describe the situation. First, think ahead about a scenario for this question. Then describe it for your interviewer. Maybe you had to get together with a team to finish a project that had a tight deadline. Describe the project you had to complete and its deadline.
H – Describe how this situation was important. Maybe in your scenario, you had a quick deadline and your boss really was depending on your team to get it completed accurately. Maybe a crucial employee was out sick, and you had to step in to complete the task. Don't make it a negative 'how', but highlight why this wasn't an average, everyday scenario.
O – Talk about the outcome of your situation. In the quick deadline example, talk about how you and your team were able to complete the project on schedule. Again, highlight why this was important and why your team needed to complete it on schedule.
W – Why this example shows you are perfect for the position. Following the example, highlight why this example demonstrated your teamwork skills, leadership skills, and/or efficiency. You'll want to highlight a particular skill, and then knock it home with this 'why' statement.
By using the SHOW formula, you can create a coherent story highlighting particular skills that relate to the job you're interviewing for. This story should take no longer than 1-2 minutes to say, so practice with a family member, trusted friend or coworker.
Going on an interview, or curious for more tips on interviewing? Check out my recent post on Young Finances on the intangibles of interviewing.