This post may contain affiliate links, which means if you click through and purchase something using my links, I receive a small commission. You can click here to read my disclosure policy ? Thank you!


This past month, I had some shopaholic friends from out of town visit. Now, if you read my About Me page, you'll notice I mentioned I had a 'problem' with shopping. It wasn't 'Confessions of a Shopaholic' problem (I didn't go into crazy amounts of debt), but I did go into some consumer debt, and I didn't really have a lot to show for it. Sure, I had a killer closet and was the girl who always had some of the coolest 'going out clubbing' clothes, but it wasn't something to be proud of. I mean, do you really need 8 different party shirts?!
While I didn't have a problem in the sense that I was addicted to shopping all the time, I did go shopping a lot as a means to bond with my friends. Many of my friends came from wealthier parents, who didn't have a problem lending their kids money, whereas others hit the job-lottery sooner than I did and had a lot of cash flowing into their bank accounts.
All that to say: the friends who visited me recently? Yes, they were my shopping pals. And guess what they wanted to do when they got to Phoenix? Yup, shop.
I knew there were only 3 ways I could handle this: shop with them like I used to, and completely blow any savings I could have had, tell them 'no' and not go shopping with them, or come up with a realistic yet fun way to handle the situation. I think you know where this is going: I still wanted to hang out with my friends and spend time with them, but I didn't want to blow my budget.
In the end, we all had a great time, no one was disappointed I didn't spend more, and I stuck to my budget. Here are my tips for handling your shopaholic friends while still having fun: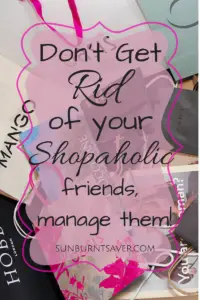 Know What You Need
Let's be honest: you can't completely say 'no' to shopping with your shopaholic friends and not lose something. Either you go with them, and you're the wet blanket who's saying 'no' to everything, or you don't go at all and miss spending time with your friends. This isn't me justifying you spend money just to spend time with your friends, but rather being smart about your purchases.
Decide ahead of time what you need to buy: do you need a new blazer or slacks for work? Do you need new hiking shoes for a camping trip? Decide on what you actually need, and plan to buy that when you go out with your friends.
For example, I had a habit of buying $10 Target watches for work. They worked… for about a month or two, when they'd inevitably die and need a $10 battery replacement. Or the cool baubles on the watch broke off, and I had this broken-looking watch on my wrist at work. Not professional. This had happened at least 3 times in the past 6 months or so, so I was looking at being out $60 a year (if I didn't replace the watch battery, which I hadn't for the last 3).
So I told myself: I need to buy a good, lasting watch for work. I roughly knew how much it would cost, and knew that was something I absolutely had to buy, so it gave me a task while shopping with my friends.
Set a Budget
Based on how much coworkers' nice watches cost them, and based on what I knew about the type of watch I wanted, I set my watch budget at $100. Watches are pretty much the only jewelry I wear at work, so a good-looking, professional and long-lasting watch is very important to me. In addition, taking my cellphone out to check the time in meetings is definitely not professional, so I definitely needed a watch.
Setting a budget you're willing to pay (maximum) also gives you the freedom to really shop around. Let's face it, if your friends are shopaholics like mine, you will be at the mall for a few hours. Take this time to shop your budget around – if you're looking for slacks, try on a couple pairs and be picky. Since you'll be there for a while, you can take your time to walk around and really think about if those pants are the right ones for you. You can also get your friends' opinions, which can be really helpful.
Know Your Friendship
In the end, you have to know what type of friendship you have. Are your friends the types of people who will 'let you' get away with spending $100 while they're spending $1,000? Or will they give you grief about not keeping up with them?
I sadly ended a friendship with one friend, because she was much more into shopping than I was (once I put a lid on my profligate spending habits) and she made me feel bad about it. She would tell me spending more than my budget allotted for was 'no big deal' and I would 'make more money the next week.'
I tried redirecting our friendship into going out to eat, or going out to drinks, and eventually to low-cost activities like hiking and team sports, to no avail. She always insisted we spend more ('let's order an appetizer AND dessert!' 'let's order FIVE martinis EACH'). She even tried to make our low-cost activities more expensive by trying to convince me to eat out after we went hiking!
If you have a friend like that, I would definitely encourage you to try to redirect him/her into a less expensive outing, especially if you are both into the same sports or outdoor activities, versus giving up on the friendship right away. Lucky for me, the friends who came to visit recently barely even noticed I bought one thing (well, 2… I did end up finding a work blouse on clearance – but the watch came in under budget, so it balanced out!).
While they bought a few hundred dollars worth of clothes, and I ended up spending $115, the most important thing was we were all able to spend time together. These friends of mine are far-flung in different states – we went to college in one state, and we all moved away to different states. I'm not even in the middle of everyone, so it was extra special that they decided to visit me. In the end, that's what matters: your friendship lasts not based on how much you spend, but how much you appreciate each others' company and growth. It was just a bonus I was able to get that sweet (and so far very durable!) watch.
Do you have shopaholic friends, and how have you managed them? Are you a recovering shopaholic, and how do you keep yourself on track?

photo credit: tiny_packages via photopin cc