This post may contain affiliate links, which means if you click through and purchase something using my links, I receive a small commission. You can click here to read my disclosure policy ? Thank you!
If you've ever traveled to Phoenix, or have known people who've visited Phoenix, they may tell you it's impossible to get around without a car. Heck, even I have been guilty of saying it's impossible to get around Phoenix without a car.
Before we get ahead of ourselves: if you're moving to Phoenix for the long term, it probably will be pretty hard to live here without a car. So that is true.
However, if you're visiting our great city (and do! It's lovely in the winter!), it's completely possible to get around for a couple of days without a car.
I was inspired to write this post when I traveled to Portland (no, I will never stop talking about that awesome trip) and didn't have the convenience of getting around with my own car. I didn't realize how car dependent I was until I didn't have a car in Portland! This got me wondering how easy it is to get around Phoenix without a car and I realized… it's not necessarily that hard.
Visiting Downtown Phoenix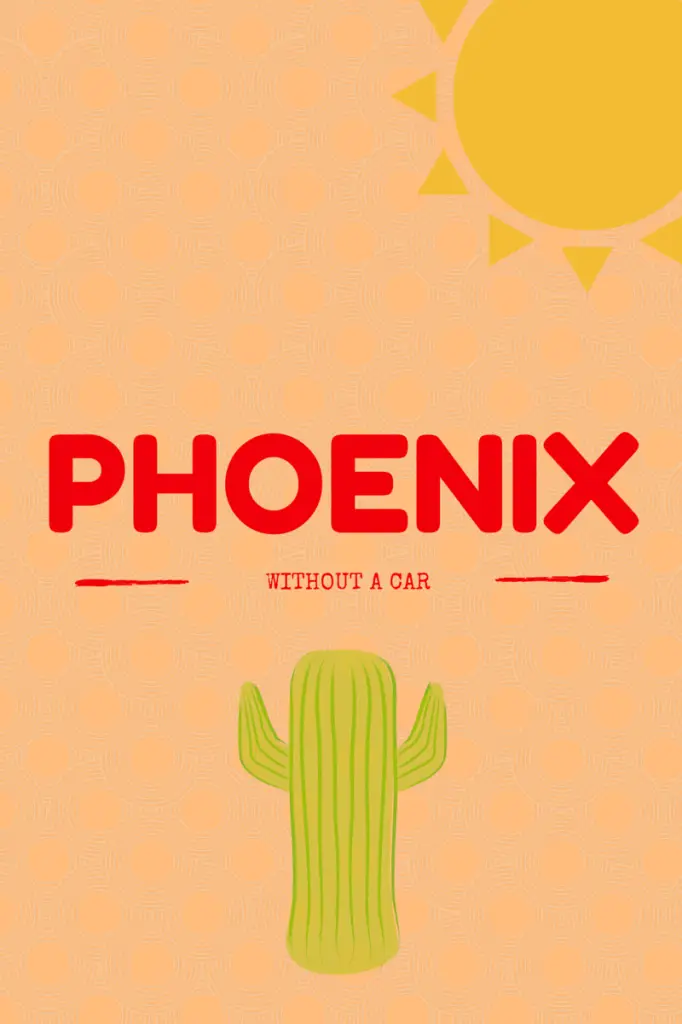 First Things First – You Should Probably Stay Downtown
While you may find better deals in the suburbs, try to pick a hotel near the light rail. For convenience sake, we'll say that anywhere the light rail goes is downtown (real Phoenicians will disagree with me, but let's keep it simple).
There are several places you can stay in different price points; here are a few I've known people to stay in without a problem (prices vary): The Clarendon Hotel (quirky), the Sheraton, and the Renaissance (traditional). Don't forget our friends Couchsurfing and AirBnB, which I've reviewed before – just make sure to ask your host if their place is close to the light rail. If they say it's 5 or more blocks away, I'd advise against it. 5 blocks is actually really far – Phoenix blocks are not short blocks!
Think About What You're Interested In
Have you found a good place to stay? I hope your place has a pool! Just kidding, most places do. You'll be fine 🙂 Bring your swimsuit!
What are you into? Nightlife, partying, shopping, dining out, museums? Are you super cool like me, and into libraries? If you're into any of that, you can get to it without a car!
I love food, so let's start with that. This is a very small list, but some of my favorites:
For culture, we have the Phoenix Art Museum, our really cool looking library (Burton Barr), and for the kids (or young at heart!) the Children's Museum. Trust me when I say the Children's Museum is cool. It's a slight walk from the lightrail, but worth it! We also have the Science Center, Heard Museum, and tons of other places to visit.
Tempe
While I'm partial to downtown Phoenix, I do have to give Tempe credit for its night scene. I've only been there a couple of times, but it was a lot of fun, and probably more happening than downtown Phoenix (for now!)
Arizona State University, always one of the top party schools in the nation, is located in Tempe. Lucky for you (and everyone else!), Mill Avenue, the main nightlife area, is just steps from the light rail. If you're lucky, you might get to see a concert on Mill too.
As far as shopping, without a car you won't get the true Phoenix shopping experience (my favorites are either out in Scottsdale, Glendale, or North Phoenix – definitely not accessible without a car, and a taxi would be prohibitively expensive). However, Tempe does have some shopping – Tempe Marketplace and Mill Avenue District come to mind. Not to be outdone, downtown Phoenix has CityScape, although its shopping is, in my opinion, limited.
For those thinking of visiting Phoenix, let me know if you have any questions on places to stay or when to visit! I am not paid to promote any place in Phoenix, and will not accept paid offers, because I like to be honest about my city. I'll give you straight scoop on whether or not it's worth it to visit this or that place – just ask me in the comments or via email!