This post may contain affiliate links, which means if you click through and purchase something using my links, I receive a small commission. You can click here to read my disclosure policy ? Thank you!
Your skin is your body's largest organ, so it makes sense to protect it, right? Unfortunately, when the sun's out and the weather is great, so many of us take our skin for granted. Especially after a severe, prolonged winter, who wants to think about (or who even remembers!) to wear sunscreen?
I'll save you the lecture about why wearing sunscreen is important to protect your skin, keep yourself from getting skin cancer, and what sun damage can do to your youthful skin. If you're anything like I was, you already know this stuff and you'll listen… sometimes. When you remember. If someone's bought sunscreen.
However, since we're in our theme month of Summer Savings, I would be remiss not to let you in on a little summertime secret: you need sunscreen, but you don't have to spend a lot of money to buy the right kind. And you don't have to remember a bunch of mumbo-jumbo to pick the right sunscreen. Read on for some more (easy, I promise!) summer sunscreen and savings tips!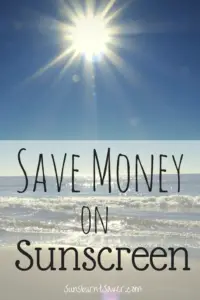 Choosing the Right Sunscreen
If you remember nothing else, I hope you take away the following:
Sunscreen that says "broad spectrum" is one of the best you can buy. Broad spectrum products will protect you against both ultraviolet B radiation (UVB) and ultraviolet A radiation (UVA). Basically, both UVA and UVB radiation cause skin damage. UVA is worse, in my opinion, because beyond the sunburn, UVA rays also cause skin cancer and premature aging. Not cool, sun, not cool.
Zinc oxide and titanium dioxide are your friends. I know it sounds weird to recommend products that sound like they are toxic, but they're not. Zinc oxide and titanium dioxide help to deflect the sun's rays and protect your skin, so if you see a sunscreen product with those in them, that's a good sign! Bonus: they're also okay to put on over make up, so if you put on make up first and forgot your sunscreen, sunscreens with zinc oxide and/or titanium dioxide will still work over your make up! Win-win!
More Sunscreen Savings Tips
Still don't believe me when I say you don't have to spend a lot of money on sunscreen? I'm not joking! As long as your skin isn't too sensitive, using a spray-on sunscreen product, using a tinted lotion, using just plain old regular sunscreen: as long as it's broad spectrum, it's fine to use!
The most important thing to keep in mind is using sunscreen correctly. Put it on at least 15 minutes before you go outside, and use the right amount. Think quarter-size for your face and a shot glass for your body. When in doubt? Use more. Do you know how big bottles of sunscreen are? Trust me, it takes a lot to use up a bottle of sunscreen!
Here are 7 more summer savings tips for buying sunscreen:
Buy what you'll actually use – but it does take sunscreen a while to expire, so if you buy extra and don't use it all in one season, don't automatically toss it!
Buy generic – price means nothing about the "worth" or effectiveness of your sunscreen.
One sunscreen to rule them all – unless you or someone in your family has sensitive skin, you all can use the same type of sunscreen. Even kids' sunscreens offer the same protection as regular sunscreen. Go for price first, type second.
Use coupons to buy sunscreen
Store sunscreen properly – don't leave it outside in the hot summer sun, and try not to leave it in your car all day long. You don't have to refrigerate it, but try to store it inside as much as possible.
Try to use it year round – unless you live in a place that gets absolutely no sun, try to get in the habit of wearing sunscreen, particularly on your face.
Buy broad spectrum, SPF 30 or higher. SPF 15 will work, but you'll likely need to reapply it more often. To save yourself from having to reapply as much, try to pick a higher SPF sunscreen. That said, you don't likely need SPF 90+ unless your skin is very sensitive.
Have any summer sunscreen questions? What are your summertime cover up tricks, or are you one of those people who tries to absorb as much sunlight as possible? 😉