This post may contain affiliate links, which means if you click through and purchase something using my links, I receive a small commission. You can click here to read my disclosure policy ? Thank you!
I've never really been a fan of cable companies. Ever since I was a kid, I heard my parents complaining how the cable and internet bill would go up every few months, how the company was notoriously unresponsive, and how "we pay for cable but still have commercials!"
So when I graduated college and lived in an apartment with a bunch of roommates, it made sense we all opted to pool our various TV-like subscriptions (Netflix, Hulu, etc.) and not shell out extra for cable. Even after I left the apartment, earned more money, got married and moved into a new house – I never bought cable.
However, we ran into a dilemma last year, since my husband is really into football. Like, really into it. He's so into football he actually searches for sporting goods coupon codes so that he can wear his teams kit for the games! College football, pro football, fantasy football. Basically like the TV show The League, but with no Taco.
Since we don't pay for cable nor did we shell out for an antenna to even get local games, my husband either went over to friends' or family's houses to watch almost every game, but with games on 4 out of 7 days in the week, that got old quickly. This year, we vowed we would be able to watch the games at home, so we considered getting an antenna to watch local games… until we discovered a better option.
However, as I started adding up our streaming subscriptions, I wondered: are all these subscriptions saving us money or costing us, and do we need all of these subscriptions? Did it make sense to possibly pay extra to watch football? Could we save money cutting cable?
This post contains affiliate links, which means if you click through and purchase something from my links, I receive a small commission. Anything I make goes right back into this blog 🙂 Thank you!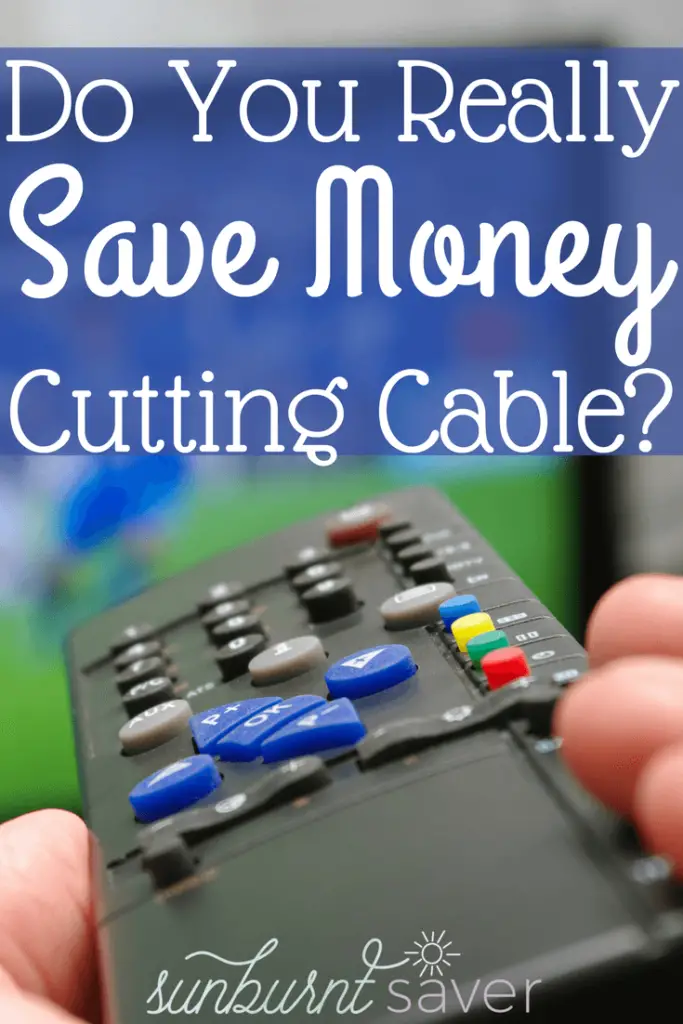 Can You Save Money Cutting Cable? Cost Comparison
The ones we pay for now are:
Netflix – $8/mo
Sling – $40/mo
Amazon – $99 a year for Prime
This comes to a total of $56 a month (taking $99 Prime cost annually and dividing it by 12 to get a monthly price of $8.25 for Prime).
Amazon Prime for streaming is actually probably cheaper, because I primarily use Amazon Prime for ordering household and office supplies. We rarely use Amazon Prime to watch TV or movies, but occasionally we use it.
For Sling, we have Sling Orange, which has a ton of basic channels (HGTV, yay!) and then we pay $15 extra for HBO and $5 extra for the sports package, which is why Sling costs us $40 a month.
Other Subscription Options
The other subscription TV services out there include:
Hulu – basic with ads, $8/mo
HBO Now – $15/mo
YouTube TV – $35/mo, basically has all the same channels as Sling Orange, which is $20
However, it's still hard to compare all of these services because they're all just a liiiiittle bit different. For example, Sling has a ton of sports options. Those options are different from what you can get from YouTube TV.
If you're choosing your streaming service based on TV shows, it will probably be more than $56 a month. Want Game of Thrones? You need HBO Now (or the HBO Sling add-on). How about Kimmy Schmidt? Netflix. If you want the Handmaid's Tale, Hulu. Or if you want to binge-watch HGTV (guilty), you'll need Amazon but then maybe Sling, because some HGTV shows on Amazon you'll have to pay for.
And not all of these options cover you for football, either! Sling's Sports package gives you ESPN, but that doesn't help when you want to watch your local team play.
It's almost like you need to pay all of that if you want to see everything (plus an antenna for local shows) so… should you just spring for cable?
Average Cost of Cable TV and Internet
In most cases, it makes way more sense to "bundle" your internet and cable subscription versus buying internet and cable separately. Here in Phoenix, Cox is the dominant cable/internet provider.
If I wanted to bundle our internet and cable with Cox, it would cost roughly $120 per month to get the same channels we get through streaming services. Yes, that's more than double than what we're paying now!
I also compared Century Link, DirecTV and Comcast. For TV channels (like HGTV, Comedy Central, etc.) and internet, it would come to:
Century Link: $90 per month
DirecTV: $80 per month
Comcast: $80 per month
Now, local channels may be included with your cable provider because you're usually given an antenna or box. However, based on these prices, you're still doing better even if you choose to pay for several streaming options.
What About Football?
You have a few options if you want to watch football:
Sling TV – if you purchase the Sling Sports package for $5 extra per month, you have access to ESPN, which shows football games during the season. It also gives you access to college channels, so you can watch college football too.
Antenna – this will only cover you for local football games, but it's free after you pay for the antenna!
DirecTV's Sunday NFL Ticket – Watch every Sunday NFL game, but it will cost you $70 a month.
NFL Mobile's Game Day pass – $99 for the season, which is way cheaper than many of the other options, but you can only watch pre-season games live. Everything else will be a game replay, which is not great if you're playing fantasy football and/or like yelling at your TV.
But my favorite options is… Verizon's NFL Mobile. Simply download the NFL Mobile app through your phone or tablet, type in your Verizon number to confirm your Verizon subscription, and bam! Live football games, in every market. If you have Verizon and like football, it's a no brainer to download this app to watch all your favorite teams.
However, who wants to watch the football game on a phone or even tablet screen? Sure, it will do in a pinch, but my husband and I like to watch the games on our bigger screen TV.
The solution? We hook my iPad to this Lightning to HDMI cord, which plugs into our iPad and then into the TV. It also has an option to charge your iPad/iPhone at the same time, so your iPad won't die during those 3 hour+ football games.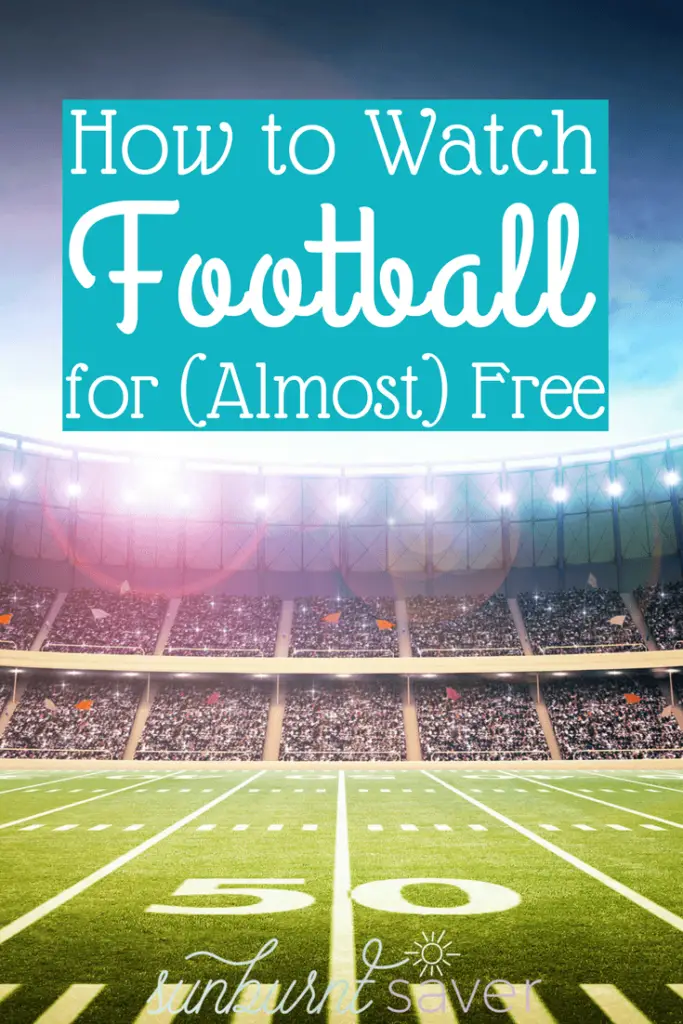 Streaming Services (Even Multiple Ones) Are Worth It
In the end, when I added up our internet service (we pay $60/mo with Cox), phone, and streaming services ($56/mo), we're saving about $10 a month by using our streaming services instead of bundling with a cable/internet provider.
One big factor that could sway you to bundling your TV + internet is the cost of internet. If you're paying $50 for internet and $50 for your streaming services but could get cable + internet for $80 from your local cable provider, it might be tempting to switch.
However, this doesn't take into account your shows/movies. If you really like Netflix, HBO Now, Hulu, etc., you'll have to add those subscription services to your cable package. In many cases, it's cheaper to add HBO through Sling vs. adding it to your cable provider package.
Also, by using streaming subscriptions services instead of a traditional internet/cable company, you have a lot more flexibility. We could drop our Netflix service and pick it up 6 months later. If you tried to get out of a traditional cable/internet provider's service, you may be hit with penalty fees – or not allowed to leave at all. It all depends on your contract.
For that, the peace of mind and affordability of streaming services make it a no-brainer to stick with them over traditional cable/internet companies.
Do you pay for streaming services and, if so, which ones? Have you found streaming services are cheaper than your local cable/internet providers?