This post may contain affiliate links, which means if you click through and purchase something using my links, I receive a small commission. You can click here to read my disclosure policy ? Thank you!
In this house, everyone has a side hustle (okay, maybe the pets get a pass). My side hustle is lucrative almost immediately, since I bill clients monthly, but my husband's side hustle is slow… takes a lot more time/body effort… but also has the opportunity to pay off big time. What is his side hustle?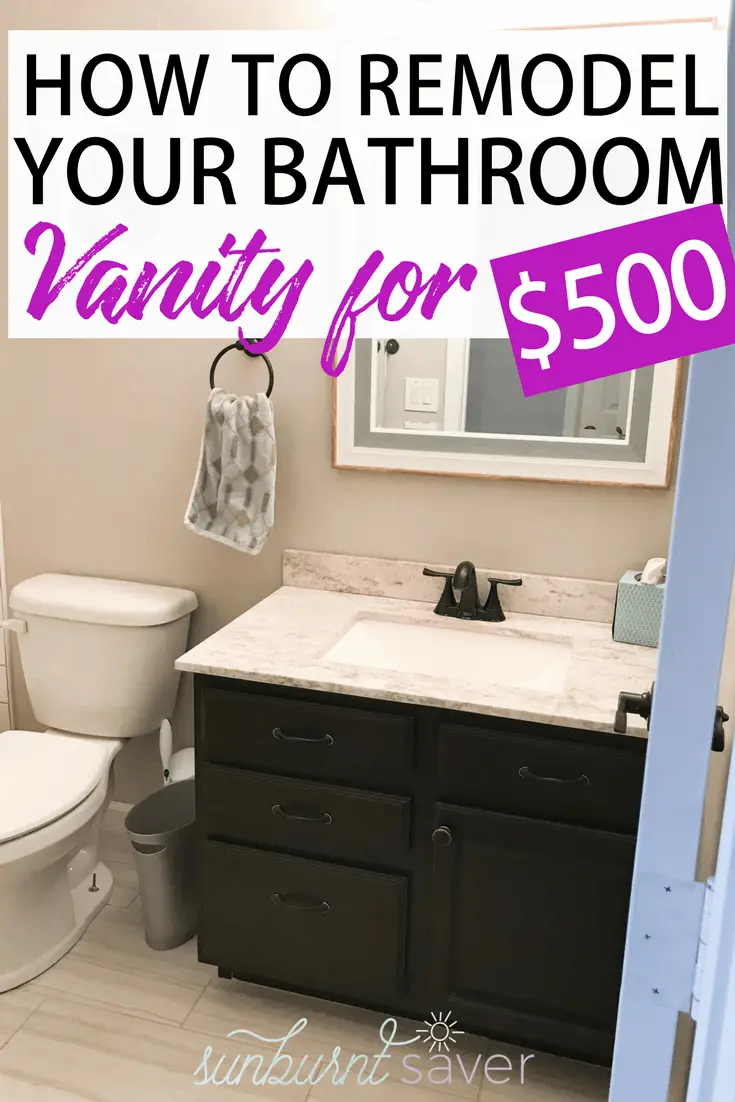 Home renovations! Not only does my husband have a huge interest in remodeling homes, he also has knowledge: his Dad worked in home remodeling and often invited my husband to help out on home projects around their house when he was growing up. A lot of people are always asking questions about remodeling when they see us. I know some people aren't as lucky as us and need to hire professionals but that's totally fine.
However, one thing my husband always says is many people can do DIY projects if they enjoy getting their hands dirty and learning. Note: I am not saying you should do plumbing or electrical work yourself. Please don't. Your local electrician can help you if you need. If you don't enjoy home remodeling, don't do it!
But if you are into doing some light DIY work yourself, home DIY remodels can be insanely profitable. Kitchen and bathroom remodels almost always add a ton of value, according to HGTV, as long as it makes sense for your budget (and a variety of other factors). In many hot markets, you can recoup 100% and up (aka make money) on the kitchen and bathroom remodels you do.
For those of you who are interested in some DIY home remodelling, painting, installing cabinet handles, hanging mirrors – it's all doable! I'll walk you through our $500 DIY guest bathroom vanity remodel here.
Our Old Bathroom Vanity
Our old guest bathroom was fine, but very builder-grade type materials. Basic stuff that hadn't been updated since probably the 1990s. It was "fine" but, if you want to get a lot of money for your home, fine isn't going to cut it.
This is what the bathroom looked like before: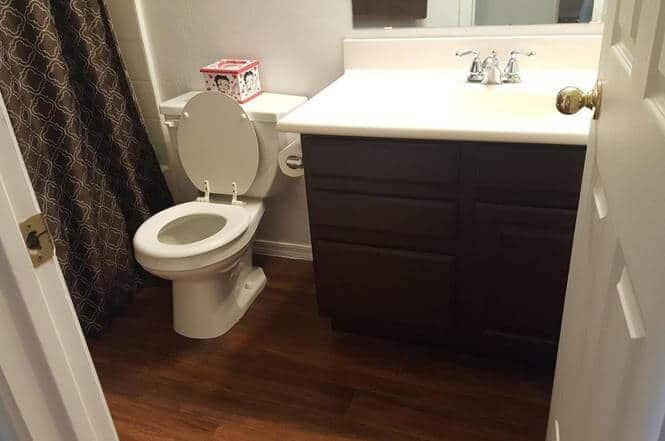 I apologize for the bad photo, I didn't get a "pre-reno" shot! :-/
The faucet was silver and the door handle was gold, which we found a little random. Just a standard, 1990s bathroom (mirror too, although we didn't get a photo of the entire thing).
Since this was a complete DIY guest bathroom vanity remodel, we choose things we could handle:
Re-painting the cabinets
Adding new hardware
Putting in a new countertop
Adding new faucet
Painting
New pretty stuff
How Long Did it Take?
Painting, repainting the cabinets, adding new hardware – all of that took a day! It took a few days for us to get to Lowe's and find the new countertop and faucet we wanted, but only a day to install.
Pretty stuff took me a little longer to find exactly what I wanted, but basically, all of the DIY work you would do yourself didn't take longer than a day. Depending on how quickly (and accurately!) you paint, it could take you longer – but it shouldn't take more than a long weekend!
What Did We Buy?
Some of the most important things we bought for our guest bathroom vanity remodel included:
Rust-Oleum Cabinet Coating System – basically, cabinet paint. Saving your cabinets if they're in good condition can save you several hundred dollars. If you can't save your cabinets, then you would skip the Rust-Oelum cabinet paint and buy a whole new vanity.
Marble vanity top – in the past, cultured marble was usually seen as "so-so" or "old fashioned", but nowadays cultured marble looks really nice and modern. We ended up going with something similar to this, which we bought at Lowe's: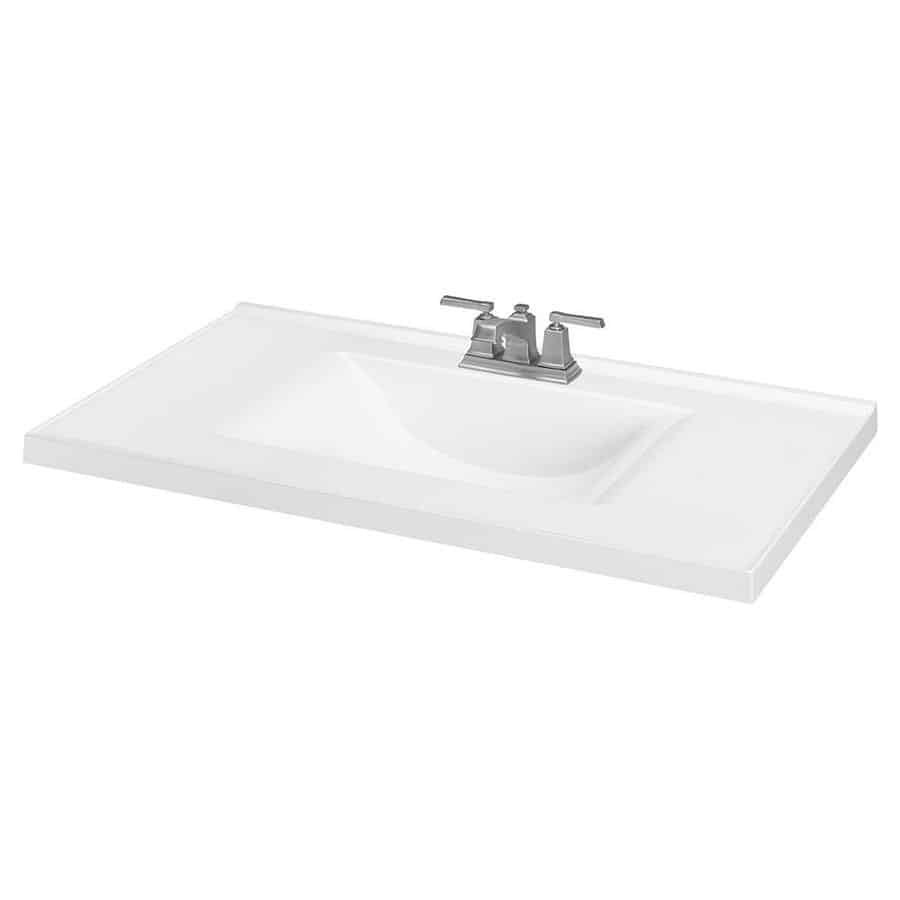 Cabinet Hardware, like these knobs (the one on the top is more like the knobs we bought, but the one on the bottom is cheaper!)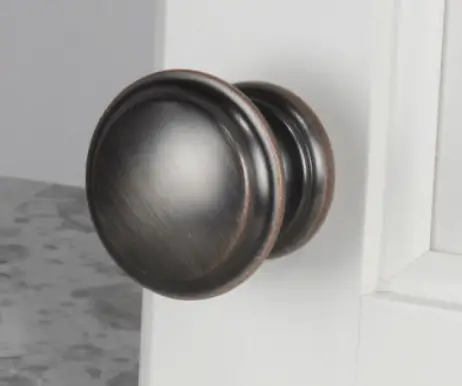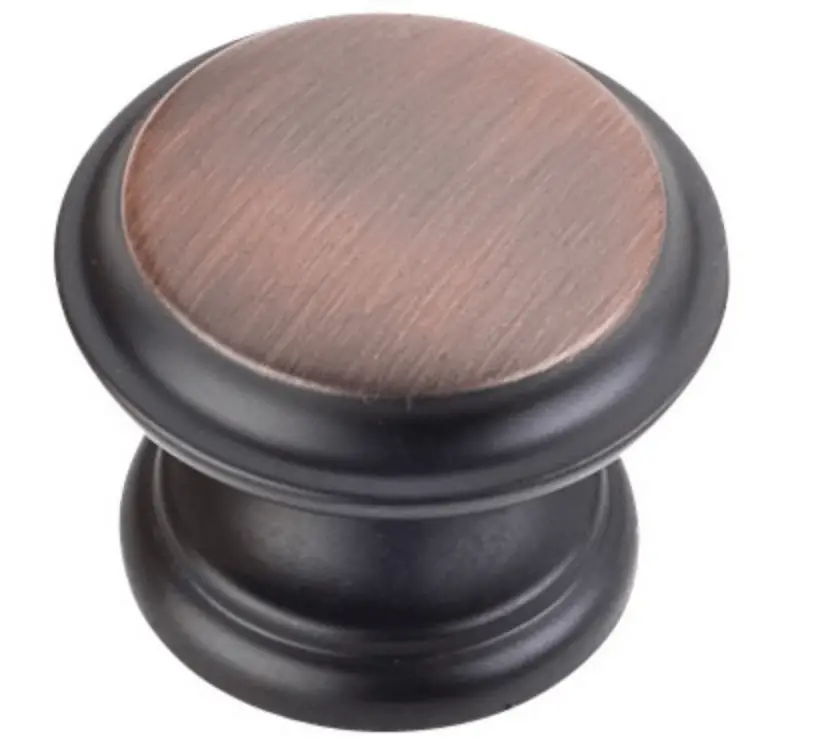 New bathroom faucet – for the new vanity, and to match the hardware we used.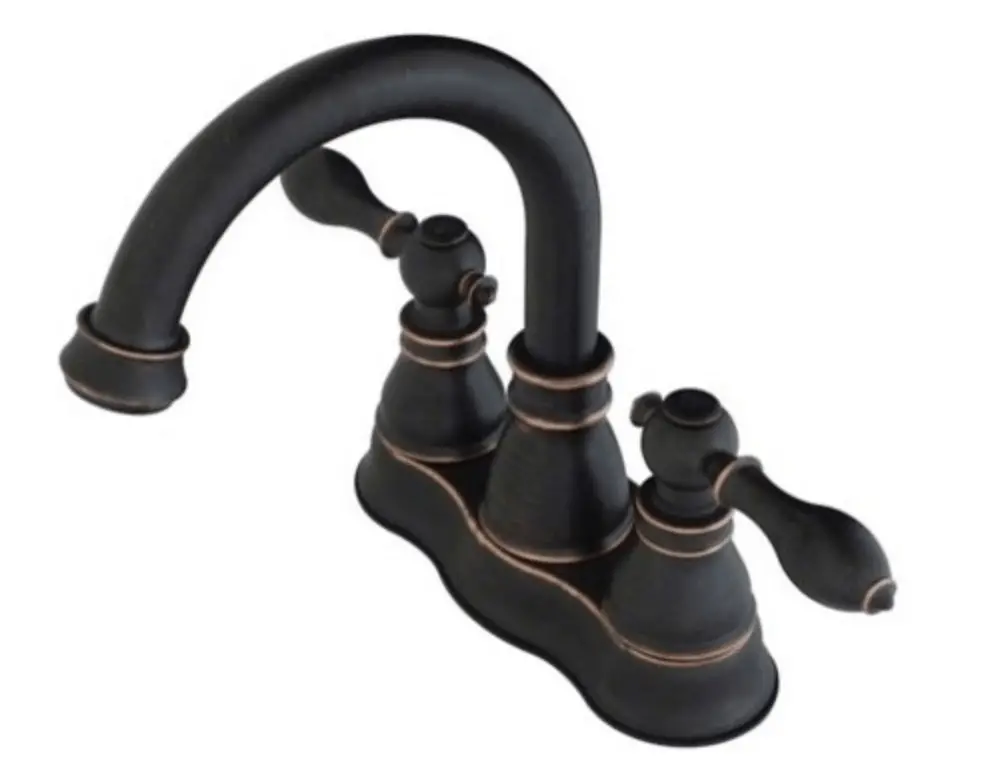 These bling light fixtures from Home Depot: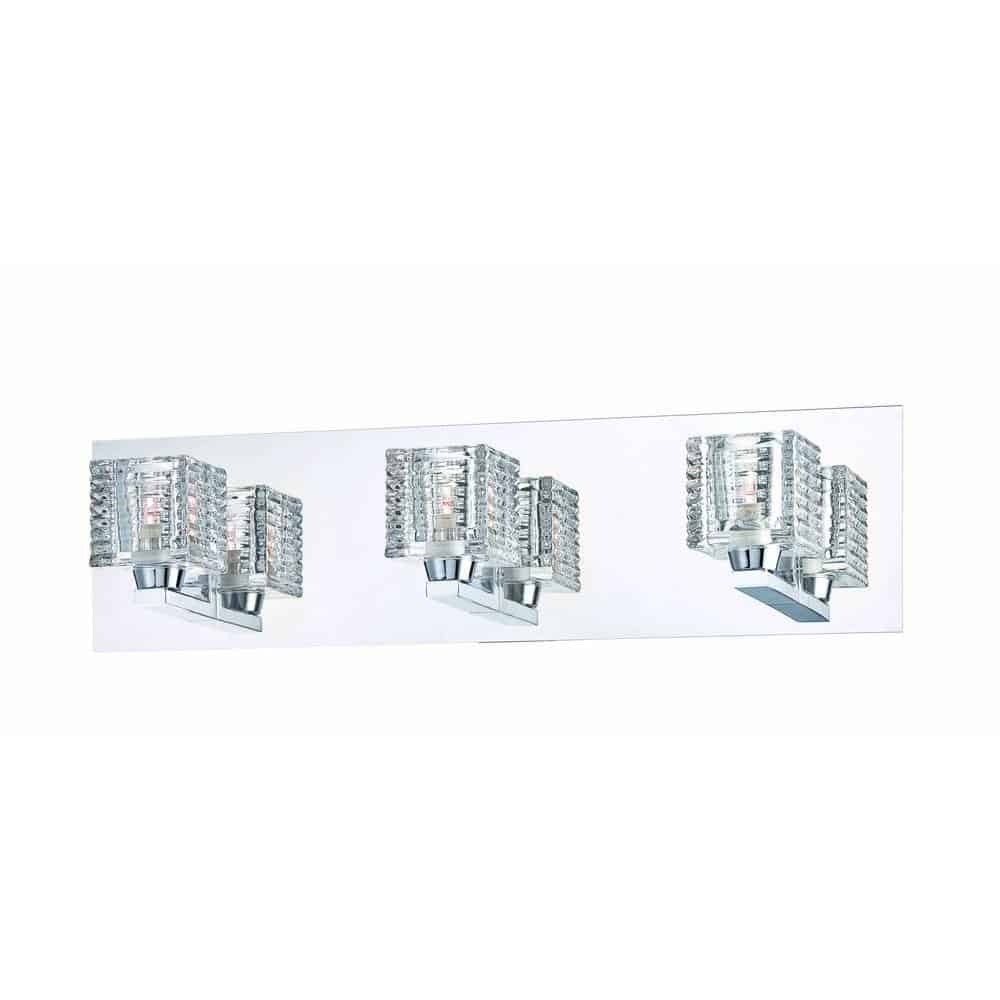 Paint from Home Depot – we ended up only using 1 gallon of paint! We chose a very light lavender color – I recommend you go in person to choose the best paint for your space 🙂
Our New Guest Bathroom Vanity Area
So how did it come out? Well…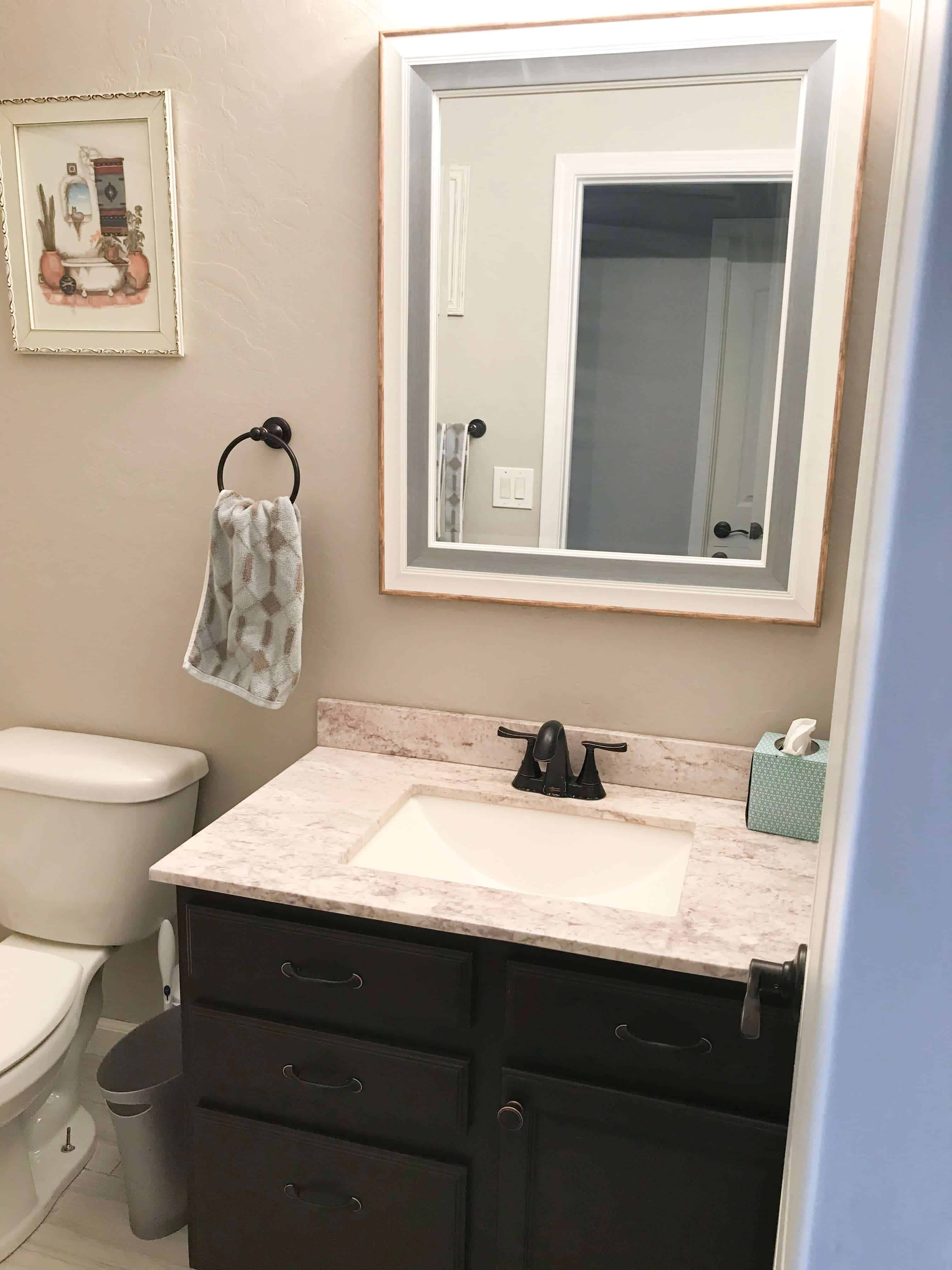 So, yes the picture-taking is 100% better in the second, remodeled photo. The photo from the un-remodeled bathroom is actually from when we first bought the house, so we did a few things unaccounted for like:
Re-doing the floors (from dark plastic gross floor to gray/white tile)
Replacing the toilet (the toilet we got for free, not a gross story, so I didn't include this in costs)
How Much Did it Cost?
All told, it cost a little over $500, once we added in the mirror, toilet paper holder, and towel holder. It came to roughly $537 although it could have been cheaper if we had went with less high-end cabinet hardware and a cheaper mirror.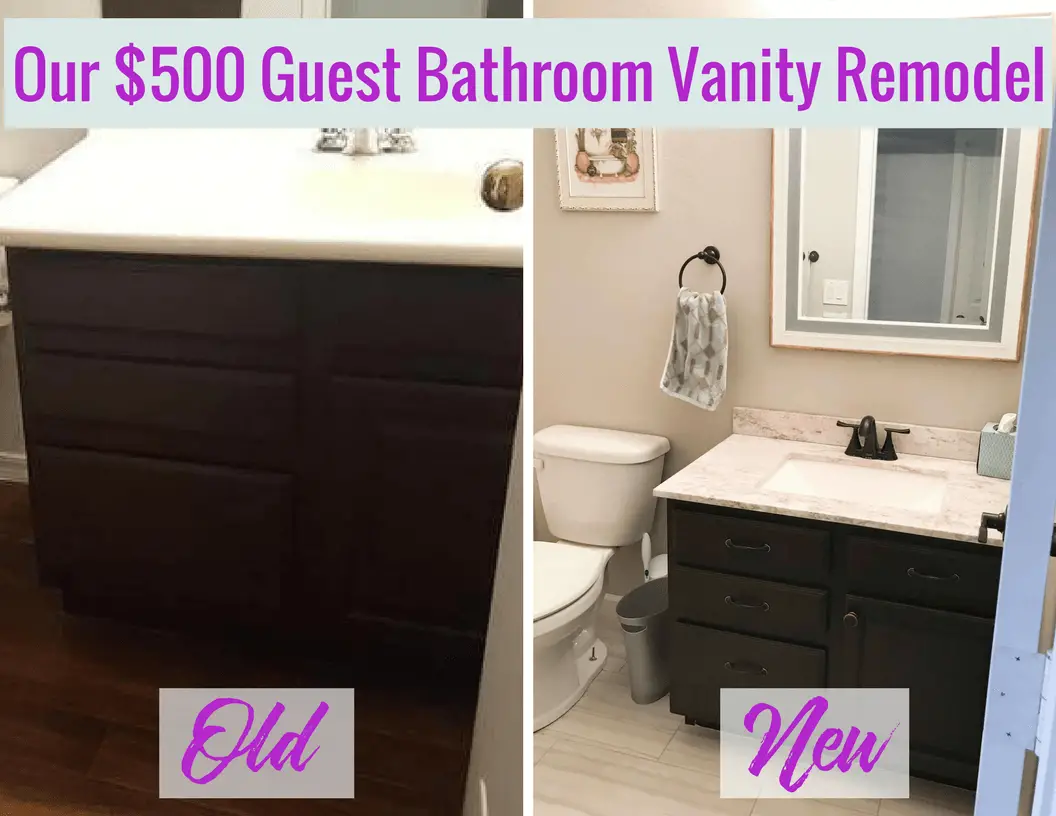 Using my husband's favorite cost estimator site, HomeWyse, HomeWyse estimates everything we did (painting, installing new sink, hardware, etc.) would cost in between $1,400 to $1,800.
By doing it ourselves, we saved anywhere from $900-$1,300. And by "ourselves" I mean "him" because I already have a side hustle, I don't have time for another one. But I'm happy to document it.
So have you ever tackled a home remodel or DIY project? How did it turn out? Did you blog about it? Let me know in the comments!