This post may contain affiliate links, which means if you click through and purchase something using my links, I receive a small commission. You can click here to read my disclosure policy ? Thank you!
When you're planning a wedding, it's so tempting to buy luxe invitations and have the traditional wedding dress experience. I get it. I do.
But, for many people, they get to the wedding day itself and realize, while all that stuff is nice, its certainly not what makes your wedding truly special.
I have to admit, I definitely got caught up in wedding fever when I was planning my wedding. Luckily, we were able to keep our expenses low (you can read all about our budget here!)
So, if you're planning a wedding and looking for some new ways to save money without looking cheap, here are a few frugal ways to plan the perfect affordable wedding.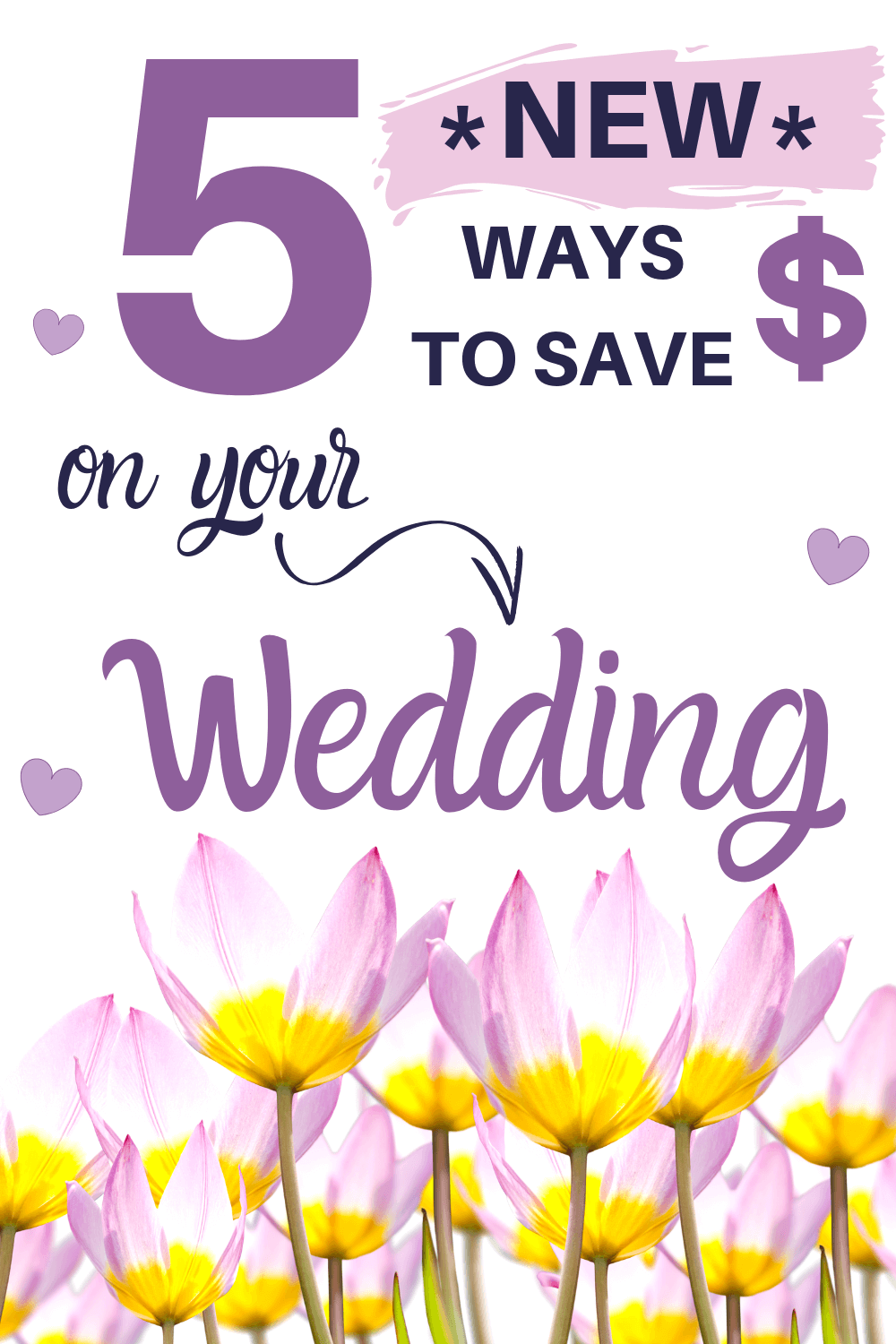 Re-think Wedding Favors
Seriously, how many people enjoyed and/or kept the favors they received at other peoples weddings? And before you think I'm cheap, I scoured wedding forums, and pretty much the overwhelming conclusion is to save money by not doing wedding favors.
That said, if you absolutely must have wedding favors, the most popular ones have been edible! Think: chocolate, candy, cookies, mini-pies.
[Check out this super affordable – and edible – wedding favor!]
Edible wedding favors are perfect because they can be consumed after your wedding or if they're small and transportable, taken back on the plane by all your far-flung relatives and friends. Who doesn't love snacking on delicious treats after an incredibly fun party? 🙂
However, definitely don't do koozies or coasters for your wedding favors. People seem to really hate those!
Save Money on Invitations by Going Electronic
I know, I know, using electronic invitations seems so casual, not really fitting a wedding. However, think about your guests (and your timeframe). Do most people live many states (or countries) away from you? Do you even have everyones address? Sending an electronic invite not only saves you money, but it will also help you track your RSVPs as people respond. If your friend and her boyfriend want the fish and chicken options, they can easily click that on their electronic invitation, which can then be downloaded to an easy-to-view Excel tracking sheet.
Still need to send out paper invitations for those that don't have (or cant figure out) a computer? No problem! Paperless Post is a great resource that combines your electronic invitations with matching paper invites.
Best of all, if you're doing some electronic invites and some paper, you can save money by only ordering, for example, 25 invites out of the 50 you're planning to send, since half will be sent electronically.
Have Your Reception at Your Favorite Restaurant
Consider having your reception at your favorite restaurant. Restaurants don't typically charge more for the day, whereas hotels and other venues will charge you more for a Saturday wedding. Tables, chairs, silverware are included too, plus you'll save on catering delivery fees. Some restaurants may ask you to provide your own linens, or charge you a cake-cutting fee, so ask these questions ahead of time to make sure you're not surprised with a $250 fee.
One thing to keep in mind about having your reception at a restaurant is you probably will have to buy alcohol from the restaurant instead of buying your own, so keep that in mind.
Have a Beer, Wine, and Signature Cocktail Not an Open Bar
While an open bar might be fun, really consider your guests. You'll either have guests who take advantage of your generosity and drive up your bill, or you'll have guests that don't make enough use of the bar and stick to wine, beer, and a cocktail or two anyway.
If you're trying to meet a minimum on food and drink, you may not have enough people using the bar to make your minimum! Or, if your family/friends get too merry, you may have a really big bar tab at the end of the night. By sticking to a beer, wine and signature cocktail menu, you'll provide an option for everyone but not let a rogue cousin decimate your budget by ordering 24 Patron shots (not all for him, hopefully!)
Go for the Non-Traditional in Wedding Dress Shopping
Instead of visiting Davids Bridal or (insert your city's bridal store here), consider going to bigger chains like J. Crew, Ann Taylor, or ModCloth. You can even check out the prom section of stores like Dillards or Macys, although success in these sections depends on your body type.
Buying a wedding dress from a non-traditional location can save you money, but keep in mind you may still need to make alterations to get the perfect fit.
In addition, I've noticed some dresses can be particularly see-through and may need a slip to make them wedding-appropriate. If you run into the same issues, consider having your dress custom made. Yes, it sounds expensive, but a custom made dress can actually save you money because you wont need expensive alterations (since the dress, of course, is made to fit you perfectly).
You can also pick the exact fabric and details you want, which means you can pick a luxe fabric and keep details to a minimum to save money (or pick expensive, delicate details and go with a less expensive fabric).
Recently, there's been a surge in brides using Amazon for wedding dresses. There was even an article on Refinery29 about a bride who wore a $37 Amazon wedding dress!
[You seriously won't believe the wedding dress that are actually highly rated on Amazon! Click here to see what I mean.]
Final Thoughts
Wedding planning can be a lot of fun, but it's easy to get overwhelmed and think you need everything to have the perfect wedding. You don't have to buy into this hype! Some things are needed for the perfect wedding (you, your future spouse), but you don't have to buy the most expensive favors or the It Vera Wang Wedding Dress (unless that's what you want to splurge on).
If you're not set on having certain wedding invitations or a particular wedding dress, consider some of these tips to plan an affordable wedding, so you can save up for something you want/need (down payment on a house, fancy honeymoon, or a better photographer for the wedding).
What are your best tips for saving money on weddings? Have you been to a wedding where you absolutely loved the wedding favors? Am I totally wrong about coasters – do people actually like them?