This post may contain affiliate links, which means if you click through and purchase something using my links, I receive a small commission. You can click here to read my disclosure policy ? Thank you!
A recent Pew Research study showed that more and more millennials are putting off marriage. The average age of a married couple is now 27 for women and 29 for men, up from 20 and 23, respectively, in 1960. That is, if couples end up getting married at all – In 2012, 32% of men and 25% of women had never been married by age 35.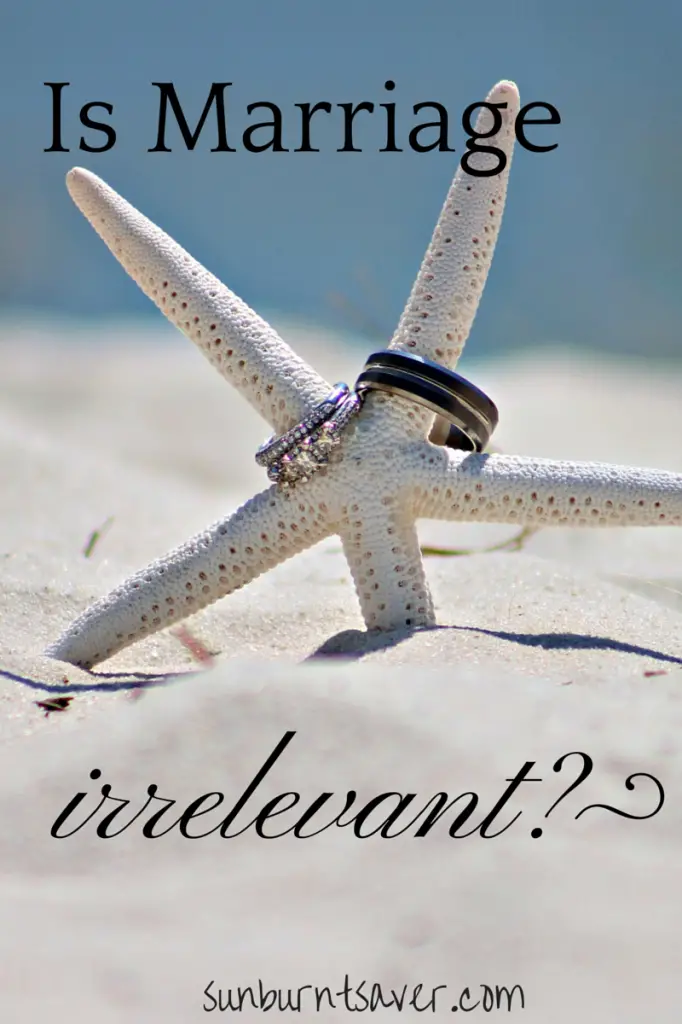 Is Marriage Irrelevant, or Are There Other Factors to Consider?
One of the most striking things I read was that most couples are delaying marriage due to finances. If you are struggling with your finances, compare energy quotes to save money on utility bills. It was actually a really interesting note in the study: women place a greater deal of importance on finding someone who has a steady job than men do (78% versus 46%). Among men and women who had never been married, but say they may eventually wed, 27% said they are not financially prepared for marriage.
In addition to finances being a challenge to marriage, attitudes are changing to marriage. A large majority of millennials ages 18 to 29 say society is just as well off if people have priorities other than marriage and children. Conversely, among those older than 50, most say society is better off if people make it a priority to get married and have children (67% versus 55%).
Shifting Priorities and Stressed Finances
I find this study interesting because it closely resembles my life and those of my friends. Among my both my male and female friends, a lot of their priorities simply aren't geared towards marriage and family right now. For those that aren't burdened by a lot of debt, there are other competing priorities and goals these friends would like to accomplish before settling down. Some of those goals include personal milestones, but a lot include financial milestones – such as getting a job, securing a house, and having some semblance of savings. Many of us have delayed marriage due to giant student loan debt (in my case), other debt, or difficulty finding decent paying jobs.
Finally, we can't ignore the elephant in the room: the economic downturn has hurt men, and young men in particular, hard. As the Pew study notes, among never married adults ages 25 to 34, the number of employed men per 100 women dropped from 139 in 1960 to 91 in 2012.
As the Pew Study so succinctly puts it: 'if all never married young women in 2012 wanted to find a young employed man who had also never been married, 9% of them would fail.'
Is the End of Marriage Near?
For all the pessimistic information out there, I don't think marriage is dead, irrelevant, or ending. Even though many of us millennials think that establishing ourselves outside of marriage is just as important as being married and raising children, many of us still want to get married (66%).
As with most things in life, some things are difficult – like finding someone you're compatible with who has a steady job or who shares your views on raising kids. However, I think studies like this highlight what a lot of personal finance bloggers discuss: getting out of debt and getting your life started.
It's not that if you have debt, you don't have a life – all of us PF bloggers who have debt clearly have lives! 🙂 It's just that having debt and not having the freedom to live your life the way you want inevitably can hold you back – whether it's from getting married, starting a family, or starting your own bungee-jumping business.
Disclaimer: I'm not saying everyone has to get married. If you don't want to get married, for whatever reason, that's cool too! Marriage isn't for everyone – especially as the Pew study shows.
Check out the study for yourself here.
What do you think about the Pew study? Have you noticed yourself, or your friends/family delaying marriage or other significant milestones due to finances?