This post may contain affiliate links, which means if you click through and purchase something using my links, I receive a small commission. You can click here to read my disclosure policy ? Thank you!
After the shopping madness that is Black Friday and Cyber Monday, you may be wondering how in the world to pay for all your gifts. If you want to make money during the holidays, look no further than this excellent money-making round up by our regular contributor, Anum.
This holiday season, if you find yourself in need of a little extra scratch to get the shopping done, know that you're not alone. Thousands, if not millions, of Americans will be looking far and wide for opportunities to add to their holiday income. The good news is that there are plenty available – if you know where to look.
Today we're going to turn our attention to some great ways to pull in a bit of extra income during the holidays. Who knows – you might find something here that turns into a regular gig!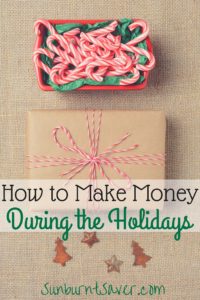 Sell Handmade Arts and Crafts
If you possess an artist's temperament, there are probably few gigs on this list quite as rewarding as selling handmade goods.
During the holiday seasons, there's always a roaring trade in themed items such as home decorations, wreaths, clothing, and much more. You can try your hand at selling your goods on Etsy, or even rent a booth at a local craft fair.
As with just about any other fledgling business, the biggest challenge is building up a respectable inventory. But if you've been crafting for a while and have items accumulating around the house, you might already have your work cut out for you!
Find Work as a Virtual Assistant
There will always be a strong job market for people who are willing to do what the rest of us can't, or don't want, to do. Tasks that some might find unsavory – data entry, running errands, scheduling appointments, or shopping – may be singularly satisfying to others. And if you're among the latter, there's definitely a gig out there for you this holiday season.
As for myself, I've served as a virtual assistant to Robert Mericle, President and CEO of Mericle Commercial Real Estate, for the past two holiday seasons. The work was a little different from day to day, which added a welcome element of novelty, and because I was a home-based concierge, I didn't have to commute to an office setting.
If you want to start small, you can check out Fiverr or Amazon's Mechanical Turks to see if any virtual assistant jobs sound appealing to you.
Put Your Decorating Sense to Work
People hire decorators all the time because they don't trust their own sense of style, don't have the time, or simply want a professional touch. If you think you have what it takes, you might be able to make a modest living as a professional holiday decorator.
If you want to break into this line of work, you should have a portfolio to show your prospective clients. Dig out the photo album for great examples of your handiwork, even if it's just what you've done around your own house for the holidays.
Put in Some Time at a Call Center
Many of the positions we've discussed today are centered on the homebody – that is, someone who, either by choice or necessity, works from their place of residence.
And that makes serving as a call center representative one of the more "traditional" opportunities here, but it's also one of the most potentially lucrative.
During the holiday seasons, just about every industry sees a significant uptick in phone calls. If you think you have what it takes, this could be a great way to earn an entire additional paycheck.
The most important qualities they look for are patience, the ability to solve problems quickly, and perhaps most importantly, the ability to keep the peace when things go wrong. A courteous call center representative is often the thin line between keeping a customer and having them go elsewhere. If this sounds like a challenge you'd be up for, make sure you look into suggested call center qualifications and requirements before getting your resume out there.
So how about it? Did you enjoy this list? Do you have any suggestions or past experience you'd like to share to make money during the holidays? Let us know in the comments below!