This post may contain affiliate links, which means if you click through and purchase something using my links, I receive a small commission. You can click here to read my disclosure policy ? Thank you!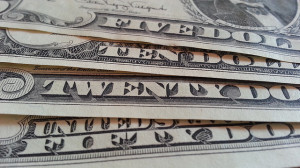 If you just read the title of this post and thought, 'yeah, so? So did I!' then you either work weekends, or you have a really cool side-gig that you need to tell me about, stat.
If you're reading the title of this post and are thinking, 'sweet! How?!' then keep reading! Making an extra $50 for fairly little effort is possible! Note: you probably won't make $50 every weekend, but $50 here and there is pretty fun, so why not keep reading?
Taking Surveys Online – Wait, Keep Reading!
Several months ago, I was reading some personal finance blogs that reviewed taking online surveys for fun. Basically, the general opinion of taking online surveys came down to two sides:
1. Taking online surveys is a waste of time, a terrible return on investment, and should generally be avoided at all costs unless you're laid up in bed with the flu and literally can do nothing else except watch TV and moan (moaning is optional for taking opinion surveys, just by the way).
2. Taking surveys online is not that bad and a pretty harmless way to make some extra spending money, either coffee money or even gas money.
Since I had some extra time, and B was studying for school, I decided to investigate online opinion surveys for myself. Right away, I stumbled on PineCone Research, MySurvey and Opinion Outpost. From my research, those companies had the strongest track record for paying on time and sending you a reliable number of surveys a day.
Trying Out Three Different Companies
It turned out that I didn't qualify at all for PineCone Research: when I tried to sign up about 8 months ago, they were looking for Hispanic-Americans and men in particular. I think they also want people with children.
Since I don't fit any of those profiles, PineCone was a strike out. I tried MySurvey for a brief time, but it would have taken forever (like, I might actually have turned 80 years old) by the time I took enough surveys to get any money back, so after about a month, I gave up on that. Yes, a month. Hey, the things I do for research! 🙂
Opinion Outpost ended up being a winner from the outset. Now, I didn't make a ton of money from Opinion Outpost, but I did definitely make coffee money, some gas money, and the potential to earn more. The deal with OO is: for every 100 points you earn (and you earn points by taking surveys), you can cash out with $10, sent through PayPal. Most surveys offer you anywhere from 5 to 50 points. Simple!
As you'll see below, I've made $40 just in taking surveys. Now, I was doing this semi-regularly for the first few months, and you'll notice I haven't made much recently, but below is proof that a) you can make money doing surveys and b) OO actually does pay you.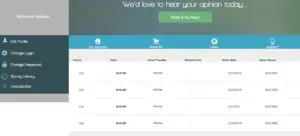 Why I'm Sticking with Opinion Outpost
Once B finished school, which coincided with me starting my blog (apparently, we don't like to spend any free time with each other at all, considering how much we choose to be busy!), I cut way back on how many surveys I completed.
At this point, you may be saying to yourself 'wow, $40 in almost 9 months – that's pathetic. What a waste of time!' and normally, I would agree with you. However, there are two major things I'd like to point out to you: I did the bare minimum to make that amount, and completing more surveys/being consistent sets you up for better opportunities.
Doing the Bare Minimum & Getting Better Opportunities
When I said I did the bare minimum in surveys, I mean that. I completed most of my surveys during commercial breaks when B and I watched our favorite shows either after work (maybe once or twice a week), and while B was studying on the weekend for maybe an hour or so.
Since starting the blog, I have dropped even lower in terms of doing the bare minimum. First of all, I won't do any surveys that offer me less than 20 points for taking them. Nope, not going to waste my time on that. I also do surveys in bits and pieces – I'll do one while B makes dinner (and yes, I'm very lucky that B is the chef in our family!) or I'll do a couple while waiting for laundry to be done.
The good part about this is since I have been taking surveys consistently for a few months, I'm not even offered many surveys below 15 points. I suppose OO values my time now, or maybe I've moved into a more desirable bracket? I'm not sure, but now when I open my email, I still get around 3 emails a day (for comparison, when I first started, I got around 10 emails from OO a day), but none have been under 15 points.
So, how did I make $50 last weekend?
Well, actually, we made $100 last weekend, but I suppose I made $50. I opened an Opinion Outpost email 3 weeks ago that read 'Earn 25 points for completing this survey!' It was one of those rare moments where I had completed all my blogging tasks for the day and was delaying the inevitable laundry onslaught. It was also over my 20 point minimum, so I thought, why not?
The survey told me it would take 10 minutes (all the surveys tell you approximately how long it will take to complete them, but I've found I can complete them a lot faster), but it ended up only taking me five minutes – because it was a survey to sign up to be a part of a research study for a local college in Phoenix.
The study, offered by Arizona State University, would be $50 per person for about an hour's worth of time. I immediately signed up for it, then told B. B told me I would probably be injected with an experimental drug cocktail, which also made me happy, but he told me that signing up for studies was not to be accepted lightly.
It turns out we were both disappointed: B, because he had no reason to worry about weird studies I sign up for, and me because I wasn't injected with anything (darn, no Lucy powers for me!) I had neglected to read what the study was about, so when I went back and re-read my email, it turned out the study was basically just to watch a video and let the researchers record our interactions with the other participants.
B decided he wanted to do it too, and we both left after an hour with $50 cash in our pockets. Today I received another email about a $150 in-person survey, but it's a bit farther from where we live and will take longer. I also have to be approved to take this one (demographics again), so while I've applied, I don't know if I'll get it.
If you're interested in learning more about my experience with online surveys, let me know and I'll be happy to elaborate! I would recommend Opinion Outpost to anyone who has some free time and wants make a little extra spending money.
Also – a note about privacy: I don't take surveys that ask me personal questions about my health or my job. I only take surveys that ask about general buying habits, like where I shop for groceries and what I like to eat. Personally, I would not recommend giving companies any sensitive information about your family's health or workplace, which is why I don't do it. I think grocery habits are fine to share, though, which is why I still continue to do those types of surveys.
Second note: I'm not affiliated with Opinion Outpost at all – I just like their surveys and their business model, and it's a fun and fairly painless way to make some extra money. Your mileage may vary 🙂