This post may contain affiliate links, which means if you click through and purchase something using my links, I receive a small commission. You can click here to read my disclosure policy ? Thank you!
Are you a Martha Stewart type and you're ready to take your crafting hobby to the next level? Intent is one thing but transitioning your arts and crafts time into a legitimate side hustle is a completely different ball game. The first step is sitting down, creating a business plan, and asking yourself questions about your company setup and structure. Where will you sell your wares? What is your overheard? What price will you set for your products for a good profit margin?
Knowing the answer to these questions plus many, many more will help define your goals.
Below, we will explore the different steps you should take to build your crafting venture from a simple side hustle to a full-blown company.
Pick a name
If you've been chasing the goal of turning your molding silicone side hobby into your full-time career or pursuing candle-making professionally, it's first important to stand out from the crowd with a good brand name.
A catchy, memorable name can help enhance your business by establishing value and purpose. You'll want to choose a brand name that communicates what you're selling and appeals to potential customers.
Don't forget to check for that the name you create is unique and not already in use or under copyright for another product or company. You can always get an attorney or request legal advice navigate the sometimes complicated nature of protecting your name and ensuring nobody else is using anything similar.
Choose your logo
Along with your brand name, your company logo is another incredibly important step. It's always a good idea to choose something simple, bold, and symbolic. An excellent logo will give a nod to the purpose and values of your company.
Choose business structure and acquire necessary licenses
You have a few different options when you're setting up your business in terms of structure. One is a sole proprietorship which makes you responsible for all of the assets as well as the liabilities for the company. If you think you might need a little more protection, you can also create an LLC which means you'll have an official separation between your personal and business-related assets.  
Don't forget: your taxes will be different the year you start your business and you'll need to research how to file self-employment taxes. The land of taxes and the IRS aren't to be trifled with so it might benefit you to find a professional to guide you through the process. If you don't want to pay an accountant, it is possible to DIY your taxes.
Set Up a Website
Getting your own domain name for your own shop is priceless because it adds to the professionalism and polish of your business. Even if the site simply redirects a customer to your Etsy shop, it is still a good idea to research that domain should you ever move your shop to your own site.
In addition to a website, setting up business social media accounts is another great way to engage potential customers, find events, and extend your reach.
Choose Your Selling Avenue
You have many options when it comes to choosing where to sell your crafts. For example, you could rent booths at craft fairs, ask local boutiques to carry your products, or simply go through an online craft website.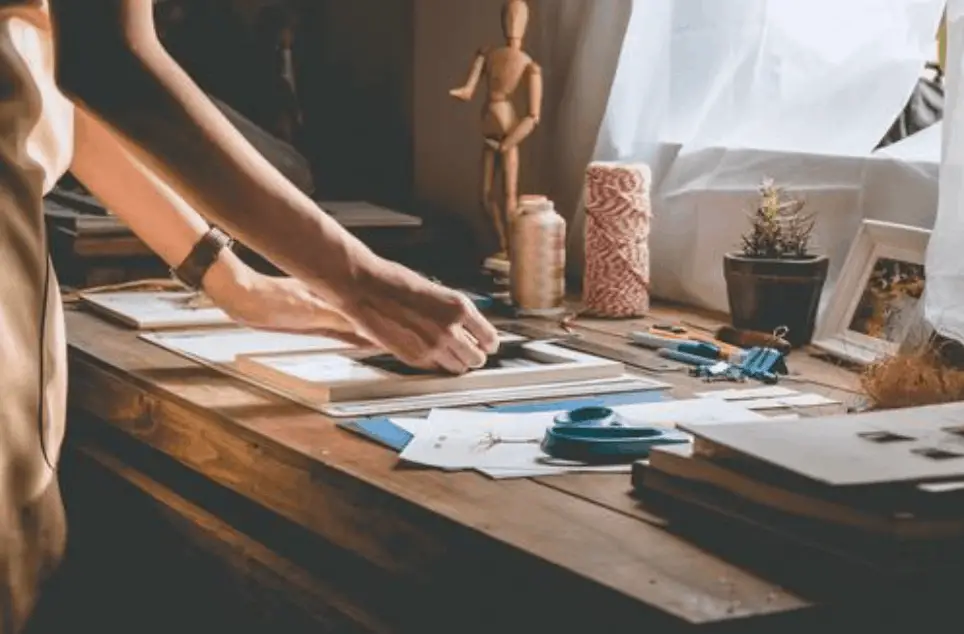 Get Good Photographs of your Products
It doesn't matter how good you think your products are, if the photographs you take of them don't stand out, they won't sell. Ideally, you can spend some money on some photography equipment of your own and DIY your product photos. But you also have the option to outsource as well.
Arrange Shipping
Reliable shipping for your crafting business is essential for success. Many reviews from customers will depend on the speed and quality of shipping. Make sure you pack shipments properly so your customers don't receive broken products.
Share Your Story
One of the best ways to connect with potential customers is by establishing a strong online presence in the form of a blog. Why? A blog allows a customer an inside look into your creative process, your personal life, and gives them some context for the products you make.
The kind of people who are looking for a handcrafted product rather than going to a big box store are probably looking more for a personalized experience.
Blogs are also great to meet other like-minded craftspeople. It's important to be part of the broader crafts community for networking opportunities and to stay involved in the local scene.
Take Your Hobby to the Next Level
With these tips, you might just be able to turn your hobby into a lucrative business and even quit your nine to five. Make sure you do your due diligence, create a business plan, and most of all, don't lose the love you have for crafting in the process. After all, even if you're running a business, you can still have fun doing it!