This post may contain affiliate links, which means if you click through and purchase something using my links, I receive a small commission. You can click here to read my disclosure policy ? Thank you!
Next month, B and I move into our new house – yay! – substantially farther away from my current job – boo! It almost goes without saying that I'm stressing out about the commute. Commuting takes a lot from you: time, money, gas, maybe even a little sanity. How can you (and I) save ourselves from commuting? Luckily, today Anum tackles the subject of saving money on commuting. While we might not be able to save your sanity, here are some ways to save money! 🙂
In 2015, the average commuter spent almost $2,600 annually for the pleasure of driving to and from work. Don't bother doing the math: it's about $10 each and every day. How else could you spend some — or all — of that money? To find savings, you don't have to make extreme changes, though you can. Switching it up even a little lowers commuting costs.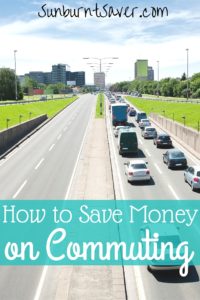 Go Public
If your area has public transportation — buses, trains or subways — you can save a lot. You'll spend less on gas and car maintenance. Depending on the length of your commute, insurance rates might drop. Some commuters also say goodbye to tolls and parking lot fees. In certain municipalities, employers chip in for discount transit passes. If not, you can still save money with monthly or seasonal rates.
While being "chauffeured," commuters might read, handle emails, return calls, plan their day or sip coffee. If you and your fellow travelers get packed in like sardines, console yourself with the fact that you're saving money.
The downside? This option may not help much if you have to commute to a transit stop. Your work hours must also fit into the system's set schedule.
Go Radical
Change your work hours — or location — drastically. Many companies allow flexible scheduling, which can save a little or lot. Adjusting your hours slightly lets you avoid rush hour traffic. That unsteady crawl eats away at fuel.
See if your boss is OK with you arriving earlier, so you can leave sooner. Or come in after everyone else and stay later. Who knows? Having an employee available during odd hours might help the business.
Considering packing your workweek into just four days. While they'll be long, you'll eliminate one commute.
Some lucky folks have the option of telecommuting. Working from home even a couple of days a week puts a dent in commuting costs.
Go Team
About 78 percent of daily commuters drive alone. If you carpool, savings are significant. You'll reduce on gas and car maintenance costs, but the benefits don't necessarily end there. Some employers drastically cut parking prices for carpoolers. Even if parking is already free, you may be awarded a premium spot because you share rides.
Many highways have carpooling lanes that let commuters sail past lone drivers in bumper-to-bumper traffic. Along the freeways of Washington, D.C. and northern Virginia, drivers can gain access to high-occupancy vehicle lanes by picking up "slugs." These aren't mollusks. They're riders who wait in designated areas for volunteer commuters to give them rides. Slugs travel free, while drivers are allowed in the fast lane.
Wondering how to find a regular carpooling buddy? There's an app for that. Lyft connects commuters only after they've gone through background checks.
Go Green
Travel by bike to save money on gas, maintenance and parking fees. Even with a very long commute, this might be an option. Some public transportation systems accommodate bikes. Peddle to a transit stop, store your bicycle, relax, and then hop back on for the final stretch. You will slash expenses, cross exercise off your daily schedule and protect the environment. Be sure there's a place at work where you can clean up a bit before the day starts.
Go for the Gold
Become a stellar rush hour driver by considering the following tips:
Alternating rapid acceleration with quick braking wastes gas and hurts your vehicle. Try to drive at an even rate during your commute — or as even as possible. When you're in stop-and-go traffic, speed up slowly. Then you won't have to slam on your brakes.
Keep your car in tip-top condition. Proper tire inflation makes a difference in gas mileage. Get yourself a tire gauge, and use it regularly.
Don't skip regular vehicle tune-ups. Air filters and engine oil need changing more often when you're packing on the miles.
Resist the temptation let your car idle until it's comfy and warm on cold mornings. You're the only one who benefits. Cars don't need a long warm-up. This practice wastes fuel and spews emissions.
At the other extreme, limit your use of air conditioning if you're driving slower than 60 mph. Cooling your vehicle uses a lot of gas. Open windows instead.
However, at speeds above 60 mph, open windows cause excessive drag. In that case, you're better off financially with AC, but don't turn your car into a refrigerator.
Go Smart
Keep an eye on how much you spend to commute. The cost of gas fluctuates from station to station. The GasBuddy app displays prices at local service stations. Also, don't use higher-octane gas than your car needs. An 87 rating is probably fine. Advantages of higher-octane fuels are usually outweighed by significantly steeper prices.
Some gas stations offer discounts for drivers who use company credit cards. Take advantage of the rewards offered, and remember to pay off bills before interest is added.
Also, while you're out and about, consider running errands. Linking these with your commute saves time and fuel.
If you're in the market for a new car, make sure fuel efficiency is near the top of your wish list.
Despite how it feels some days, commuters are not slaves to their cars. Options are available: cut costs, shorten driving time or even eliminate the commute all together. When you find an alternative that works for you, you'll free yourself — at least a bit — from the automobile autocracy.
How do you feel about your commute?