This post may contain affiliate links, which means if you click through and purchase something using my links, I receive a small commission. You can click here to read my disclosure policy ? Thank you!
Let's face it: long distance relationships (LDRs) stink. Whether you started out in an LDR because you met online, or you ended up in one due to school or work, they take a toll on your relationship, no matter how positively you try to spin it to your friends and family.

If you've ever been in an LDR, raise your hand if you've ever said this to your mom/sister/BFF: "Oh, being in a long distance relationship isn't that bad. We talk a lot on the phone. And really, I'm way more productive when s/he isn't around, so I'm doing really well at school/work." While probably true, you know deep down, it really sucks not to see your boy/girlfriend regularly.

So what's a budget conscious saver like yourself supposed to do when confronted with a long distance relationship? Never seeing your significant other is out of the question, but weekly visits are (for many) financially impossible too.

Enter: strategically planning vacations, frequent flyer miles (or gas club loyalty cards), and Google Videochat. With these ideas, you'll be able to save some money while in a long distance relationship – more money that you can put towards saving for visits back and forth!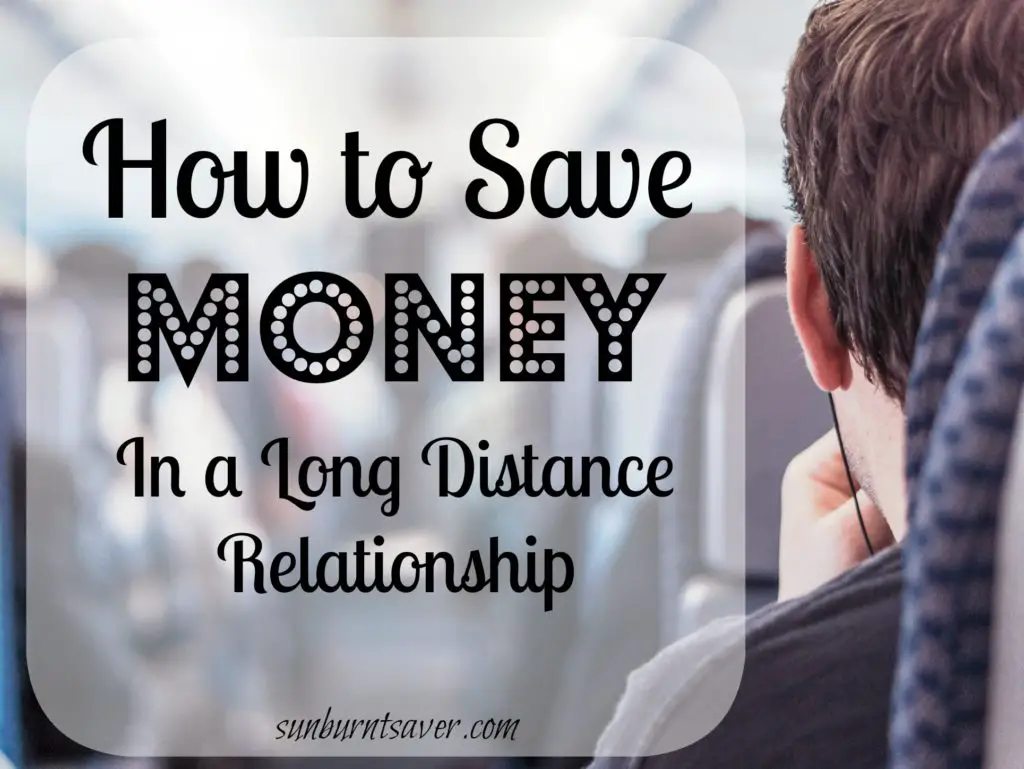 Strategically Planning Vacations and Frequent Flyer Miles
Strategically planned vacations and frequent flyer miles go hand in hand. When B and I were long distance while I was in grad school, Southwest's loyalty rewards program became our best friend. We chose Southwest over the other companies because Southwest had a lot of direct flights between Phoenix and Denver (where I lived). We took turns accumulating points: we alternated months to each other, where I would fly and pay one month, and he would fly/pay the next. That way, no one was shelling out money all the time.

Within a matter of six months, I had racked up enough points for a free flight (the Denver to Phoenix trips plus some points I had from before). Just as we were concluding our long distance relationship, B racked up enough points for a round trip flight too. It took a while (I was away for about a year and a half), and we didn't get to use his free trip for an LDR trip, as it was over by then, but we also didn't utilize the rewards program as effectively as we could have. On the other hand, B was able to use his reward for a free round trip flight, which we ended up using for a visit to Oregon later that year.

In order to leverage Southwest's rewards program more effectively, we should have signed up for Southwest's credit card. Had we known, we could have put flight purchases and other purchases on the card to rack up points faster, and maybe even gotten a sign up bonus in the process! Of course, if you're looking into utilizing a credit card to build up your travel points, only sign up for your preferred airline's credit card if you can pay it off monthly. Otherwise, interest payments will quickly eat into any benefit of having the card in the first place.

Along with frequent flyer rewards cards, if you live within driving distance of your significant other, you might look into gas station loyalty cards. If you have a Shell station on your way to visit the S.O., Shell offers a fuel loyalty program. Fry's, a grocery chain in the Southwest, also offers a percentage off on your fuel purchase if you shop at Fry's a lot. If you are using a credit card, some credit card companies offer 5% back on gas (Chase Freedom, for example).
See Your S.O. For Free
Another way to save money when in a long distance relationship is to 'see' your significant other for free. I used Skype when B and I were apart, but if I had been smarter, I would have just used Gmail's videoconference IM tool. Most people, especially in college, already use Google for Gmail, collaborating on projects together, or for storing documents on the cloud. Plus, Google is free (we'll leave the free/they're harvesting your data in exchange for 'free' stuff to a later topic).

All you both have to do is log in to your Gmail account and click the 'video chat' icon – and you're ready to go! Of course, you could use Skype, which is also free, but why sign up for another service when you have one that works perfectly fine? Any time I don't have to memorize another password is a win in my book!

With how often you want to see your significant other while in an LDR competing with your wallet, it's something easy to justify shelving out $250 for a round trip plane ticket. However, with a little creativity in utilizing free or frugal methods (and a lot of patience), you can retain your saver status and see your significant other.

Were you ever in a long distance relationship and, if so, how did you make it work?

Like what you see here on Sunburnt Saver? Follow me on BlogLovin' to get updates on new posts the minute they come out, or follow me on Twitter and Pinterest to see what I'm up to and what posts in the personal finance world I'm reading.