This post may contain affiliate links, which means if you click through and purchase something using my links, I receive a small commission. You can click here to read my disclosure policy ? Thank you!
The other day, I was going through my Mint.com budget to realize, after some sweet, much-needed work clothes I bought, my Entertainment budget was one of my highest expenses! My Entertainment budget is mostly made up of eating out expenses, including drinks. For some reason, that's B and my indulgence: trying out new restaurants around town (aka going to our 3 favorite places over and over again and saying we'll try that trendy new restaurant "another time").
However, as I found out, dining out can really be expensive! I mean in all fairness businesses are trying to make as much money as possible because that's how they earn to live. A friend recently told me that running a restaurant has been made slightly easier as owners can get restaurant management software to help them stay on top of things. If only this software would mean that dining out could become cheaper, but that's probably just wishful thinking. But life isn't always about staying in and denying yourself the company of others (including your spouse or significant other!) After all, even when I try to cut back on going out to eat, I notice B and I can get kind of grumpy. While it's terrific to cook meals at home (for health and wealth reasons), sometimes you just need a night out, away from the fridge and stove.
But going out can add up and really become pricey. So how can you save money on going out to eat and drink? Here are some ways I've embraced my frugal side, while still indulging in my favorite meals here and there.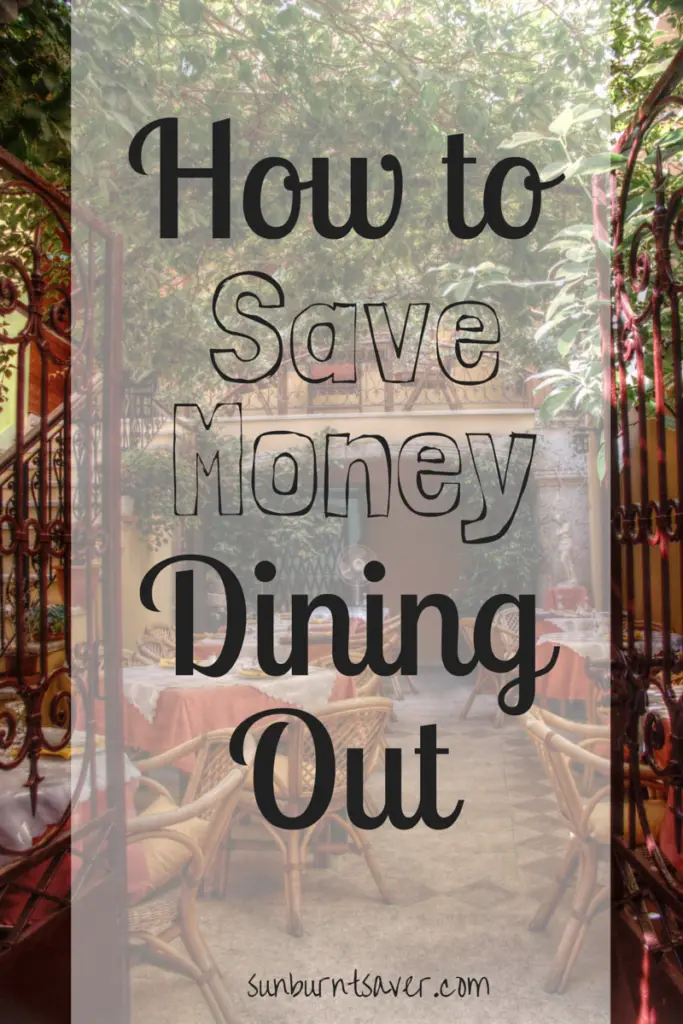 Don't be ashamed to bring a coupon or discount
Restaurants send out coupons for a reason – they want you to use them! In the past, I used to feel embarrassed bringing out a coupon in front of the server. I don't know why, exactly – did a coupon feel too frugal, like I didn't belong at that restaurant? And to be clear, I wasn't going to 5 star restaurants. These were our neighborhood pizza and Mexican food places!
After a while, I got over it. One way I "cope" with being frugal and pulling out a coupon (after telling myself restaurants send out coupons for a reason!) is that we tip very well. While I suppose it's okay to tip on the after-coupon meal (a $20 meal that's now $10 because you did a buy-one-get-one free meal), we don't personally do that. We usually tip 20% on the original total, because it's not like the server did any less work even though your meal was cheaper.
Note: 20% is a guideline – you can (and we have) tipped less on extraordinarily bad service, but that's rare. And we've tipped higher than 20% on really great service (especially our favorite servers who we see all the time. A good server who knows you is a gem!) We even used a via coupon to book our ride to the restaurant and it was great!
Not sure where to find coupons? Sign up for your favorite restaurant's mailing list. At the very least, most restaurants will acknowledge your birthday and send out a coupon for 20% off or a free appetizer.
Split a meal
Either with yourself or with a friend, splitting a meal can save you a ton of money. Meals in restaurants are often super-sized portions anyway, so by eating "only" half, you're actually eating a full portion size. Save on money (and calories) by splitting that meal!
This is one guideline I have no problem with following! If you can't finish a meal at a restaurant, that's perfectly fine! Sometimes you filled up with water, sometimes the meal is really huge, sometimes you're trying to keep your badonkadonk in your tight pants. I get it! And don't let other people say "wow, you weren't hungry, huh?" Whether you were hungry or not, you're not letting delicious food go to waste. Pack that up and don't feel ashamed*.
*Unless the food was gross. Then feel free to let that food go, because you shouldn't torture your fridge with gross food. We all know it's just going to sit in there and get funky.
Go for lunch
Some restaurants serve lunch prices until 3 p.m. (and sometimes later!) so save money dining out by going to a (really) early dinner or by splurging at lunch. This is a particularly good idea if you want to try out a new restaurant – if you don't end up liking the place, at least you haven't spent full price on a dinner meal.
This is also a great ideas for travelers – eat up at lunchtime to save yourself money! You can take part of your lunch back to the hotel or AirBnb, or eat it all and take a long walk around the city you're visiting to walk it off.
It may just be me, but I've noticed lunch portions are still really big. In this case, not only are you (usually) paying less for the meal, but you're still getting a pretty large portion to either eat in one sitting, or take home for later.
Go out for happy hour
Save money on drinks and food by going out during happy hour. If you can't make lunch, happy hour (usually from 3-6 p.m. most places) is where you can make it up! Especially if you want to get a drink, you have to go out at happy hour. Why pay $7 for your glass of wine when you can get the exact same thing for $5 one hour earlier?
If drinking isn't your thing, appetizers and some meals are often offered for happy hour pricing too. Save money on that cheese plate by ordering it at happy hour for half the price!
One trend I've noticed in restaurants here in Phoenix is some places have special happy hour menus, just during happy hour. These are items you can't get during lunch or dinner (unless you asked for them, I suppose), which makes ordering them even more secretive and delicious.
In some big cities, you may want to try to duck out of work earlier and beat the happy hour crowd. B and I have one place in particular we love to go to, but we've been stuck in line-hell before because everyone else has the same idea. Twice, we've been seated so late we missed happy hour! Don't let that happen to you – check out your happy hour restaurant ahead of time, and give yourself plenty of time to make it if it's a busy place!
Check out discount deal sites
Another way to save money dining out is visiting Groupon, LivingSocial, or Restaurant.com before going out for your meal. While these sites can be a hit or miss, sometimes you can find 50% off or more on your favorite restaurant. If you're feeling adventurous, pick out a restaurant that gets good reviews (not all of the ones on Groupon do!), buy your discounted deal, and check it out!
I've had the best luck using Groupon.com for that new, trendy restaurant that is, for some miraculous reason, running a special deal online. It's great because you can try out that new place without feeling like you cheated on your favorite restaurant, because really, you have a coupon and you do have to use it! 🙂
What are your favorite ways to save money dining out? Is eating and drinking out one of your favorite splurges, or do you prefer dining in?