This post may contain affiliate links, which means if you click through and purchase something using my links, I receive a small commission. You can click here to read my disclosure policy ? Thank you!
This is a sponsored post.
When you live in a very hot climate, like Phoenix, AZ is in the summer (we reached 122 degrees – that's 50 degrees Celsius for all my non-US readers – last summer!), we looked around everywhere for a company to come out and install aircon as the heat was unbearable, but as you can imagine, everyone had the same idea and we had to wait a while to get it installed.
Even our car was affected by the heat (you wouldn't have thought it!). During this time we learnt a few, very important things about car maintenance. For one: summertime is a horrible time of the year for cars. If something is going to go wrong in a hot, hot climate – it's probably going to go wrong during the summer (aka when you don't want it to happen!) This is why people are more likely to buy a new car in the spring, ready for the summer. If you are looking a new set of wheels for the summer, be sure to have a browse on the GMC Dealer website!
Just from my own experience, I've had car batteries go on me twice in the summer, my husband has had car trouble in the summer, my parents have needed work on the air conditioners in their cars in the summer… friends have broken down, been stranded, needed batteries, tires – you name it, it usually happens in the summer!
Now, I'm not saying summer is worse than winter. I've lived and driven in snow, and I would much rather be hot and stuck on the side of the road with a flat tire than be freezing and stuck on the side of the road while it's snowing with a flat tire. At least in the summer, no one is going to hit black ice and skid into your car!
However, no one wants car trouble ever. And no one wants car trouble whether it's extremely hot or cold – but how can you protect and prepare your car for the inevitable summer heat? If you live in a hot climate, are moving or visiting a hot climate, or just want to prepare for extreme heat in your own city, I have 5 ways to help you prepare your car for the summer.
Prepare Your Car for Summer: Tires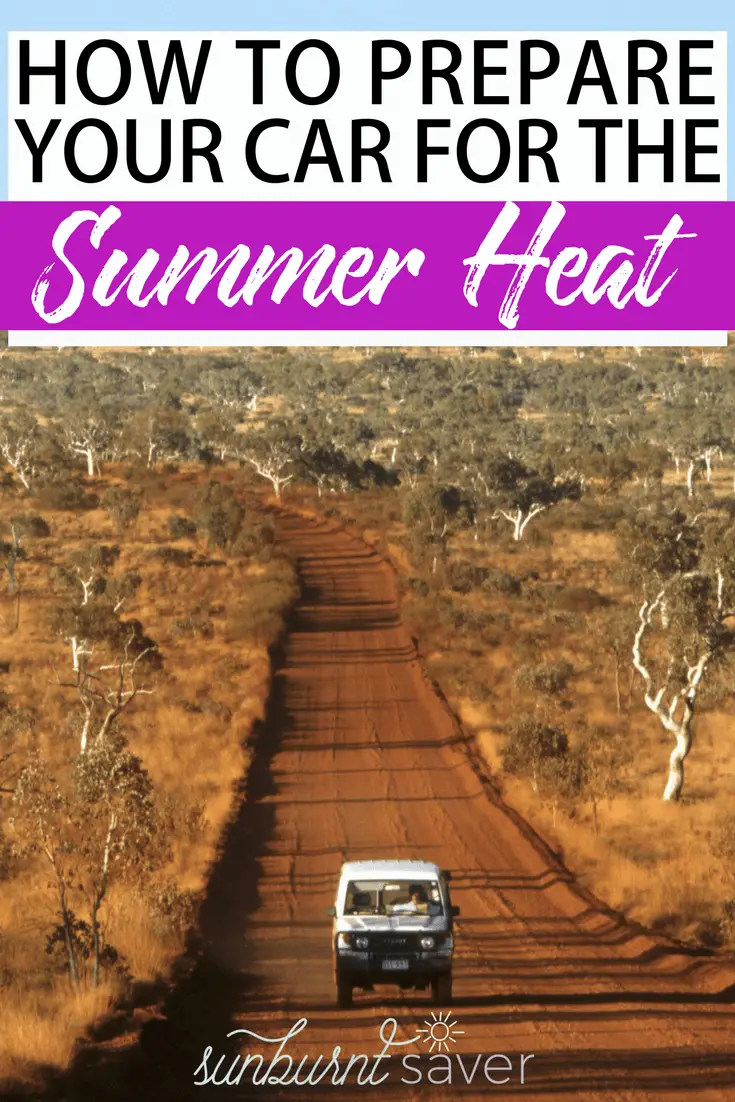 If you live in a place where you need snow tires and are visiting or moving to a hot climate (like Phoenix), you'll need to switch your tires from snow to all-weather or even summer tires. Summer tires have shallower tread but also give you more grip by putting more rubber on the road.
Personally, when I was attending school in Denver, CO (snowy climate during the winter) but spending my summers out of school in Phoenix (aka hot), I just used all-weather/all-season tires so I didn't have to buy winter and summer tires.
Always make sure to keep your tires properly inflated and, especially before summer, get them checked out by a mechanic. If you have to get new tires, you might as well get them before summer, because no one wants to go to the mechanic's when it's 110 degrees out!
Coolant
You need this. Period. Oh, you'll know you need this, too, when it's 100 degrees outside and you go to put on the air conditioner, and the only thing that comes out is… warm air. In most cases, you'll only need to add coolant fluid, but in some cases there may be damage to your coolant hose.
If you buy a car from a used car dealership or from a regular person, make sure to check the air conditioner. My parents ended up getting me an old (pink!) truck when I turned 17 so I could drive myself to high school/practice/after school stuff, and we all found out the hard way when summer arrived that the air conditioner didn't work. That was a fun lesson in paying for a mechanic for more coolant fluid – thanks Mom and Dad 🙂
You can avoid that issue by checking the a/c before you buy a vehicle! If you're not getting cold air within a matter of seconds, you'll want to get the coolant checked out.
Important Things to Keep in Your Car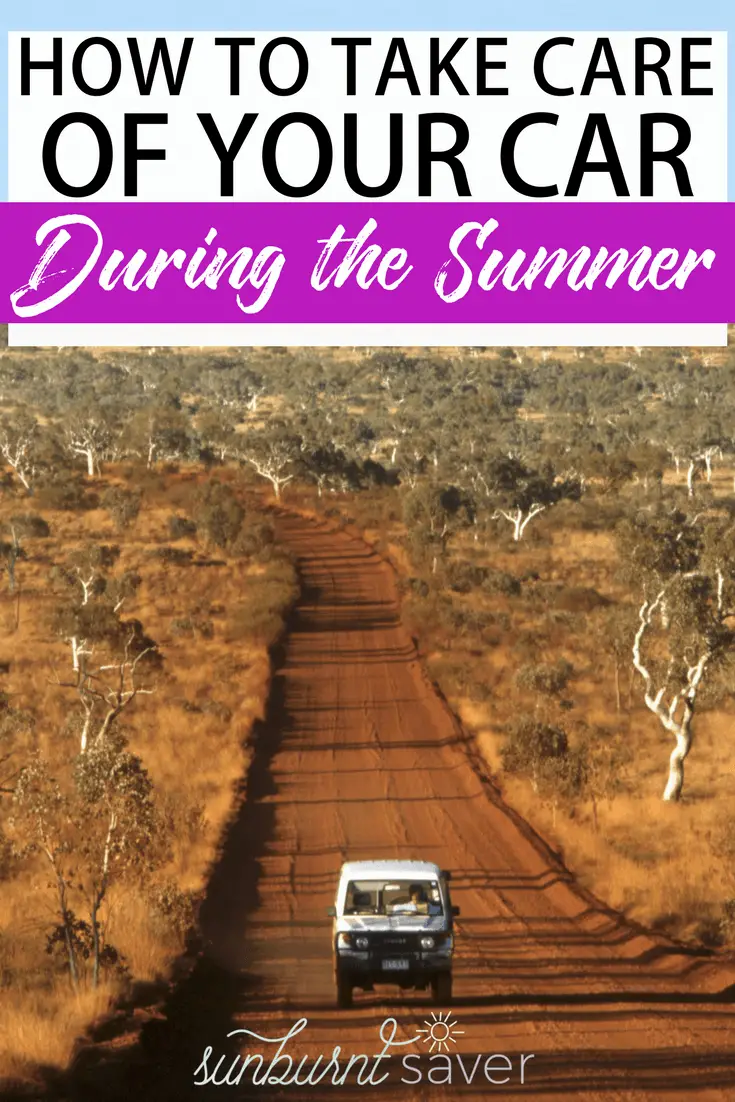 In many cases, the same type of safety gear you have in your car at all times will be fine for the summer, but here are a few additional things you might not have thought of:
Water – keep at least 1 gallon in your car. You really should try to bring it inside (rather than leaving it in your trunk) but if you have to leave it in your trunk, make it water bottles. You're more likely to use them, they're less likely to explode (from heat) and, while they'll get hot, they can cool down faster than a big gallon jug.
A windshield sun shade – you'll want to find the right size for your car, but these are a must-have in the extreme heat and sun. You'll put these up all the time – when you're getting groceries, when you're shopping, when you're stepping out to pick something up quickly. It's either this, or burning your hands off (just kidding – you'll always burn your hands off!)
A towel or oven mitts – I personally prefer small hand towels to oven mitts, but either will work. This is for your hands, when you inevitably forget your sun shade and you get into your car to drive – and darn near burn your hands off!
Things you don't want to have in your: almost everything else. Chargers for your cellphone can warp or get damaged in extreme heat, so you'll want to bring them inside. Did you leave chapstick in your car? Say goodbye to it – it's now a congealed mess! Leave food in your car? Oh my, it's probably melted – yes, even if it was crackers!
Bottom line: if you love it, don't leave it in your car. Only leave things in your car during the summer that will protect you or save your life (like water).
Protecting Your Car
Before the summer hits, you'll want to do some of the following:
Get a car wash – after the winter, your car may need a little extra cleaning, especially if you were traveling in the snow. Get it cleaned outside and in before the summer heat bakes the dirt into your car!
Clean out or replace your windshield wipers – in Phoenix, we have the double whammy of a hot summer and monsoon storms. Monsoon storms are gross (they're usually full of dust) and they can be violently destructive (hail damage). You do not want to be caught in a monsoon, but if you are (or you're caught in regular rain) you'll want to make sure your windshield wipers work! Unfortunately, due to extreme heat, windshield wipers usually break down every year – so before the summer hits, check yours out and see if they need to be replaced.
For the love of all that is good, park under shade, in a garage, or under a car port – if you love your car (and you should – they're expensive!!), park it under some shade during the summer! This is one of the best ways to protect it and keep it lasting longer.
Get it Checked Out
Unless you're a mechanic, related to a mechanic, or have a mechanic friend, you might just want to take your car to get looked out before the summer arrives. Mechanics can check your oil, coolant, brake fluid, and your battery (in many cases). Getting this taken care of ahead of time could save you money – and will most definitely save you some trouble so you don't have to deal with problems during the summer!
If you're not sure where to go to find a mechanic, I recommend heading over to Cars.com where you can find a service repair shop near you, plus do some of your own research on preparing your car for summer, winter, or any other question you may have!
How do you prepare your car for summer (or winter)? Let me know in the comments!