This post may contain affiliate links, which means if you click through and purchase something using my links, I receive a small commission. You can click here to read my disclosure policy ? Thank you!
Just going to put this on the table: I actually love Black Friday. I am really, really excited for it. Oh no, I don't actually go outside for Black Friday – Black Friday for me is basically everyone else's Cyber Monday. However, I have learned that Black Friday and Cyber Monday deals are virtually the same, which is why nowadays, it's easier than ever to just shop online and avoid the crazy Black Friday crowds.
But why do I love Black Friday so much? I know that most Black Friday (and probably Cyber Monday) 'sales' are just gimmicks to get you in the door and spend more money.  I know that the deals don't really even change that much, and may even get better closer to Christmas.  However, I like Black Friday because I like shopping (mostly), and being able to find cool stuff for loved ones (or buying them a gift they had wanted for a while but would never buy themselves) is a huge part of the fun.
However, before you start thinking, 'hey, isn't Melissa supposed to be the Sunburnt Saver?' let me clarify: I enjoy Black Friday shopping because of a careful set of skills I have honed over the years. I call it Black Friday Preparation, and while it's not that different from any other savings-mindset, it does require focus. I'll break down for you how I prepare for Black Friday, the tools I use to succeed, and sites I visit to make sure I'm getting the best deal.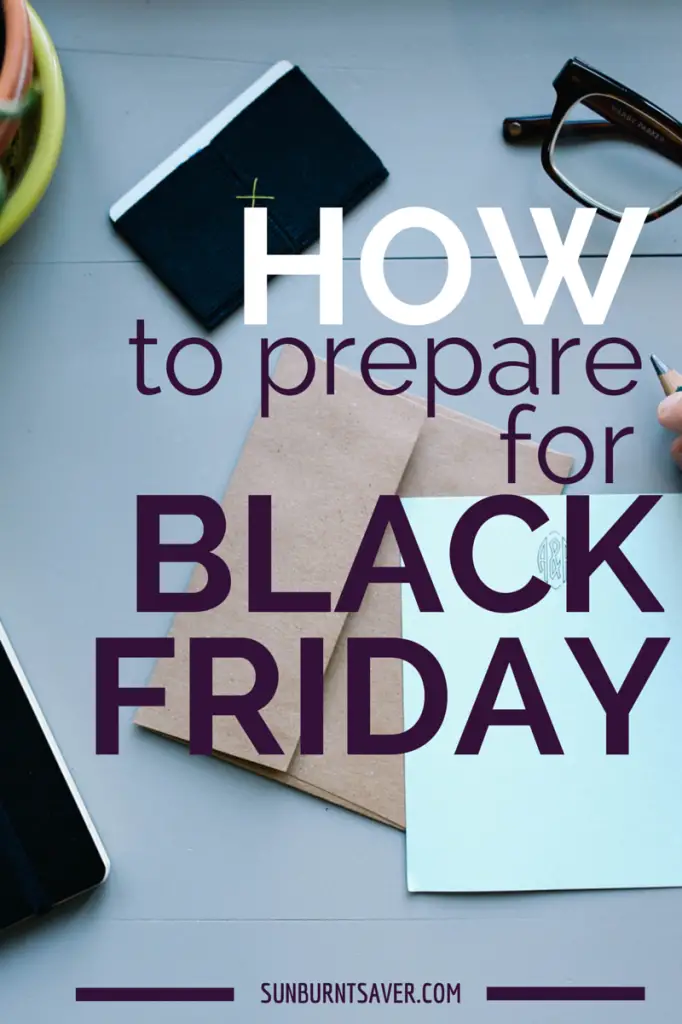 Preparing for Black Friday
Preparing for Black Friday is key – but how do you prepare?
1. Make a list (and check it twice) – not to riff off Santa's song, but I make a list right after Christmas. In a totally not rude way, my family has a bad habit of mentioning things they wanted (or found out they wanted from what other people received) that they didn't receive.
It's usually along the lines of, '[sibling] received this gift, and I thought it was totally uncool… until I saw him/her using it! Oh man!'
Or 'Aunt Linda received this really neat mixer for Christmas, and I didn't realize how difficult my old mixer was until I saw hers in action!'
I take note of gifts like these, knowing that my family typically doesn't buy 'frivolous' gifts for themselves. Sure, my Mom might want Aunt Linda's mixer, but the likelihood of her buying it for herself is slim.
1a. You may be thinking, at this point, if you plan too far ahead, you run the risk of someone not wanting/needing/liking this present a year from now. You're right! The likelihood is strong of my Dad buying my Mom a new mixer before next Christmas. However, the likelihood is also strong that everyone forgets about the presents they thought they wanted… whereas I have made a list (and check with people throughout the year to make sure they didn't receive, for example, a new mixer).
1b. Update your list throughout the year. If Sibling 1 really wanted card games last year, but now is a Teenager and therefore Too Cool to play card games, but really likes going out to the movies with his friends, nix the games. Instead, consider buying him movie passes or a loyalty card to the theater he visits most often. You'll learn about people's changing tastes throughout the year, in general conversation, or at family get-togethers.
2. Add things you find throughout the year to PoachIt.com. Before PoachIt.com, I used Hukkster, but Hukkster is now out of business. Either way, Poach It is very similar to Hukkster as it tracks items you like and alerts you if the item goes down in price.
Using Poach It is very simple – create an account at PoachIt.com and click and drag the Poach icon to your toolbar. From there, anytime you stumble on an item a family member/friend (or even yourself!) would love, drag the item to your Poach icon and wait for it to decrease in price.
I have bought presents for family members numerous times using Poach simply because the items went down on super sale – 50% off or more, and sometimes even on clearance. As long as you have the time to wait, Poach It will be incredibly useful to you!
3. Before purchasing, compare prices at PriceGrabber.com. Although not foolproof, PriceGrabber can help you see if you're getting the best deal on an item by checking other online retailers. Just be sure you're comparing apples to apples – don't get caught comparing shoes to shoelaces, for example (sometimes it is unclear!)
4. Before checking out, visit RetailMeNot.com to see if there are additional coupons, free shipping deals, or other 'codes' you can use to get a free or sample size item. I have female family members who love make up (even more than I do), and RetailMeNot.com has been so much fun – for me! I buy make up or gift cards from Sephora for them, and RetailMeNot frequently has codes for large samples for products I wouldn't purchase on my own. Now, I don't send the samples to my friends or family… these samples are for me! 🙂
5. Don't get carried away. Whether in the store or online, the goal of retailers is to get you to spend more money. Don't let that happen to you. Using your list, check off every item you purchase for every family member.
For example, last year I was buying some delicious body washes and lotions for B's niece on Bath and Body Works. Bath and Body Works has sales year-round, but around the holidays, there are some serious deals (particularly the weekend between Black Friday and Cyber Monday). Unfortunately, this can tempt you to buy more items because 'it's 50% off!'
Don't let that happen to you! If you're buying 2 sets of body washes/lotions/shimmer sprays for your nieces – leave it at that! Do you really need shimmer body spray? Probably not. Don't do it just because it's $5 when it usually retails for $15. That's $5 you don't need to spend!
Bonus! Do you still have that list I told you to make in step 1? Good, because you'll want to keep it. Why? Because sometimes you do purchase something for someone that they liked 6 months ago, and now hate.
For example, remember those body washes I bought for B's niece? Well, when talking to her aunt, I discovered she was going through an eco-friendly phase and only wanted organic body lotions… which Bath and Body Works are not.
Bummer, right? Nope! I just re-gifted that gift to one of my friends, who is obsessed with smell-good lotions. However, I made a note on my list that niece is currently into eco-products. While I ended up getting her something else entirely, it came in handy several months later when she had a birthday, and I was The Cool Aunt who got her exactly the eco-friendly body wash line she really wanted. Oh snap.
Surviving Black Friday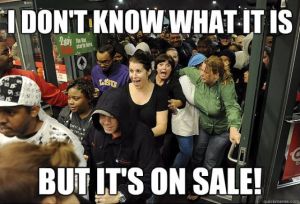 Surviving Black Friday is just like surviving any other major shopping trip. Sure, some deals are better than others, and some aren't so good. With practice, you'll learn how to recognize when something is a deal, and when it will get cheaper in the future. Until then, use Poach It!
I also really liked to visit the Deal News site in the days leading up to Black Friday and after. I particularly like to read their list of things not to buy on Black Friday, as it reminds me to wait until later for those items to go on sale (for example: tools. Do not buy tools on Black Friday!)
No matter what, you won't see me camping out weeks before Black Friday to score a deal. And, as a former retail worker who has worked on Black Friday, I know the particular hell that awaits retail employees. That's one of my main reasons to not ever go outside to shop on Black Friday – other demented people, and overworked retail workers.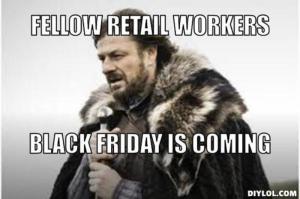 Do you like Black Friday and/or Cyber Monday, and do you plan on participating in the sales? Do you have a strategy to buy presents for loved ones, or do you avoid buying presents all together?