This post may contain affiliate links, which means if you click through and purchase something using my links, I receive a small commission. You can click here to read my disclosure policy ? Thank you!
Welcome to week 3 in our Summer Savings theme month! I hope you've been enjoying these heat-and-frugality themed topics we've been discussing over the last few weeks, and if you have any summer savings topics you'd like covered, just let me know!
In case you've missed any topics:
And now on to Week 3! As you all know, I complain about the heat a lot, and I have it good compared to others. After all, I work in an air-conditioned office, go home in an air-conditioned car to an air-conditioned home, and we have ceiling fans to constantly keep cool air circulating. In all honesty, if a friend of mine hadn't recommended I looked into finding a specialist company to repair my broken air conditioning system, I don't think I would be as comfortable as I am now at home during this weather. I'm glad I am though. I also have access to cold water and shade throughout the day.
Unfortunately, not as many people are as lucky as I am. Heat-related deaths aren't just the leading weather-related cause of death in Arizona, but nationally. We often hear about catastrophic events, like tornados, floods and earthquakes that kill people in the US, but heat-related deaths
kill more people
than those disasters
combined
. In 2013, it was estimated that extreme heat causes an average of 658 deaths in the United States.
Heat-related deaths are a silent killer. Heat exhaustion and heat stroke are typically not immediate killers – you don't go outside, become exhausted in 10 minutes, and die. That's what makes identifying someone suffering from heat-related illnesses difficult. However, there are ways you can help others, yourself, and your family stay safe this summer.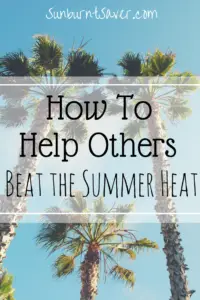 How You Can Help Others Beat the Summer Heat
Donate in Your Community
You can help others in your community immediately with a few affordable items. The best thing about these items is they frequently go on sale, can be bought in bulk, and are durable. While some of these items must be donated unopened, and can't be donations from your house, they're typically things you can pick up extras of when they go on sale.
The most frequently requested items by shelters and emergency relief providers include:
Unopened water bottles
Sunscreen
New underwear
White socks
White T-shirts
Insect repellent
Prepackaged snack items
Lightweight hats
Keep an Eye Out for Children and Pets
Hot weather and dogs aren't a good combination. In their natural exuberance, children (and some pets) will just run and run and run until they collapse. While this is fun to watch (knowing someone is going to
actually sleep
tonight
!), it's not so great when it's really hot outside.
If you're out with children or pets, encourage them to drink water. Kids may complain they're "not thirsty", but ask them to drink a little water anyway. Your dog will typically drink when s/he is thirsty, but it's not a bad idea to have a hose and spray them with some water too.
Note: check your water temperature before spraying your pet with an outdoor hose. Extreme cold can shock your dog, but extreme heat (much more likely for water from a hose left out in the sun) can scald your dog. Always check water temperature before spraying it on anyone, including you, your pets, children, etc.
Conduct Check-Ins with Elderly Neighbors & Family
For a variety of reasons, the elderly are among the most likely to die from heat-related illnesses. Whether they're trying to save money by turning off the air conditioning, or simply can't feel how warm they are getting, there are still ways you can help.
If you have elderly neighbors, check in on them once a week and ask how they're doing. It helps if you already have an established relationship, but even if you don't, you can always make up an excuse to stop by. If they need help pulling weeds and don't have the stamina to stay outside long, offer to help. If you can't offer your time, you can always contact your city's neighborhood or human services programs to see if they offer elderly assistance for lawn maintenance – yes, some cities do offer this service!
Call and check in on elderly family members as well. If you're able to stop by, great! You (probably) don't need an excuse to stop by and visit family. With family members, you can be more upfront if you suspect something is wrong. If their house is too warm, ask if they're trying to save on the A/C bill, if they need some portable fans, or if the A/C is just broken and they haven't realized it.
Depending on how independent your neighbors and family are, they may not want you to interfere too much. However, by checking on them and letting them know you're around to help, they're more likely to think of you when a true emergency arises.
When in Doubt, Call 9-1-1!
If you see someone in a park or on the street who appears to be suffering from heat distress, try to approach them and ask how they're feeling. If you can, offer them a water bottle and try to get them in shade. If they're unresponsive and appear flush or dizzy, call 9-1-1 to report heat distress.
If you see an infant or pet left in a car on a hot summer day, immediately call 9-1-1. Some may say you're being overly dramatic by calling 9-1-1 for a child or pet that is waiting in the car, "
only for a couple of minutes
." However,
according to the Humane Society
, on an 85 degree day, the temperature inside a car with the windows opened slightly can reach 102 degrees in ten minutes, and 120 in 30 minutes.
And that's an 85 degree day – not 115 degrees!
Would you want to be trapped in an 102 or 120 degree car?
I don't necessarily advocate breaking car windows unless an infant or animal is clearly in heat distress (not responding to taps on the window, looking listless, lethargic, eyes rolling back). Unfortunately, in our litigious society, you could be sued (or assaulted) by the owner of the vehicle. Of course, if you see an infant or pet in distress, have called the police, and are genuinely concerned, you have to make that call yourself.
Note: When I say "child" or "infant" I generally mean a young person who can't open a car door by his/herself. I realize this may be a judgment call, but if you see an 8 year old who's sitting in the car, reading a book or playing on an iPad, with the window cracked, you might not need to call 9-1-1. An 8 year old should have the capacity to feel him/herself getting hotter, open the car door, or call Dad/Mom.
Summertime doesn't have to be a scary time that you have to avoid. By practicing some commonsense measures, like staying hydrated and covered up, you and your family should have a great time this summer. You can help others in your community that don't have access to shade or a cool place to stay by donating necessary items and keeping your eyes open. A little commonsense goes a long way to making sure everyone has a safe summer!
How do you help others or have helped others beat the summer heat? What are you tricks for staying cool during the hot days?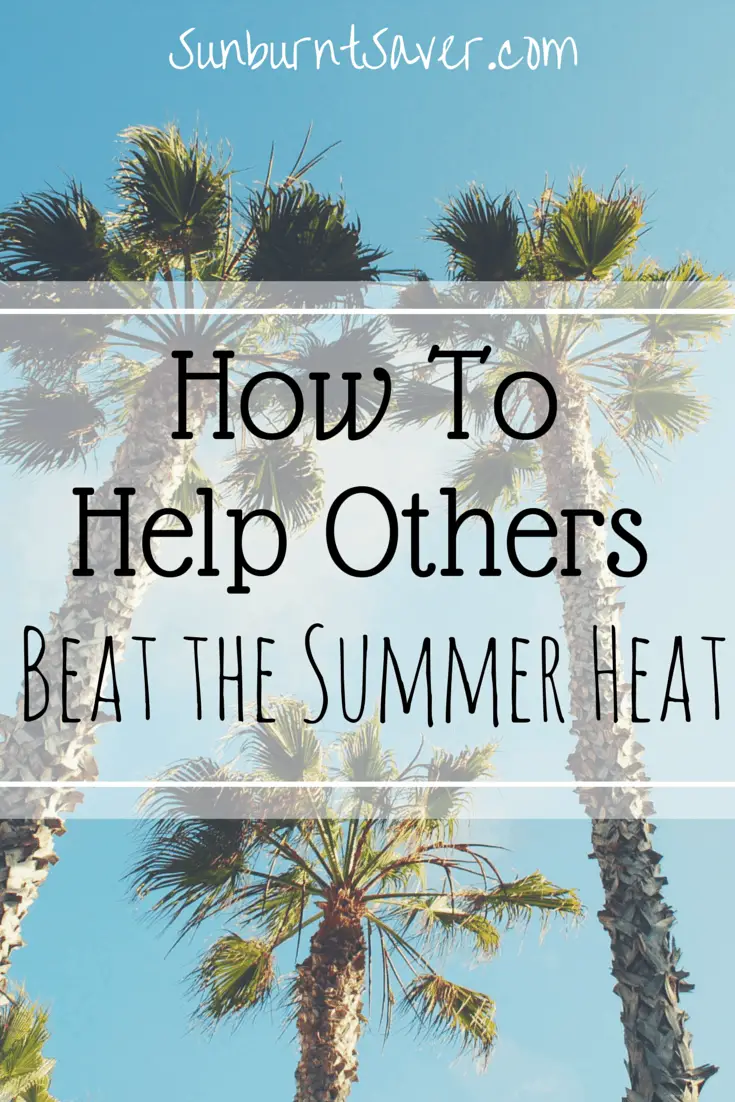 Save