This post may contain affiliate links, which means if you click through and purchase something using my links, I receive a small commission. You can click here to read my disclosure policy ? Thank you!
The other day, as I was walking back from the break room to my cube, I overheard a co-worker say 'don't tell me what to do with my daughter at Halloween!' The right thing to do would have been to hurry back to my desk, but that's not what I did. My first reaction? Ooooo snap, that guy just opened a can of worms!
The guy at work who innocuously asked why our coworker wasn't trick-or-treating with her daughter had no idea Halloween is a sore subject with this particular person. As I slowly walked back to my desk, I heard our coworker unloading on the poor guy about how Halloween is dangerous, evil, etc. etc.
Over my years in the workforce, I have learned quickly that the holidays are an extremely sensitive subject for some people. If you're not careful, you could end up like the new guy, harmlessly asking a question (or so you think) and getting an earful about why no one should celebrate (X) holiday.
What's a new employee supposed to do, then? No, the answer isn't to not speak at all in the office. That would be unwise (you could come off as antisocial) and, honestly, talking to people about the holidays can be fun! Here's how to survive the messy office politics of the holidays.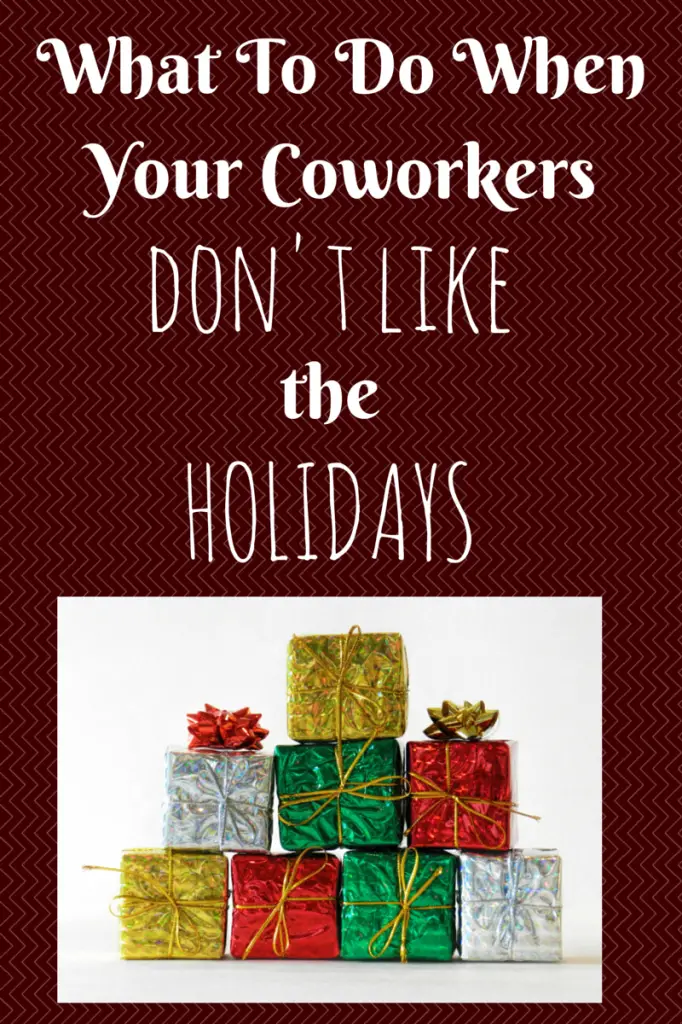 Ask Open Ended Questions
I've been working with angry-Halloween coworker for several years already, but it wasn't until her daughter became old enough to trick-or-treat that I found out she hates the holiday. I don't know why she hates the holiday, but I know it makes her upset and that's enough for me. My goal is to steer her towards more enjoyable topics.
One of the most successful questions you can ask someone at any time of the year, and particularly during the holidays, is 'Do you have any plans for the fall?' This question allows people to bring up Halloween plans, Thanksgiving plans, or any other activities they may have lined up for the season, without specifically saying 'do you have Halloween/Thanksgiving plans?'
Lucky for us, this year Halloween falls on a Friday. To determine how your coworkers feel about Halloween (if you haven't already found out), you can ask them about their weekend plans. If they mention trick-or-treating, handing out candy, or going to a party, you can continue with your Halloween conversation. If they say 'nothing', you can assume they don't celebrate the holiday can default back to 'do you have any plans for the fall?'
Follow Their Lead
My work has the unofficial 'rule' that someone always has to be at work to cover the phones for each section (minus any days that are given to us as holidays). In my section, there are 4 of us, which means when Christmas Eve nears (which we don't get off), people scramble to ask for vacation so they can celebrate the holiday (3/4 celebrate Christmas).
If your work has the same official or unofficial rule, it actually helps you learn more about your coworkers. One of the best questions you can ask your coworkers during the sensitive winter-holiday time is 'do you have any vacation plans this month?' Sometimes people will flat out say 'yes, I'm taking time off for Christmas/Hanukkah/Kwanzaa/etc.', but some will just say 'yes, I am.'
You can leave it at that, or ask where they're going if you're very curious, but either way: make sure to follow their lead. If they seem like they want to talk about their vacation plans, such as by elaborating on their plans ('I'm going to visit my new granddaughter in Portland!'), feel free to ask more about that. If they answer you curtly ('yes, I am') then follow their lead and assume they don't want to talk anymore about it.
Be Careful with Post-Holiday Questions
Unfortunately, you're not in the clear after the holidays are over. I made the unfortunate mistake of asking a coworker how her Christmas was (I knew she celebrated it already), and she told me a very sad story about how her whole family is miserable/her kids hate her/no one talked at dinner… I immediately regretted asking that question, because it made her quite sad and I didn't know how to make that situation better.
After the holidays, ask questions like 'did you enjoy your vacation? What did you think of that storm we got? How was that pumpkin pie you bought/how did that pumpkin pie you baked turn out?' If your coworkers celebrate the holidays and have small children, you're typically set for life: ask questions about the kids, ask if they took any holiday photos, did the kids help bake anything in the kitchen. People usually love sharing photos and stories of their kids, so if you've got coworkers like that, feel free to just let them talk.
While you may wish your coworkers would keep some personal stories private, you'll soon learn that your office has all kinds – oversharers, undersharers, positive people, negative people and everything in between. In an ideal world, you wouldn't have to think about navigating holiday politics at work, but unfortunately most jobs require you to be social, and occasionally that means asking questions of your coworkers. Ignoring the holidays can be just as bad as over-sharing the holidays – particularly if you celebrate the holidays and they make you happy! Just make sure to ask open ended questions, follow your coworkers lead, and tread carefully after the holidays, and you should have a smooth time over the next few months!
How do you approach the holidays at work? Does your work have a 'holiday party' or some other festive activity for its employees? Have you ever asked a coworker something and received way too much information?