This post may contain affiliate links, which means if you click through and purchase something using my links, I receive a small commission. You can click here to read my disclosure policy ? Thank you!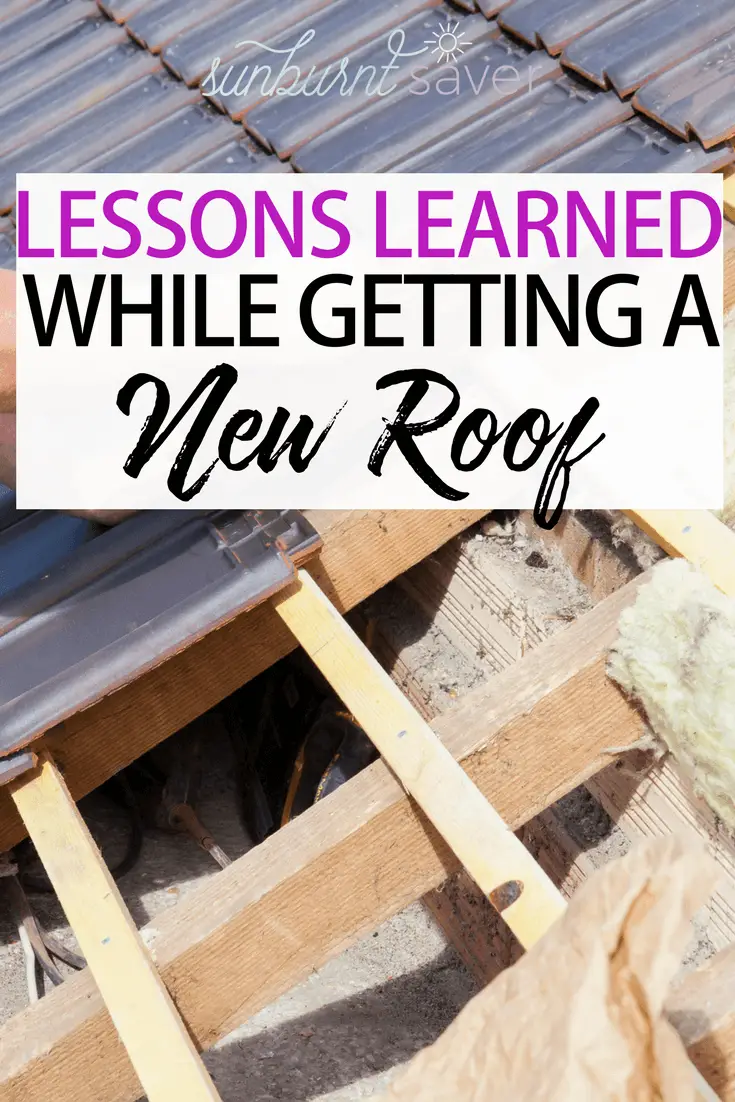 We recently went through the experience of getting a new roof and let me tell you – it was rough. I learned a lot in the process of getting a new roof, so there are a few things I want to share with you in this article!
Now, some roofing problems may not require the services of professional roofing companies and can be handled in-house (or on the roof!) Basic roof repair can be done yourself. However, if you're looking for a new roof altogether, you don't need me to tell you that you'll need to get the pros in.
I'm going to cover a few things in this article, so feel free to scroll down to your question if you don't have time to read the whole thing! I'm answering these questions:
Should you stay in your house when you're getting a new roof? (quick answer: NO! Do not remain in your house and do not let your pets remain in the house while you're getting a roof)
How long does it take to replace a roof?
How much does it cost to replace a roof in the US?
How can you spend less on a roof replacement or repair? (Hint: Use a reputable local company).
What types of roofs are out there?
Should You Stay in Your House When You're Getting a New Roof?
Do not be there. Absolutely, 100%, get the heck out of your house. Don't be like me and listen to people online who say "it's not that bad, only people who are sensitive to noises will want to leave." No, you will want to leave.
Unfortunately for me, I had to be there day 1 of the roof replacement. Conveniently, my husband said he "forgot" I would be home and scheduled the roof replacement for Monday and Tuesday… the only days I would be home, getting work done. "No problem," I told myself, "I can work through anything!"
Well, you can't work through anything. Take my word for it: flee your house.
Can You Leave Your Pets in the House During a Roof Replacement?
Can you? Yes. Should you? I don't think so. I highly recommend you board your pets.
The only exception I would make is: only board your pets if you know your pets are crazy. My cats are crazy, but they just hide all day and don't actually freak out that much.
My dog, on the other hand? Oh no. I spent 70% of my day bribing her to be quiet, because she just wanted to bark her head off. She's actually a normal, well-behaved dog 99% of the time, too. However, if someone is in her space, making incredibly loud banging noises, she goes nuts.
Again, don't listen to the people online who said you and your pets will get used to the noise. Your dog (unless it's deaf) will not get used to the noise. And if you have a dog that is in anyway protective of you, forget it. It will bark its head off.
How long does it take to replace a roof?
Unfortunately, it depends on a lot of factors. Are you getting a full roof replacement, like we did, or are you only getting a smaller repair? How big is your house? What's the weather like?
All of those answers will impact the answer to 'how long does it take to replace a roof?' However, in general, you can expect a typical roof replacement on a 1,000-2,000 sq. ft. home to take anywhere from 1-3 days. Of course if they need to replace other things like the fascia, soffits, and gutters, things may take longer.
How much does it cost to replace a roof in the US?
According to Home Advisor, in 2018, it will cost on average $6,600 to install a new roof.
Typical range: $5,113-$9,763
Low End: $1,200
High End: $30,000
Our roof replacement only cost us a total of $1,000 though. Why? Keep reading!
How can you spend less on a roof replacement or repair?
Believe it or not, terrible weather and a good home insurance policy can help you get a significant discount on your roof repair or replacement. I don't know if I would call it "lucky", but here in Phoenix, we get monsoons. Monsoons are very bad wind storms that kick up a lot of dirt, debris, and dust.
All of that junk combined with powerful winds typically means cars, outdoor furniture, and yes, roofs, sustain serious damage. If an inspector agrees with you, you may be able to have your homeowner's insurance policy pay for the majority of a roof replacement or repair.
That was the case with us – a monsoon did some serious damage, we called several roofing companies, and one was able to work with our insurance to get an entire roof replacement with minimal cost to us (minus the cost of increased homeowner's insurance down the line… but we needed the roof replaced!)
You can also save on a roof repair or replacement by:
Getting several quotes from reputable roofers in your city – ask neighbors, friends and family for recommends, then check the Better Business Bureau to ensure the roofer you choose is licensed and doesn't have any outstanding complaints.
Check if your roof is under warranty – if your roof is damaged and is still under warranty, you may be able to get all or a portion of it fixed.
Try to time it right – typically, late winter or spring are when roofers offer the most discounts, but try to think of times of year when service demand is slow in your city. I'm willing to bet summer is a good time in Phoenix to get discounts, but then again it might be bad too, since no one in their right mind would be on a hot roof in the middle of July here… but it's worth calling around and seeing when you can get the best discount!
Whatever you do, don't try to fix your roof yourself. My husband's family worked in roofing – and even my husband won't tackle a roof replacement. You might be able to repair part of a tile roof yourself, but I would not recommend you even try it. Too dangerous!
What types of roofs are out there?
There are a LOT of types of roofs out there, including:
Asphalt – most common in the US

Clay and concrete – clay is very popular here in the Southwest
Slate
Metal – you see these a lot on tiny houses!
Flat roofing – not super popular, although you do see them occasionally here in the dry desert Southwest
Wood shakes and cedar
You can read more about different types of roofing materials and the pros and cons of each over on HGTV's excellent article here.
Other Quick Tips When You're Getting a Roof Replaced or Repaired
Shut off the water valve to your evaporative/swamp cooler
If you have an evaporative (swamp) cooler, even if you don't use it, tell the roofing people where the shut off valve is.
For those of you who don't know what evap coolers are, they're for dry climates and are similar to air conditioners except they're less effective and make the air really humid. That's not the actual description, but that's my version. They're very common in Phoenix because they're generally cheaper to run.
Our evaporative cooler is a piece of junk and we don't use it. When the roofers showed up, they didn't mention the evap and we forgot to ask. Unfortunately for me, in order to move the evap to replace the roof, they needed to shut off the water valve to it. Instead of finding the valve (admittedly, I didn't know where it was, although I could have called my husband), they turned off the water… all day.
And no, turning off the water for the entire day is not common, which I found out after going from 7 AM to 6 PM without any water. Plans of getting any laundry done? Erased! Plans of washing my hands, ever? Thank goodness for hand sanitizer…
If you don't have an evaporative cooler, you are so lucky. For my fellow dry-climate folks with evaps, show your roofers where the evaporative cooler shut-off valve is (if it's separate from the water line). If you have to be home (or come home while the roofers are there), you should not be without water!
Cover up your stuff and take valuables off the walls
One thing I didn't believe the people online about was covering up my stuff because of falling debris. "How much debris could actually fall out?" I thought, naively, to myself.
Oh, lots of debris. Lots of dirt, and junk, and pollution, and probably bird body parts from birds getting stuck in the attic (I have never seen or heard any birds in our attic, but I'm assuming that happens). All of that junk came out of our vents, all around the house, all day long.
It was gross. So, so gross. So much cleaning… if you're smart (not like me), you'll find a way to put something, like a trash bag, underneath your vents so that when the inevitable shaking happens and dirt gets dislodged from your attic, you will have something to catch all that debris.
Also, consider taking down any pictures or picture frames from your walls. Nothing fell off the walls while the roofers were working, but I wouldn't be surprised if they had fallen.
Sometimes the worst happens – make sure to read through your contract carefully.
Everything I've mentioned so far is excusable either because of poor planning (scheduling roofers while I'm home) or a minor inconvenience (so I was without water for a day).
However, around 3 p.m., I heard a loud crash, louder than normal. It turned out a guy crashed through our roof, into the living room.
Yes, that happened. A man fell through my roof. Thank goodness he was okay and happened to land in one of the safest spots in the house: right in the middle of the living room. He missed a coffee table, chair, lamp, and side table to land right plop in the middle.
It's actually kind of a miracle, because 10 minutes before, I had been standing in that living room, watching TV.
Luckily, it was in our contract that if a guy falls through our roof, fixing the roof and patching the drywall is covered by the company.
The Most Important Thing to Remember: Don't Be There During a Roof Replacement
As you can see, lots of weird and unexpected things can happen when you get a new roof. If you only take away one thing, just remember to flee your house when you get a new roof. Even if you don't put up trash bags to catch the dirt, if you don't care about losing water, or even if a guy falls through your roof, do leave your house.
I like to find a silver lining in everything, so even though this post was basically "weird things that happened to me during a roof replacement", in the end, we are getting a new roof. We ended up getting it sooner than anticipated, too, thanks to a terrible monsoon storm that tore shingles off our roof (and led to insurance giving us some money for the roof). We are lucky to have extra money to pay for the roof now, instead of letting the roof get worse.
But I have made a note to myself: only homes with new(ish) roofs in the future! 😉
Have you ever experienced a roof replacement, or have you recently gone through getting a new roof? What were your experiences like?