This post may contain affiliate links, which means if you click through and purchase something using my links, I receive a small commission. You can click here to read my disclosure policy ? Thank you!
It all started with a promise, a promise I made to myself and my phone: everything I put in you, Notes app, I will buy at the store and not a single thing more. Yeah, sometimes I talk to my apps, don't you?
I went to the store, super proud of this promise I made, and then suddenly my phone became ashamed of me. I exited the Notes app and, ashamed of myself as well, shoved my phone into my purse. The 10 items I planned to get had turned into 14, 16, and now 20 items. I could no longer even use the Express Checkout lanes because I had gotten so much.
Going to the Store Can be Hazardous to Your Wallet
Has this ever happened to you? Oh sure, we rationalize it and say "well I would have needed that eventually anyway, I should just get it now! It's on sale, I should get it to save money in the future." Sometimes this is okay, by the way (sales on stuff you use all the time are awesome!). However, if you're trying to stick to a weekly budget like I am, this isn't helpful and can blow a hole in your weekly grocery budget.
Enter: grocery delivery services. You might have heard of these services with the recent acquisition of Whole Foods by Amazon. Amazon is now set to deliver Whole Foods goods to hundreds of thousands if not millions of us, as some of us turn to grocery delivery instead of going shopping ourselves.
But how do grocery delivery services work? And do they even work? Can you really get good produce at a good price delivered directly to your door? You could assume Amazon will do a great job with food delivery as it does with most every other type of delivery… or you can read this review to see how it works in real life 🙂
Are Grocery Delivery Services Worth it?
Grocery delivery services can be an incredible time saver, and they can help you save money too. They can end up costing you more or being more hassle than they're worth, though. I did the hard investigating for you and found that… it depends on a few key factors if grocery delivery services are right for you.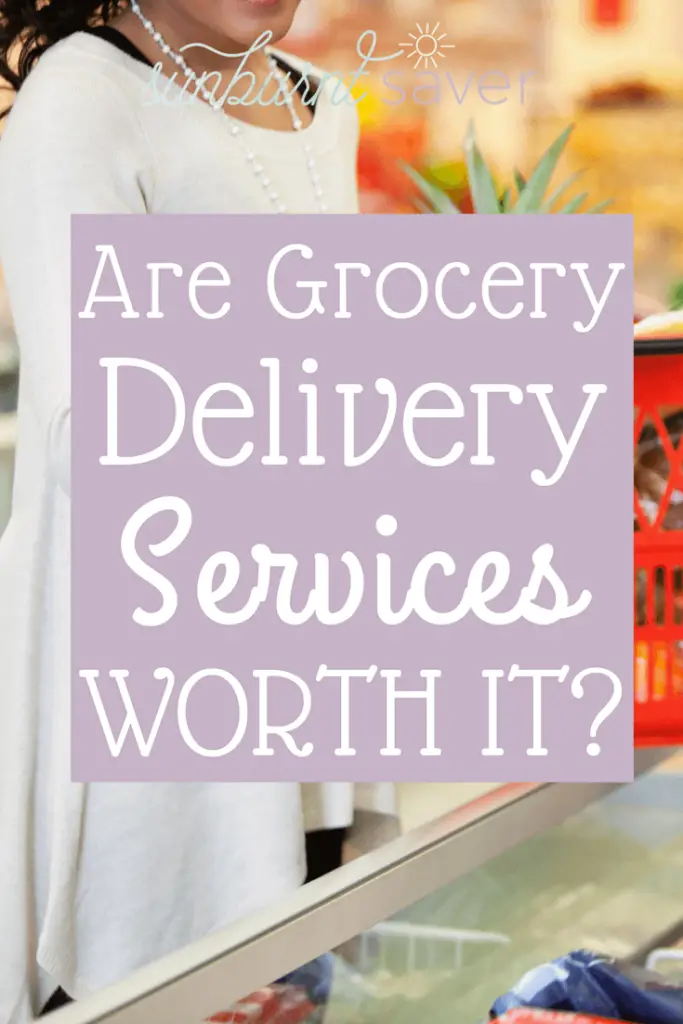 Want to save money and make grocery shopping easier? Take a look at the recommendations below, and for an easy, delicious and affordable meal planning service, take a look at The Dinner Daily here!
A Summary of the Value of Grocery Delivery Services
Grocery delivery services are worth it if:
You usually buy basic staples your grocery store almost always carries

You are offered free delivery (bonus points if you get a free item, too)

You're just too busy to go grocery shopping that week
Grocery delivery services are not worth it if:
You like picking out your own unblemished fruit, veggies, or un-cracked eggs (updated: not in all cases! Check out my Fry's review below)

Your local (and cheaper) grocery store doesn't participate in grocery delivery services

You're not getting free delivery
I live in a big city, with over 5 million people in our metropolitan area and 1.5 million in the city (Phoenix) itself. I would have thought I would have more choices for grocery delivery services, but really I only found three in action. Amazon only recently rolled out its grocery delivery services for my area, so I've listed it at the end.
I actually started trying grocery delivery services because I was traveling a lot to visit my parents and didn't want to make time to stop at the store. Sometimes I would also forget to go grocery shopping, leaving me hangry at lunch time. If I had enough time to plan, I used Safeway delivery because they were cheaper. If I needed food in an hour, I used Whole Foods delivery because they were faster. Amazon wasn't in the area when I first started using grocery delivery services, so I only recently used Amazon grocery delivery just to test them (and not because I was hangry or lazy).
Safeway Delivery
Safeway is similar to Albertson's and Von's in other states. It used to be my second favorite place to shop until Fry's (like Fred Meyer on the West coast) came to my area of the city, but it's definitely still in my top 5 favorite grocery stores.
Safeway delivery started strong but then began sending me really blemished produce and multiple cracked eggs in a carton. For less common items, like my vegetarian meatballs, Safeway delivery would often substitute, or if I checked 'no substitutions', wouldn't have it in stock at all. If this is a component of one of your meals, then this could be a headache and could require a trip to the store anyway.
Overall, Safeway delivery was fine for staples but terrible for good produce or "exotic" food (i.e. my vegetarian meatballs or veggie breakfast patties… yes, I live in a city).
Instacart with Whole Foods
Whole Foods is now using Amazon delivery, from what I understand, but when I first started ordering from grocery delivery services about a month ago, Instacart was delivering for Whole Foods. Bias note: I usually have terrible luck with Instacart deliveries, so I wasn't thrilled at first.
Instacart with Whole Foods started strong as well and often delivers early. I also rarely had any substitutions – and they had all my "weird" vegetarian stuff! Unfortunately, one time half my order wasn't even delivered. They issued me a refund, but I needed some of that stuff for the night's dinner, and it was too late to place another order for the same day.
Overall, Whole Foods had fast (although not always accurate) delivery, good variety and selection, and rarely forced me to substitute items. However, it was at Whole Foods prices, so I could only get like 15 things and stay inside my budget.
Amazon Grocery Delivery
Since it's Amazon, I expected Amazon grocery delivery to be really god. It's really… just okay. Hopefully it gets better over the next year as it takes over Whole Foods and perfects the delivery thing (and brings down costs!) Until then, Amazon grocery delivery had some real problems.
First, the selection for now is very basic. No organic apples, and fresh produce in general was lacking. I could get bananas and overpriced strawberries… and that was about it. No grapes. No pears. I wasn't asking for anything exotic and, keep in mind, I live in the 5th largest city in the country. If they don't have it here, I have little hope for smaller markets.
Everything on Amazon grocery cost about the same as at a typical grocery store. There were no sales, like I was offered on Safeway or Whole Foods grocery delivery, and prices were average if not high.
The only good thing about Amazon grocery delivery was the $20 delivery minimum. With Safeway, you have to order $45 worth of food and with Whole Foods, $35. However, I ended up going over my budget with Amazon because the prices were higher than expected.
Fry's ClickList
Apparently, Fry's has had the ClickList at the store closest to me for a while and I never knew! I recently checked it out, and… I really like it!
Fry's ClickList works the same as Safeway and Instacart, except instead of having the food delivered, you have to go pick up the food yourself (Fry's Associates pack the food and bring it out to your car).
At first I didn't think this was that great, but I actually don't mind driving 10 minutes round trip, picking up my groceries (5 minutes since they bring out the groceries and help you pack up your car). I'm able to combine this short, weekly trip with something else usually, like getting gas for the rest of the week.
With Fry's ClickList, you get your first 3 deliveries free and then there is a price to have your food picked and delivered to your car. Where I live, it's a $5 fee but every city is different.
Fry's ClickList is actually my new winner as favorite grocery delivery service because of a few reasons, including:
You can easily search for coupons for the items you're buying – when you type in something like "frozen corn", there's a tab you can click called "coupons" to see if there are any additional savings for frozen corn (or whatever you are buying). That's awesome!
So many more options – I've never had trouble searching Fry's digital list of groceries, like I've had with Amazon, Instacart or Safeway. Fry's has done a great job digitizing their inventory.
They always have what I need – even when I order "weird" vegetarian stuff, like veggie crumbles, Fry's has had it, no problem! Safeway constantly struggles with this, Amazon doesn't have basics like fresh produce (where I live) and Instacart can be unreliable with delivery.
Final Verdict – Can Grocery Delivery Services Save You Money?
With Whole Foods ordering system, you always can't check sales as easily. Whole Foods and Safeway offer information on sales, but sometimes perusing the aisles in person comes up with similar brands at a cheaper price, and you can choose those easier than you can find them online. With Amazon grocery delivery, you can't walk through a store to find what you need. In theory, Amazon is supposed to offer lower prices. Unfortunately, for now Amazon is not cheaper and offers a poorer selection than Safeway or Whole Foods. 
Fry's ClickList really has the best of everything: an extensive list of groceries your family will use, a reliable grocery delivery system that 99% of the time has delivered everything I requested, and affordable delivery prices.
Overall, it's worth it to use grocery delivery services if you can get free shipping and/or free items (that you'll use!) Grocery delivery is also worth it if you fall for impulse shopping, like I do.
If you don't easily make impulse purchases, you might actually save more by grocery shopping in person because you'll be able to see more deals and choose a cheaper version of the same item.
Have you tried any grocery delivery services and, if so, what was your experience?