This post may contain affiliate links, which means if you click through and purchase something using my links, I receive a small commission. You can click here to read my disclosure policy ? Thank you!
Have you heard about accountability partners, either for workout/health goals, financial goals, or entrepreneurship goals? A lot of people search for accountability partners who are interested in the same things as they are: your sister-in-law, for example, for your "running buddy" accountability partner to make sure you finish that marathon.
Some accountability partners are free, and others you pay for – in which case, they're not really a partner so much as a mentor. There are a lot of reasons to get an accountability partner or coach, including:
Holding you accountable!

Providing perspective on your work

Training you to use new strategies
Luckily, accountability partners don't have to cost a lot of money. You can work with almost anyone who has your same goals, whether they're for saving money, getting healthy, or building your business.
Personally, I have a few accountability partners – one for building my blog (shout out to Jody!), one for staying in shape (a good friend), and an accountability group for entrepreneurship. There is such a thing as "too many" accountability partners but, if you're able to participate and get something out of your partner or group, that number is up to you!
There are a lot of sites out there to help you find an accountability partner, and you can probably think of one or two people to be your accountability partner already. But how can you be a good accountability partner? It's just two (or more) people chatting if you're not accomplishing your goals – you get together with your accountability partner to get work done, not chat!
Here's a list of ways you can be a good accountability partner: what goes into finding quality accountability partners, how to set yourself up for accountability partner success, and how to accomplish your accountability partner goals!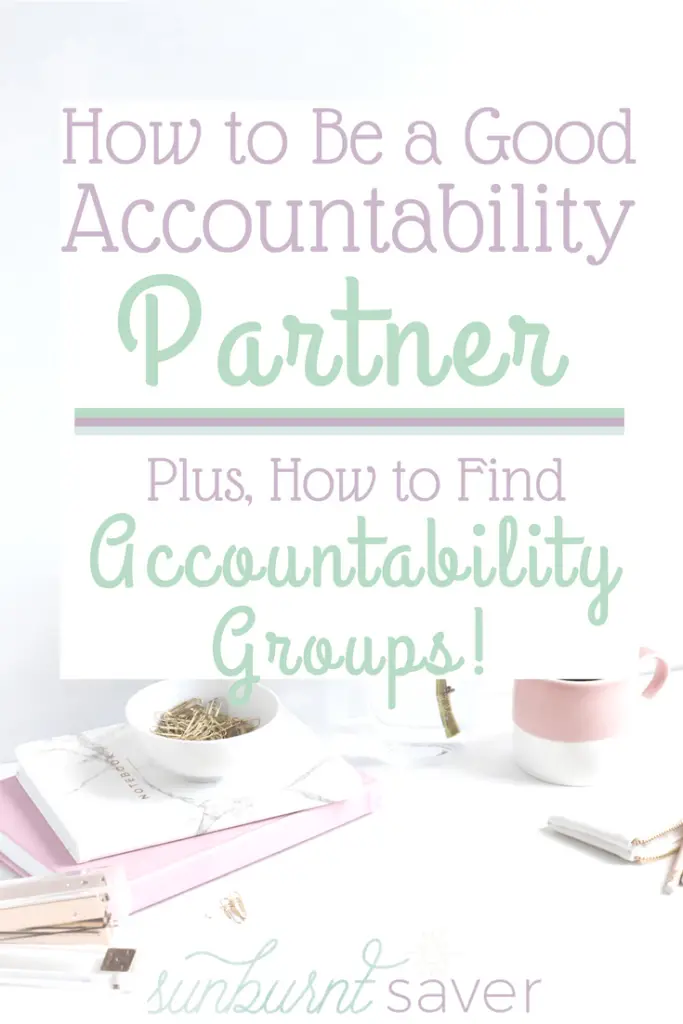 Finding a Good Accountability Partner
Not just anyone is going to be a good accountability partner. In fact, choosing friends or even family as an accountability partner could be a recipe for disaster. You want to choose someone who will hold you accountable, doesn't have any problems calling you out if you don't stick to your plan, and is interested in your success. You don't want someone who will listen to your excuses and say "it's okay, there's always next week!"
So how do you find a person like this? Look for people who are busy: the busier they are, the less time they have for excuses and the more likely they are to be hustlers who want to get it done. Look for people won't let you make excuses for eating that cookie (if you're looking for a health accountability partner). There's a reason I said "your sister-in-law" instead of your Mom as your running buddy/accountability partner – in a lot of cases, your sister-in-law will call you out on being lazy whereas Mom won't! 🙂
Don't know anyone who could be your local accountability partner? Check out Facebook groups! I found my blogging accountability partner from the Bright Bloggers group on Facebook. Chances are, if you're thinking of making big changes, you're already in a few Facebook groups devoted to your passion. If not, type in "healthy eating + paleo" or "running buddies + [your city]" into Facebook search to find people interested in the same things you are.
Reach out to people in these Facebook groups by creating a post, outlining what you want to accomplish (launch my blog in six months, run a marathon in 3 months, etc.) and ask if anyone wants to be your accountability partner. Yes, it's that simple!
Being a Good Accountability Partner
Once a few people (or even just one person!) has reached out to you, it's time to get serious about creating an accountability strategy that will keep you and your buddy on track.
Set a Schedule that Works for Everyone
Whether you're in a group or working with one accountability partner, make sure your communication schedule works for those involved. Some people like only-email, some set up private Facebook groups, some like Skype.
Be honest about what you can handle according to your schedule – if you can't respond to emails every week, schedule a two week check-in. Being honest is key – if you say yes to weekly check-ins but can only do monthly, you're setting yourself and your partner up for disappointment.
For me, I have twice a month check ins with my blogging partner via email, daily checkins with my health buddy (via text – takes 2 minutes!), and as-needed with my entrepreneurship group. Whatever works!
Follow Through On What You Say You Will
If your accountability partner or group sets goals (like finish 10 blog posts in 2 weeks, or sticking to a certain diet), make sure you do the work! It's no fun sitting in an accountability meeting and realizing only one person has put in the effort for the others.
Make sure you're putting something in – you want to get something out of this accountability group or partnership, right?
Promote and Be a Good Partner
You may not love your accountability partner or group, but surely you want them to succeed, right? Well, help them! If they have a new course, help promote it. If they're launching a new design business, interview them on your blog or pin their stuff on Pinterest!
Accountability partner running a race for charity? Either sign up with them or go and cheer them on! Part of being a good accountability partner means being there for the bad (if they get discouraged) and the good (when they start accomplishing goals!)
Support Your Accountability Partner in Smaller Ways Too
If your accountability partner wants to build her blog, sign up for her newsletter and give her feedback on it. No need to give her in-depth critiques, just a simple "great newsletter today – I really liked X!" or "Wow, your Pinterest graphics were on point today! Sharing! :)" Brighten their day in easy, quick ways.
In every accountability group I've ever been in, people get discouraged. It's human nature to hit a rough patch and say, "I can't do this!!" A good accountability partner will be understanding, supportive, and encourage their buddy to stick to their goals. Trust me, when you see your accountability partner succeed, it makes you feel even better knowing you helped them (and, of course, they helped you with your success!)
Do you have an accountability partner now or have you had one in the past? How did it go? Any advice for creating an accountability group/partnership that I didn't mention?