This post may contain affiliate links, which means if you click through and purchase something using my links, I receive a small commission. You can click here to read my disclosure policy ? Thank you!
As you may know from my several awesome Portland posts, I went to Portland two weeks ago! First of all – time flies. Second of all, can I go back? Seriously, I love Portland that much.
Loving Portland aside, I went up to Portland with my Dad as a father/daughter bonding trip. As I mentioned, my Dad is getting older and this is probably one of the last times we will be able to travel together. He is just not good at getting around anymore – it's not that he is very old, he just some has some health problems and isn't as confident in his abilities like he once was.
That said – how the heck do you get around in a city when you have limited mobility? Today's post is for everyone: even if you're a healthy 20-year-old, stuff happens! It is possible to get around in Portland with limited mobility, whether you've hurt yourself, you're traveling with someone older who needs more time, or if you're traveling with a small child or two (or more!). Also, let's face it: sometimes you just don't want to walk everywhere.
So, How Do I Get Around Portland with Limited Mobility?
We're not going to be talking about taking Trimet, the MAX line in Portland or the bus. Obviously, lots of walking is off the table too. And did you know there's no Uber or Lyft in Portland?
When I realized all of these options were off the table, I knew I had to find some way for Dad and I to still see cool things, like the Rose Garden, but get there with minimal hassle. I also knew I didn't want to take a taxi – while that's an option, I wanted something more personal and more fun for us.
Here's what we ended up investigating: Pink Hop-on, Hop-off Tour Bus, ZipCar, and Car2Go. Break down of what we chose and why below!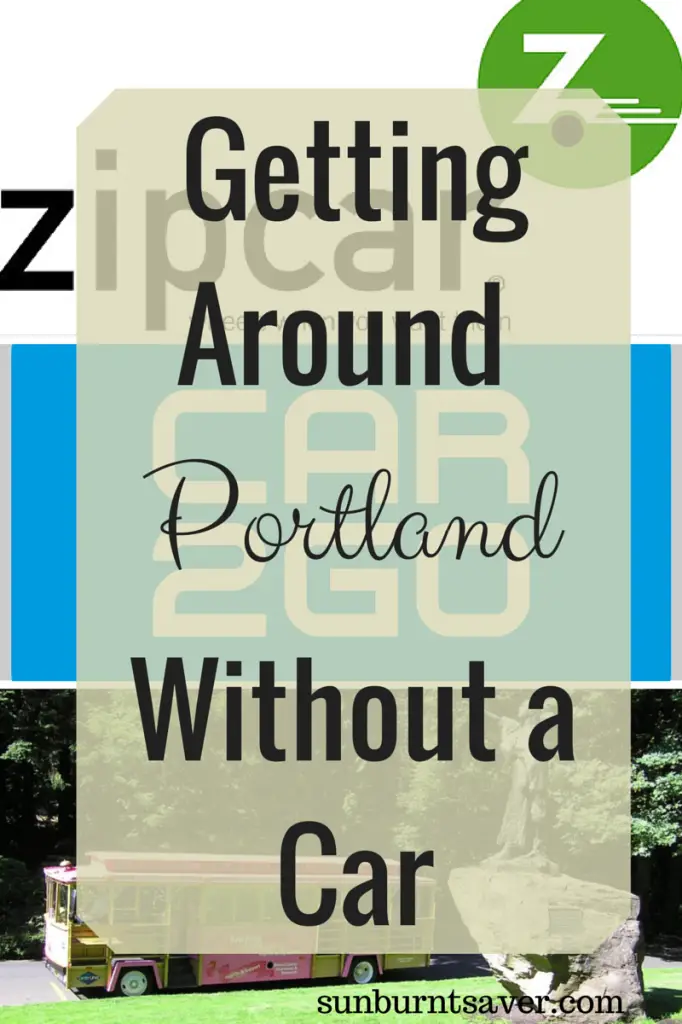 Option 1: Pink Hop-on Hop-off Tour Bus
Okay, I know it sounds super cheesy – in fact, you may even have these buses in your city! They are those adorable (or annoying, depending on your opinion), usually open air, trolley-like buses that take tourists around and let them hop off and on at significant cultural or historical locations around your city.
Dad and I ended up using this option on our second to last day in Portland – Dad wasn't feeling well enough to go to Multnomah Falls, as we had originally planned, but he still felt well enough to do something. This is a perfect option for your first or even last day in a city. Low key, easy, and you can ride it to your 'home' destination (bonus points if one of the bus' stops is near your hotel!) if someone in your party isn't feeling good or desperately needs to use the restroom. People with kids (or anyone who has ever gotten sick while traveling) – you know what I mean.
I loved the hop on, hop off bus because it's like a taxi that picks you up every 45 minutes to take you somewhere new and fun. Also, you learn some fun facts about the city you're visiting.
Cost? $32 dollars which, if we had visited every single place where the bus stopped, would have probably cost us a lot more than that. Plus, my Dad loved the 'fun facts' and he talked to other people his age. I would say the general age group is either people 50 and up, or people with children 12 and below. Truly a perfect way to get around a new city if you have kids or your parents!
There is another sightseeing and tour company, Portland Sightseeing Tour including Columbia Gorge Waterfalls, but it was all day and $98. Although it would have been nice for Dad, all day is a very long time for certain people (young children!) and $98 is expensive. However, it is an option if you have the stamina for an all day trip – you mostly stay in the bus and are driven around, so it works for those with limited mobility but higher stamina.
Options 2 & 3: ZipCar & Car2Go
My personal favorite was ZipCar, but before I continue, a note: ZipCar and Car2Go are virtually the same. This option isn't just for tourists; in fact, I'd guess the majority of ZipCar and Car2Go users are people who actually live in Portland. This is a great option if you need more flexibility in terms of time and are traveling with someone who has limited mobility.
ZipCar and Car2Go are designed for people who don't want the hassle of owning a car downtown. These companies provide a variety of cars (in ZipCar's case, they really run the gamut from Prius' (Prii?) to Cadillacs and everything in between), which you rent by the hour or by the day, depending on availability. You pick up the cars at a preset point, which you can find using their app on your phone. You unlock the cars with a pass, which you buy ahead of time either by registering online or going to their physical location.
Both companies check your driving record, and both obviously charge fees to use their cars, but after that, you're good to go. We went with ZipCar because I liked that ZipCar had the same pick up and drop off location. While this may not be good for commuters, who pick their car up in one place and drop it off in another, ZipCar was perfect for us because I knew a spot would be waiting for me when my hours of using the car were over. We used ZipCar to go a few other places that the hop on, hop off bus/trolley didn't go, like the Pittock Mansion.
Cost: $25 application fee, but I signed up with a promo online that gave me $25 in credit when renting my first car. If you sign up for the annual plan, they also charge you $60, but I believe if you cancel, they remove that fee. Phoenix is not yet a good market for ZipCar (only one location here, and it's nowhere near me), so I have to cancel for now, but it's something I would be interested in if it expands!
Depending on what type of car you rent, it's anywhere from $7 to $15 an hour to rent a car. I, obviously, went for the $7 option (a Prius) and used the car for 4 hours, for a total of $28. With the $25 credit, my total ZipCar cost came to $3 ($28 – $25 credit = $3).
When you think about the cost of a rental car, which in my experience is anywhere from $30 to $70 a day for a midsize car, plus the cost of parking in downtown Portland, which is generally around $30, ZipCar is an amazing option. Also, having the ability to rent a car for the short term and not pay for parking downtown is a huge plus when you are traveling with someone who has limited mobility (or if you're traveling with kids under the age of 10).
Stuff Happens When Traveling, So You Have to Deal with it
Let's be real here: when you're traveling with people who have limited mobility, or kids under the age of 10, or even a big group of people: people get grumpy. People get frustrated. People get hungry. If you have the ability to be somewhat autonomous with your own car, you can get everyone fed or drop them off at the hotel in comfort. You don't have to take the train or the bus and risk someone having a meltdown or worse.
To me, flexibility and making sure everyone is having fun is key. There's no reason that you can't have a good trip just because you're traveling with someone who has limited mobility – if they are up for exploring the city, then you just have to get a little more creative to show them the sights. With options like the tour buses or rental cars, you can explore the city and have a great time with your loved ones, no matter what their walking stamina is!
Have you ever traveled with someone who has limited mobility, be it an older family member, young family members, or someone who broke their leg 3 weeks before the trip? (It happens!) What did you do on your trip, and did you need to change any plans?