This post may contain affiliate links, which means if you click through and purchase something using my links, I receive a small commission. You can click here to read my disclosure policy ? Thank you!
It wasn't the plethora of purses falling on me, or the socks falling me, or the gloves I hadn't worn in 5 years that made me declutter my bedroom. It was only when a pair of shorts hit me in the face and scratched me that I realized: I have a clutter problem.
You see, these shorts had never been worn before. They still had the tag on them (that's what scratched me) and I had shoved them in the closet and forgot about them. They cost me $60! How could I just throw $60 in a corner and forget about it? If you know anything about me and my debt, I definitely could not be careless with $60, whether it's cash or shorts.
And it wasn't just the closet – it was my whole bedroom! Unfortunately, even though I tried to keep the rest of the house clean for guests, I started using my bedroom as a catch-all for all my clutter. I would open a drawer and find books, socks, and exercise clothes – in one drawer.
I finally implemented the following strategies below, and now I'm much happier! Books go where they belong – on the bookshelf! Purses are corralled, socks are in a drawer instead of laying around – and I'm not getting hit in the face with random clothes when I'm in my closet! Hooray! If you're tired of your clothes assaulting you (or you just want some tips to declutter your bedroom), check out my tips below and let me know your best suggestions in the comments!
Get in the Mood to Declutter Your Bedroom: Set a Playlist
Let's get ready to get freaky, y'all. Is that too much? Okay, whenever I'm serious about decluttering an area, I have to listen to music! I have my own weird mix of tunes, but one Spotify playlist I pull heavily from is the tbt rap playlist… yeah, there's some explicit stuff on there. Not into rap? I also recommend Lindsay Stirling – nothing like some poppy, fun violin music to get you going! (I'm totally serious, have you seen a Lindsay Stirling video? She's amazing!)
Get some music on and get ready to get jiggy wit it (um, yes of course that's on my playlist! A Will Smith classic!) by decluttering your bedroom!
Survey Your Room and Closet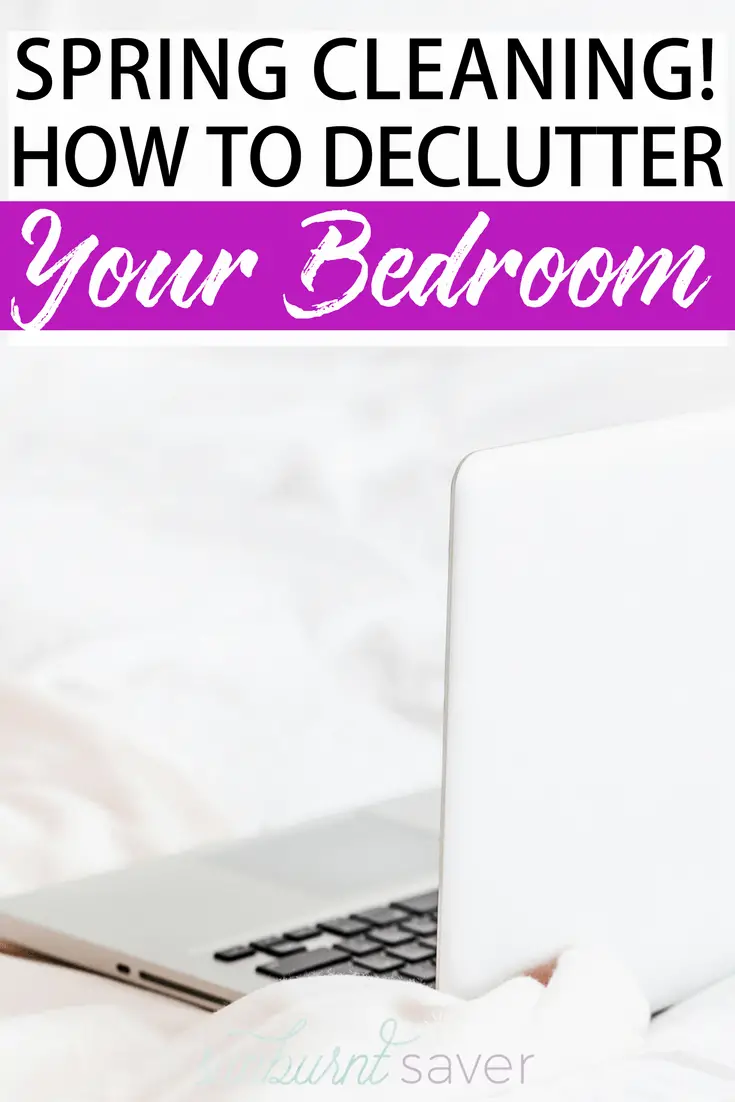 If you're worried that decluttering actually means getting rid of stuff, don't worry – you don't have to get rid of anything if you don't want to! Decluttering doesn't always mean getting rid of things.
While getting rid of somethings can be helpful at times, it isn't always necessary. Decluttering is simply just making sure that things aren't piled up and stacked haphazardly all over the place. Everything should have a place to chill.
Take a look around your room, closet and bathroom (if you have an attached bathroom). Start by piling the things that definitely don't belong in your room in a corner – you'll be removing those things from your room. Everything else? We're going to find a place for it all!
Make the Bed
It sounds insanely simple, but stay with me here. Making the bed makes your whole room feel pulled together and makes getting into that memory foam mattress even better each night! Even if the rest of your room looks like a tornado hit it, the bed will at least look inviting. Take the time to make your bed and it will make a huge difference.
Looking for some beautiful bed inspiration? I highly recommend checking out Organized Mama's Master Bedroom Pinterest board – it's inspirational and offers tons of suggestions for keeping your bedroom clutter-free!
In Your Closet
Start with Your Clothes
This one can be pretty daunting. Even if the closet looks fine, I'm sure there are a bunch of things in there that aren't being worn. Take every piece of clothing out of the closet. If it hasn't been worn in the last six months to year, donate – or sell – it. You can also try Living Well, Spending Less's 40 Hanger Method.
Not sure if you've worn a piece of clothing in the last 6 months? One way I figured out if I was regularly wearing clothes was how I hung them up. Once I got serious about decluttering, I re-hung all my clothes to face left. As I wore the clothes (and washed them), I would hang them back up facing right. After about 2 months, any clothes still facing left were put into a "donate" or "sell" pile!
Move to Shoes
Instead of leaving all of your shoes on the floor of the closet, get shoe racks. Too many shoes and not enough shoe rack space? It's time to really evaluate the shoes you have. I know it can be hard! But stick with me here. Ask yourself the following:
Do you have other shoes that perform the exact same function? Maybe should can get rid of one pair.
Is that pair of shoes kind of worn out? If they're worn, consider donating or getting rid of them. If you have to have them, get them mended (re-heeled, new sole, etc.)
Do you have 4 other shoes of the same color? I can't tell you how many black shoes I had for work. I really only needed 2 pairs of black shoes (flats and heels). Not 5 pairs!
Do you really wear them? I used to wear my super high, beautiful Michael Kors shoes all the time when I was younger. Then I realized those shoes were more club-friendly, not conservative work-friendly – so I consigned them!
Do they hurt you? If you get blisters from your shoes, stop trying to "make them work." Those shoes are not your friend. Donate or sell!
What About Purses?
Purses!! I have a love/hate relationship to purses. I love them so much and yet they're everywhere! Or at least they were, until I discovered these purse dividers. You can put them on the shelf in your closet – they're super easy to set up.
Put your purses between the dividers, effectively corralling them. This is good for your sanity and good for the purses, because it keeps them up instead of letting them slouch. Win-win!
We Need to Talk About "That Spot"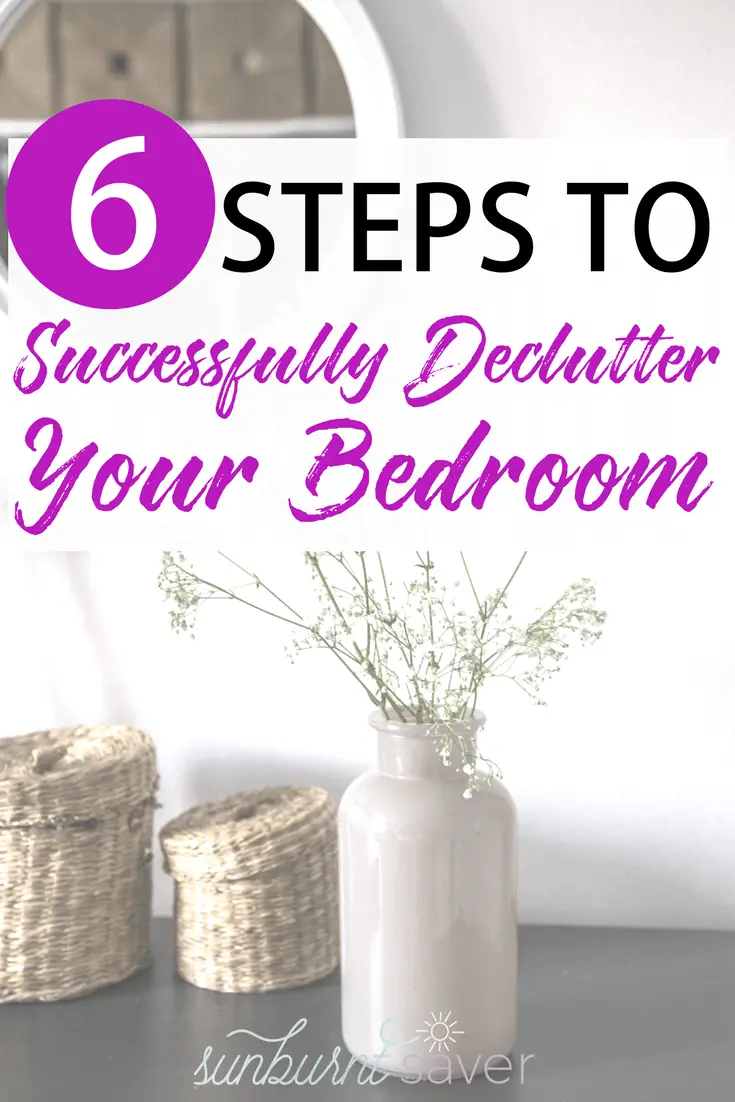 Ditch "the spot". We all have that one chair, bench or even a basket where there are clothes sitting, waiting to be put away at a more convenient time. You know what I am talking about.
Of course it's handy to have a spot to put clothes, but right now we're in declutter mode! It's time to put the clothes away. If you're tired of looking at a cluttered spot, make it a point to fold and/or hang up clothes as quickly as you can.
One way I've managed to avoid the spot? Doing laundry all on one day. Usually it's a Sunday afternoon, but I've been known to even do it on a Wednesday night. I like Sundays the most though, because I do laundry all morning while light cleaning around the house, then when it's all piled on "the spot", I throw on the best face mask, fold, hang up and declutter the bedroom for 30-40 minutes (I take the face mask off after 20 minutes though, of course). It's actually a nice way to decompress!
Tackling Your Dresser and Nightstand
The nightstands and dressers seem to be a catch-all in our bedroom. From books, to water glasses, to cat toys (what? I don't even know), everything seems to end up on the dressers or nightstands. It's not a good thing! I one time lost my wedding ring for 3 days because the cat had knocked it off the nightstand, under the bed. And I have a jewelry box for my ring!
It makes sense your nightstand might have a book, magazine or water glass. But when you're not using them, take the few minutes to put all the random items back where they belong. If you're still reading the book or magazine, put it inside your nightstand to declutter. Make it a point to remove unnecessary things daily.
Okay, You Might Want to Sell Some Things
I know I said you wouldn't have to get rid of anything if you didn't want to. But what if you have a pile of clothes, shoes, or other things you don't want in your bedroom (or your house) anymore? Consider consignment!
My absolute favorite place to sell lightly worn shoes or clothes is thredUP. I like thredUP because it's the easiest – simply request a bag to be sent to you, pack up your highest quality and lightly worn items (shoes, clothes) and send it off – for free! ThredUP will then go through your clothes, choose the best ones it can sell, and then gives you a small percent for the items. You won't make a ton of money from thredUP, but something is better than nothing!
Want to try your hand at eBay? I'm proud of you – it's a lot of work but can be very lucrative! The absolute best guide for selling on eBay is this guide by the Luxe Strategist. Seriously, even if you're just considering selling on eBay, you have to check out Luxe's guide! If you do decide to sell on eBay or a different platform, you'll need to organise a courier. If you are likely to be selling things consistently, having a good relationship with a courier like shiply is key, as they will be able to provide a better service more consistently, because they know who you are and where you are.
Yes, You Can Declutter Your Bedroom
Your bedroom should be a relaxing and inviting environment. If it is clean and uncluttered, you are more likely to feel relaxed and sleep better. Make this your top priority and the rest of the house should follow. If you're looking for some new modern bedroom furniture to make the most of your bedroom's space, there are hundreds of websites you can check out!
What tips do you have to declutter your bedroom? Let me know in the comments!