This post may contain affiliate links, which means if you click through and purchase something using my links, I receive a small commission. You can click here to read my disclosure policy ? Thank you!
Okay, I have to admit: it doesn't much feel like winter in Phoenix! We broke a heat record earlier this week, and we reached 90 degrees on Wednesday. I wouldn't mind if not for my wedding happening in 3 days… sorry, out-of-towners! Looks like you'll be roasting 🙂
Although we're reaching record-high temps in Phoenix, it's not that way around the country! Contributor Anum Yoon covers upgrading your winter wardrobe in this post. After you're done reading, send some of that cold air my way, okay?
There is at least one joy in having to wear a floor-length parka from November to March: unzipping to reveal the fashionable outfit you've got hiding beneath it. Even if your budget is slim this winter season, you don't have to deny yourself the joy of your little fashion secrets, either. A few frugal updates to your shopping habits will help keep your winter wardrobe fresh until spring flowers poke through … and then you can start all over again.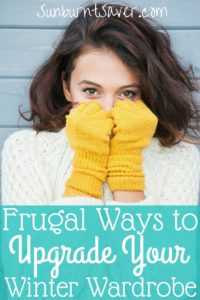 Start Thrifting
Everything from pop songs to reality shows tell us that thrift shopping is a great way to find one-of-a-kind pieces of fashion, and yet you've never tried it. This winter is the perfect time to expand your shopping horizons from new-only stores to those that sell gently used, well-loved items.
Half of the fun of thrifting is just sifting through the racks until you find something so unique, so you, that you have to buy it. The good news? Unless you're shopping at a secondhand store for designer duds, most thrifted buys will be super cheap and easy on your wallet.
Want to avoid driving to the thrift shop when it's cold? Check out ThredUp – an awesome online store of gently used and new clothing from all types of designers, including Banana Republic, Ann Taylor, and even kate spade. Check out ThredUp here. 
Read the Paper
OK, maybe reading the paper is a bit of an old-school recommendation. However, if you want to find a good deal on a clothing item you must buy, then we do suggest shopping around first. For example, many online sites conglomerate discounts, codes and sale information so you can find the best price.
As for your other favorite stores, sign up for their email lists in order to receive coupon and flash-sale information – you may just get a discount on the exact item that you want.
Accessorize
A simple black dress is a classic for so many reasons, but mostly because it's one of the most versatile items you can have in your closet. This winter, treat your favorite neutral sweaters, tops and dresses as you would a little black dress – make them fresh and different by experimenting with accessories, shoes and scarves. If you do need to add something new into your wardrobe, accessories are often a cheap place to start.
Throw a Swap Party
One of the best ways to enjoy fashion is trying it on – and buying it – with your friends. Unfortunately, if you're putting yourself on a spending hiatus, that might not be in the cards for you this winter. Fear not, though, as pioneering budgeters before you have come up with the brilliant idea of a clothing swap party.
This type of event brings together a group of ladies – presumably, since they'll be exchanging clothes – with a set number of clothing items and accessories. At a designated time and place, everyone trades each other for new pieces to add to her wardrobe. By the party's end, you will likely have a few new pieces to add to your closet without spending a dime. As an added bonus, you'll have cleared out some of your unworn items, too.
Buy Resilient
If you must go shopping for something this winter, be sure that what you're buying isn't going to cost money down the line for dry cleaning, massive alterations, etc. The former can be especially draining on your weekly budget if the piece you buy is a staple you'll wear often. Instead, opt for fabrics that you can maintain at home with the washer/dryer/drying rack you already have to avoid the fees and the fuss.
Get Inspired
It might sound counter-intuitive when you're trying to avoid buying new fashion, but window shopping or flipping through the pages of a magazine could help you breathe new life into the way you're styling your clothes. You could also check out sites like Pinterest, where everyday dressers like yourself have managed to put together unique outfits from capsule wardrobes, quite like the one you're trying to contain yourself to this winter.
In the end, though, your greatest inspiration should be yourself: Try on outfits until you find the one that speaks to you and your style and rock it with confidence. That's what will get you to spring – spring shopping for a warm-weather wardrobe.
How are you planning on staying stylish through the cold months?