This post may contain affiliate links, which means if you click through and purchase something using my links, I receive a small commission. You can click here to read my disclosure policy ? Thank you!
The other day, B suggested we go out to The Melting Pot for Valentine's Day dinner. We had just gone out last weekend to celebrate our engagement, but The Melting Pot is one of my favorite places in the world (melted chocolate? Yes please!), so I wasn't going to argue with that suggestion!
However, I had the sneaking suspicion that getting a reservation at the Melting Pot only a few days before Valentine's Day was going to be tricky… and not only was I right about that, but I also got an unexpected shock at the price! It turns out that The Melting Pot (at least where we live) is charging $55 per person (not per couple!) for their Valentine's Day package. Plus, their reservations were all booked up.
That's the thing about Valentine's Day: because everyone expects to go out for dinner, everything is mostly booked up by now, and restaurants are going out of their way to charge holiday prices.
If you're anything like me, you're probably still hoping to do something a little romantic – it is Valentine's Day, after all, but you're hoping to keep it frugal and low-key. So what's a saver like us to do on this romantic day?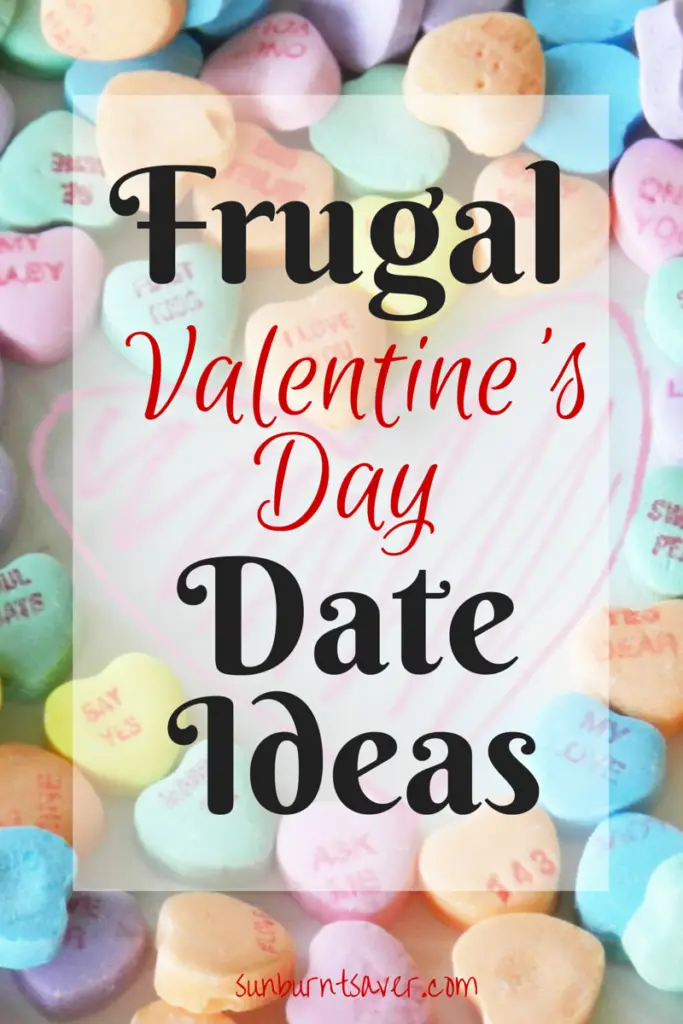 Know Your SO/Spouse
The best way to do something for your significant other or spouse on Valentine's Day is to just… you know… know them. What do they like best? Is it really candy and flowers? Or would they prefer a bubble bath and time to catch up on reading? Would they like a massage from you, or some time to play Xbox loudly without you sighing and saying "GTA is so unrealistic… you can't drive like that on the roads! Dangerous!" (or is that just me?)
Instead of buying into the idea that you have to get your loved ones flowers, candy, and a dinner out, take some time to anticipate what they'd like to do and surprise them with it. You can always ask them what they'd like to do ahead of time. You never know: they might actually really want a date night out with you, and in that case, you may have to just go and do it. However, the point is to really connect with your loved one and show them you do pay attention to what makes them happy – whatever that is!
Re-create Your Favorite Date
On Valentine's Day, instead of calling for a reservation at one of the fancy, pricey restaurants in town, re-create one of your favorite dates with your loved ones. Some people say re-create your first date but, let's be honest, sometimes the first date isn't your favorite.
Personally, my favorite date is when B and I had a picnic and watched the fireworks on the 4th of July. It ended up not working out so great, because the park we picked (while fairly empty, which was nice) ended up being really far from the fireworks. So far that, for most of the night, we couldn't even see the fireworks… which is probably why that park was empty in the first place (it was also empty because July in Phoenix means 110 degrees even at night…) However, it's still one of my favorite dates because we had fun even on a night that didn't go as planned… and we got to picnic, which is one of my favorite things to do!
Your favorite date might be a picnic, hiking, or, yes, going to a restaurant. If your favorite date was at a restaurant, try to call ahead and get a reservation. In this case, going to the restaurant where you and your SO/spouse had a great time (or had your first date) is well worth it for the memories.
Go Outside!
For everyone who can get outside of their house (aka who aren't trapped in feet of snow… sorry Boston!), getting outside and doing something could be the perfect frugal Valentine's Day date idea. If you live in a snowy climate, try sledding, ice skating, snowshoeing, or just making up funny snowmen. Make an alien snowman, a lady snowman (snowwoman?), a giant snowman, a zombie snowman, a White Walker snowman… the possibilities are endless (and endlessly silly!)
For those of us who don't live in snowy climates, we definitely don't have an excuse not to enjoy the weather. And Valentine's Day is on a Saturday – you can spend the whole sunny part of the day outside! Go hiking, toss a frisbee, or take your dog on a long walk. Check out houses for sale in your neighborhood and play "let's move!" with your loved one (why yes, this is something I like to do, how could you tell? ;))
Talk about the ultimate in celebrating a frugal Valentine's Day: going outside and enjoying nature is practically free, minus some of the things you might need to buy (hiking shoes, snowshoes). Plus, exercise gets those happy endorphins going, which will put you both in a better mood for the rest of the day and night!
No matter how you feel about Valentine's Day, it's always nice to show your loved ones you care about them. Ideally, we'd show our love year round, but sometimes it's nice to have that extra reminder in a typically dreary February. And don't forget: Valentine's Day isn't just for couples. Reach out to people you care about this Saturday and let them know how much they mean to you. They'll appreciate the thought, and you'll be surprised how good it makes you feel as well.
How do you plan on celebrating Valentine's Day, or are you ignoring the day all together? What was your favorite date, and would you be able to re-create for Valentine's Day?