This post may contain affiliate links, which means if you click through and purchase something using my links, I receive a small commission. You can click here to read my disclosure policy ? Thank you!
I hope you're all having a great weekend! This weekend, I'm going to be spending my time calling my Dad and thanking him for his service to our country, and cleaning out our old house because my husband and I are moving! More to come on that, but I hope you all enjoy this post by Anum on enjoying Memorial Day on a frugal, affordable budget. What are you doing this Memorial Day?
Problem: You want to host the perfect Memorial Day party for your family or friends, but your dreams are bigger than your budget.
Solution: Let go of your perfect world with its unlimited cash and consider the following frugal tips. You'll still end up with a fun, delicious party, and you'll do it without breaking the bank.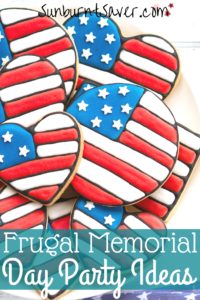 Don't DI(A)Y
A little DIY innovation for decorations will serve you well, but don't fall into the trap of trying to DIAY: Do It All Yourself.
If you're planning to host a big gathering, provide the space and the main dish and ask your friends and family to contribute side dishes and other party necessities. To make sure you don't end up with thousands of spoons and no desserts, come up with a quick list of needs and have guests choose between needs like side dishes, desserts, drinks and disposables.
Skip the rental store and reach out to individuals you know have folding chairs and tables if you know you'll need extra seating. Same goes for lawn games. If guests have games like Bocce, croquet, washers or Kubb, ask them to bring them along.
Make the Most of Your Main
When picking your main (meat) dish, it's tempting to go for the ease of boneless breasts or the surefire success of a tenderloin. For many, the thought of considering cheaper cuts of meat feels, well, cheap.
Thankfully, inexpensive doesn't have to mean inedible. Chicken thighs and legs are inexpensive, flavorful alternatives that marinate and grill well. Skirt or flank steaks are more affordable if you're going the all-in-one grocery store route. However, if you can, try buying your meat from a local butcher. Butchers who break down the whole cow in-house can offer a wider range of delicious, budget-friendly options.
Make your meat go further by making it part of a picnic-friendly dish like sandwiches, kebabs or tacos.
Save With Seasonings
Simple picnic fare like burgers and dogs can transform into memorable showstoppers with the right seasonings and toppings. Try making your patties from scratch, adding a tantalizing mix of your favorite spices. (Don't forget to throw in Worcestershire sauce or another liquid additive to ensure your burgers are juicy, not dry.) Provide a large array of condiments — think beyond mustard and ketchup — and let your guests build the hotdog of their dreams.
Planning to go with a marinade or rub? Consider making it yourself. Look online for a recipe and then check out your pantry. Chances are you have the spices and oils you need to make a quick, fresh batch for less than buying a bucket's worth of pre-made marinade at the store.
Think Seasonal, Think Local
It's simple: Fruits and vegetables that are currently in season and don't have to be shipped in from a tropical paradise are easy on the budget.
Plan a seasonal menu, rounding out your menu with in-season fruit and vegetable side dishes and fresh fruit desserts.
Pick a Signature Drink
Making your party BYOB (or wine or vodka or gin) will yield maximum savings. However, if you want to provide a little liquid fun, a signature drink is the way to go.
The key to savings is the singular: one signature drink. For a small, intimate party, that might be a signature cocktail that you mix for your guests. For a big crowd, go with a large batch cocktail and don't be afraid to experiment and edit until the ratio of alcohol to mixer fits your budget.
Keep It Simple
If you're still dead set on DIAY, take a deep breath and don't doubt yourself. Do yourself a favor and keep it simple.
Keep your menu trim: one main, a handful of seasonal sides, a signature drink and one dessert. Don't snub affordable, perennial favorites like chips and salsa or pretzels. Bought in bulk, these easy-to-grab snacks help guests fill up without inhaling a porterhouse apiece. For a cool, refreshing dessert, pick up a few tubs of ice cream from a local shop or offer fresh, sweet slices of juicy watermelon.
Whatever the occasion — Memorial Day, Fourth of July or Labor Day — the point of hosting a party is to enjoy a fun day with family and friends. Your loved ones will be more than willing to bring a dish or loan a game. They'll just be happy someone else is hosting!
How are you planning on celebrating Memorial Day weekend?