This post may contain affiliate links, which means if you click through and purchase something using my links, I receive a small commission. You can click here to read my disclosure policy ? Thank you!
If you live on the West Coast, chances are you (or your kids, or, in my case, my significant other) may have started school a few weeks ago. East Coasters, you may have been lucky enough to start only a week or so ago 😉 Has being back to school finally sunk in?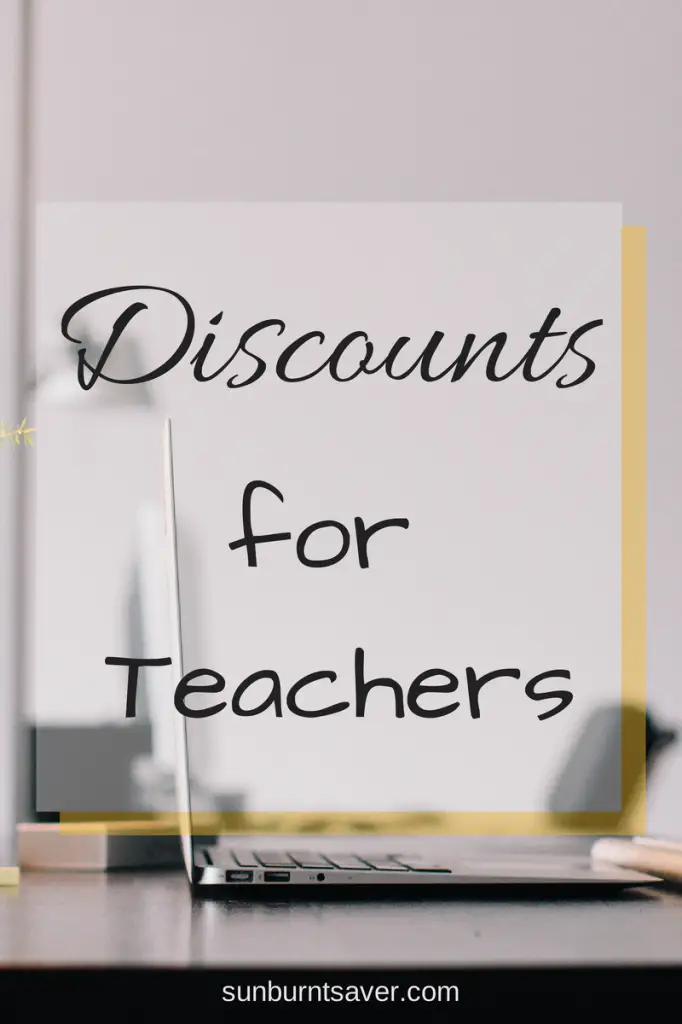 B is a teacher, and we actually met through school district meetings. The rest, as they say, is history. However, whereas I realized that kids and me do not mix (middle schoolers are sassy!), B discovered he really actually liked teaching and wanted to make this a permanent thing. So while I went into budgets/finance, B finished up his teacher certification and is now teaching his own class! I am endlessly thrilled by it, by the way, because I still get to enjoy hearing about all the school shenanigans while maintaining a distance from kids and said shenanigans.
However, something teachers face on a consistent basis (at least here in the US) is low pay and, occasionally, low morale. When teachers look at their paycheck, and then at how much things cost, it can definitely be challenging.
While I'm not in education anymore, I remember how daunting it was to dress professionally and have any kind of savings left over in my budget. Please, I didn't even consider ever getting a new computer – I was going to wear my college Mac laptop out and then plead for a new one from my parents for a birthday or Christmas present!
That's why I loved discovering there are discounts for teachers out there. While these discounts are mostly for teachers, they occasionally are for students as well – as I discovered more discounts, I always made sure to take advantage of them while I was in graduate school, and you should take advantage of them if you're in school or have children who are.
Without further ado, teacher (and student) discounts! This isn't an exhaustive list, and if you know of other teacher/student discounts, please let me know in the comments!
Clothing Discounts
Ann Taylor Loft – this was one of my absolute favorites when I was working in education. Ann Taylor has such cute dresses!
Banana Republic – this is one of B's (and mine) favorite places to shop. It also helps that we have a Banana Republic Outlet store really close to our house (although this discount does not count at Outlet stores).
Technology
Bose – I actually didn't realize this is something teachers need (sometimes) until B became a teacher and discovered he needed speakers in his classroom. Now, do you need Bose speakers? Not necessarily, but this discount is pretty cool.
Apple – I'm guessing most of us know by now that Apple gives discounts to students looking to purchase Apple products, but did you know they give teacher discounts as well?
Adobe – I had no idea Adobe offered discounts to teachers, and B didn't either! While some of the Adobe products B uses at school, and what I used while I was in school, are free, some of these products could be pretty useful to the right (creative) teacher or student.
Books & Accessories
Barnes and Noble – I loved this discount while I was in education, but I'm a book lover in general. A must for teachers if they're into buying books for professional development or for their classrooms.
Jo Ann Fabric and Craft Stores – Something else I didn't realize until B became a teacher: decorating your classroom! While you could have a boring and bland classroom, what's the fun in that (for you or your students)? Also surprising: it's hard to find fun, teacher or classroom inspired fabric for the walls. This discount is incredibly helpful, especially for the crafty teachers.
Staples – Luckily, many schools provide supplies to teachers, like scissors and pencils, but let's face it: scissors, pencils and the like all end up disappearing and breaking over the school year. Sometimes this happens before you have time to request more supplies from the secretary (from personal experience, that's the worst! It could be months before you're allowed to order again!) In B's case, there were supplies he just preferred over the ones the school had, so this discount from Staples (although small) certainly helps!
Travel
National Geographic magazine – Okay, not actually traveling, but if you're a teacher who teaches history, geography, or current events, this discount from National Geographic could be a great addition to your library.
STA Travel – I used my student STA Travel card occasionally while I studied abroad in college (it's especially helpful when you don't have a firm return date, because STA is very flexible in helping you avoid or entirely eliminate changing your ticket penalties). Little did I know, they also have a teacher card! So for all you teachers: if you ever have some extra free time and money, you could get some travel discounts with your STA Travel card.
Educators Travel Network – There is a whole network of traveling teachers on the Educators Travel Network. Similar to AirBnB, teachers host other teachers at their house, which means you can travel to any city (as long as there is an educator host there) and stay for $45 for two people. Neat!
Have you used any of these discounts, either as a student or a teacher? Do you plan on becoming friends with a teacher to use some of these discounts for yourself? Just kidding! Do you know of any additional student/teacher discounts I missed?