This post may contain affiliate links, which means if you click through and purchase something using my links, I receive a small commission. You can click here to read my disclosure policy ? Thank you!
Happy day before Halloween, all my fellow Halloween-celebrators out there!
Have I mentioned that Halloween is one of my favorite holidays? Mostly because I love candy, costumes, and giving children candy.
I particularly like giving the kids candy because that means it's no longer in my house, tempting me with its sweet sugary goodness. I have a huge sweet tooth (it takes up my whole face), and if I know there is candy in the house, I will eat it all. Candy, cookies, brownies – you name it, I'll eat it.
Conveniently, I decided I desperately needed to lose some weight – yes, right before the holidays. Actually, it was my pants that told me I needed to lose weight. It was either lose weight, or buy new pants. Since losing weight (for me) means eating less and exercising more, this means I would either pay nothing (eating less is free, and I already pay for the gym) or pay around $200 for several new work pants and a new pair of jeans. Ummmm… yeah, that was a no-brainer.
My point is: Halloween candy and trying to eat less are competing forces. Since I want to enjoy the holiday while keeping a balanced diet, I had to find a way to eat some candy while still saying true to my new healthy diet. Since I count calories to lose weight (not as hard as you'd think: MyFitnessPal is surprisingly accurate!), I thought I'd share with you some of my favorite candies, how many calories they are, and how you can balance them out with exercising.
Yes, I know this isn't a typical finance post. However, calories are like a bank: if you have 1500 in the bank (that you must spend, more or less) and have 200 candy-calories subtracted from that bank, now you only have 1300 to spend. However, if you run for a mile (side hustle) and gain 100, you add that to your bank and now have 1400 calories to spend. Following along? Just indulge me on this post 🙂
Choose Your Candy Calories Wisely
Here are three delicious candies, how many calories they are, and three exercises to burn them off. I used the average calories burned for a 150 pound person. I also picked activities that are free or at least frugal. Enjoy (with less guilt)!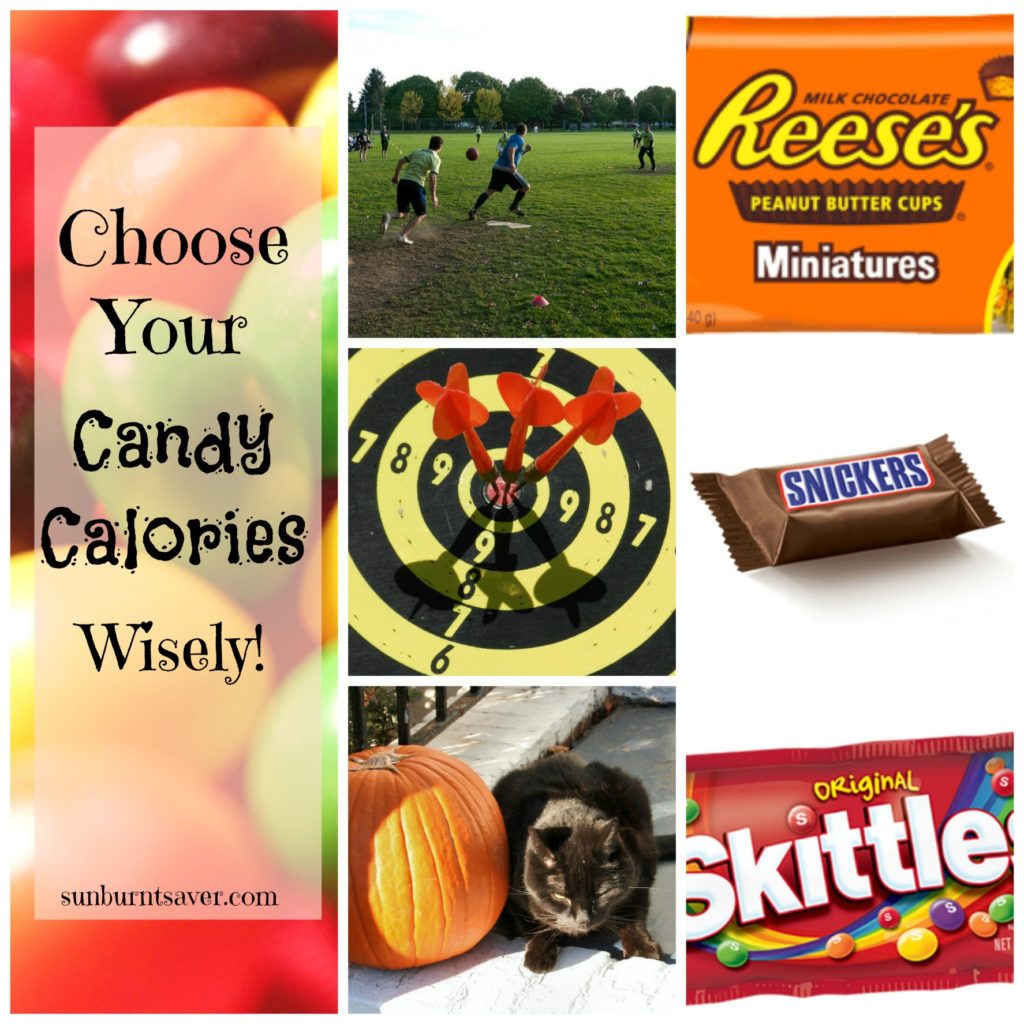 Snickers – for two fun size pieces of Snickers, you will need to burn off 160 calories. Burn off 171 calories by playing darts (wall or lawn)!
Skittles – for one bag of Skittles, it will cost you 250 calories. Take the kids (if you can find any/use your own) trick-or-treating! One hour of leisurely walking will burn 239 calories – almost all of those Skittles. (And yes, that's a picture of a cat, not people trick-or-treating. You could try to take your cat trick-or-treating!) 🙂
Reese's Peanut Butter Cups Miniatures – if you want to have a crazy night and eat 10 mini peanut butter cups, you'll be down 440 calories. Go all out and play kickball with some friends to burn 477 calories – your mini peanut butter cups and more!
How do you handle Halloween candy calories? What's your favorite candy? Are you trick-or-treating, taking someone t-o-t'ing, or hosting a party?