This post may contain affiliate links, which means if you click through and purchase something using my links, I receive a small commission. You can click here to read my disclosure policy ? Thank you!
Just because your bank account doesn't boast a whole bunch of extra zeroes on your monthly statement doesn't mean you can't satiate your wanderlust with a spectacular vacation. In fact, there are numerous travel hacks and tips that can help you stretch your dollar to its maximum, creating unique and memorable holidays.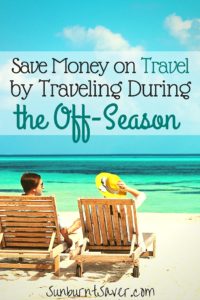 Travel During the Shoulder or Off-Season
Shoulder or off-season travel refers to the two periods of the year before and after the peak travel season for particular locations. August, for example, is the height of peak season for Europe, when most of its inhabitants take four-week holidays to different parts of the world. In general, shoulder season is from April to June and September to October, while off-season comprises the remaining months of November to March.
If you – like most people – are not afforded the luxury of a four-week summer vacation, one of the most important skills you can learn as an avid traveler is knowing when to travel. The day and month matter – especially when booking flights and hotels. Shoulder season and off-season are not only less popular and easier to take off work, but also cost significantly less for transportation and lodging.
Know Where and How to Search for the Cheapest Flights
With so many different airfare sites out there, it helps to narrow your search from the beginning by understanding which ones are known for offering the best prices on a consistent basis. This way you don't spend your entire weekend sifting through sites that offer fares with tons of hidden taxes and fees.
Some top picks for cheap flights:
Do Your Homework
Make sure your flight criteria are set to search the least expensive days to fly – usually Tuesdays, Wednesday and Saturdays in the U.S. After checking these discount sites, compare prices on the airline's official website. Sometimes, the fares can be slightly cheaper when you buy directly from the carrier.
If you want to take flight travel hacking to the next level, there are lists out there that can give you detailed and somewhat involved pointers, too.
Look for a Package Deal or Negotiate
Often, hotels and bed-and-breakfasts will offer discounted stays through sites like Groupon that can include meals, shows and lodging at prices you would never find through a normal search. They can also showcase destinations that are more unique and less-visited, always a bonus for the curious traveler.
If you're looking domestically, search destinations that have nearby attractions or events, and look for deals that include what's happening on the event calendar. Some lesser-known places offer a stellar lineup at their event venue, with cheaper prices and intimate performance settings to match. These smaller destinations could be just the location you are looking for to get off the beaten path for entertainment, without breaking the bank.
Alternatively if you're traveling internationally in the off-season, speaking directly with the owners at small residences or B&Bs is a great way to negotiate an extra discount or better price – and guarantee amazing, friendly service. In Tuscany for instance, traveling in April until the end of May is your best bet. Many of the beautiful residences in the heart of the countryside offer heavily discounted prices for weekly stays in spacious apartments – especially if you book in advance.
Search for Destinations Based on the Month
Rather than looking for the best timing of one specific location for your next trip, you can also reverse the process and search for the best locations based on what month you've scheduled time off. You might find travel options that never crossed your mind, or a chance to revisit a favorite place. Tailoring your search by each month will allow you to find both the best location and the best price – leaving you more money to play around with when you actually jet off for a new adventure.
Be Flexible
An overall point to keep in mind when searching for shoulder/off-season travel – no matter if you choose your location and then your timeframe or vice versa – be flexible. Flexible dates during the month allow you to find the best flights, while flexible locations allow you to find the best option for lodging within your budget.
You don't have to have large amounts of disposable income to be a jet-setter. Your dream vacation is possible. You just have to know where and how to look.