This post may contain affiliate links, which means if you click through and purchase something using my links, I receive a small commission. You can click here to read my disclosure policy ? Thank you!
So you're going to study abroad this year – summer, fall, or even spring semester. Hooray! Studying abroad is not only a great way to learn about new culture, but it's also a great way to learn a language, whether you're going for that or not.
Studying abroad is also a great way to totally decimate your budget. Between paying for the flight, your semester tuition, and a place to stay (if that's not included in tuition), you're likely going to pay $1,500 and up – way up.
However, once you're there, there are some ways to save significant cash and still enjoy your time abroad. Here are 7 ways to save money on summer (and fall and spring) study abroad!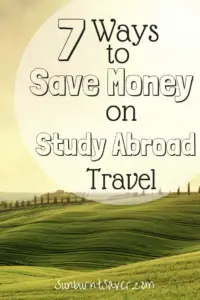 Track Discount Airlines
RyanAir and EasyJet are the best known frugal airlines to find affordable hops, particularly around Europe, but that's not to say they're your only options. Discount airlines are very popular, particularly in Europe, because they offer flights for so much less than Americans are used to.
The only thing you'll have to be aware of is discount airlines' strict, strict rules. They often have rules about the size of your carry-on luggage (some backpacks are too large, so really read those size restrictions) plus the weight. They may charge you for picking your seat, and they'll likely charge you for food and beverages, if they're even offered.
Luckily for us Americans, we're used to being nickel-and-dimed for beverages, food, luggage and more, so discount airlines' rules won't be a shock to us. A $40 round-trip flight from Madrid, Spain to Paris, France? I'll take not having anything to eat or drink for a while for that price! 🙂
Don't Get Caught Up in the Rebajas (Sales)
Around the time I went to Spain, rebajas (sales) were in full swing. Little did I know, sales are a pretty common occurrence (about as often as they happen in the US). You don't need to go shopping right away when you get there just to take advantage of the sales. Trust me, they'll be around!
Depending on how long your study abroad session lasts, be careful buying things. In addition to spending money on things you might not need, you also have to factor in the exchange rate (generally unfavorable to the American dollar) and your suitcase. If you stuffed your suitcase full before you left, you don't have the ability to bring a whole lot back.
Things to bring back instead of pricey, room-stealing gifts?
Postcards
Pictures you take!
Paper menus
Throwaway coasters (from the Guinness Brewery, for example)
Personally, I did buy coffee mugs from different cities I visited. Yes, they were Starbucks mugs. That said, my Mom and I still use them years later and they're some of my favorite mugs. I'll get rid of other mugs before I'll get rid of these! So you can splurge, just make sure it's something you or your loved one will actually use for a long time!
Travel with Friends
Your fellow study abroad students can be a wealth of knowledge when it comes to traveling around the continent. Make friends with fellow students that have a similar budget as you, and go in on sharing rooms, splitting meals, and taking advantage of student discounts when traveling around.
There's also safety in numbers. While traveling with 2 or more friends can sometimes be annoying, because everyone wants to do something different, in the end, you'll be happy you brought them along. If one of you gets sick (that happens!) the others can help carry bags, and keep an eye on your stuff. If someone is doing something irresponsible, the other friends can (and should!) keep an eye on them and not let them go off with a stranger. Safety first!
Hostels and Couchsurfing
Even if you only do it once and decide it's not for you, try hostels and couchsurfing. Obviously, I wouldn't be a responsible adult if I didn't say the following: go with your gut, never leave your friends, watch your drinks, stand up for yourself if something feels weird, and leave if you're not comfortable.
That said, staying in hostels can be a gross, dirty, hilarious, eye-opening, and tremendously fun experience, all at once. Sometimes you'll pay $15 a night to sleep in an 8-person coed room with bunk beds, other times you'll pay $15 and get a semi-private room. It all depends on the time of year you go – the summer will be a busy time, so be aware you may be sharing with a lot of different people.
In my experience, couchsurfing is cleaner, more private, but less exciting. If that's more your style, try Couchsurfing! Couchsurfing is free, although it's strongly recommended you get something for your host (bottle of wine, flowers, take them out for coffee).
Even if you're an introvert, I really recommend trying hostels and/or Couchsurfing. Not only is it usually much cheaper than staying in a hotel, you get to talk to lots of other people from different cultures. They'll show you the fun places to hang out, where to get cheap food, and which museums are worth seeing. Everyone in hostels is usually on a budget, too, so you'll know you're getting the affordable scoop.
Try Street Food
While you can score great deals on prix fixe lunch menus, try street food every once in a while! This includes hole-in-the-wall food, too, as street food is harder to come by in some of the bigger cities.
You can find great street food in Asia, Mexico, and even on the streets of Paris. Look for long lines, which means the food is tasty and less likely to get you sick. Beware of things that don't look fully cooked, or look like they've been sitting there for a while.
Street food/not-well-known take out places can be absolute gems. Not only is it something different, it's tasty and way cheaper than eating at a sit-down restaurant!
Buy a City Pass
City Passes aren't offered everywhere, but when they are, they're usually worth it. City passes get you discounts and sometimes line-jumping (queue-hopping) perks to museums, monuments, tours and more.
Before splurging on a City Pass, Google "[your city] City Pass" and see what reviews come up. If you don't plan on spending a lot of times visiting museums or monuments (but come on, you're there! You have to!), you can skip it. They'll often save you a lot of money, though, so they're typically worth it.
Use Livingsocial and Groupon for Deals
If there aren't any City Passes in your city, check out Livingsocial or Groupon for deals. You can find discounts on tours, meals and more.
Much like you use Groupon at home, you can use while abroad. Just make sure you'll actually take advantage of the deals you buy, though, as not all are refundable!
No matter what savings strategies you employ during your study abroad trip, just remember this is a tremendous experience, and you should take advantage of every single second. You're there to learn, of course, but take advantage of your long weekends to go to another country or city and explore. Go with your friends and make new friends! Practice a foreign language! Enjoy your time and try to think very little of home – it will be there when you get back 🙂
Also, don't forget: pictures are (mostly) free, so use your camera phone or regular camera to take photos of everything. Who knows when you'll be there next! You can always scrapbook it, too, as a souvenir for yourself!
What's your advice for someone studying abroad this summer, fall, or spring? What are your frugal traveling secrets?