This post may contain affiliate links, which means if you click through and purchase something using my links, I receive a small commission. You can click here to read my disclosure policy ? Thank you!
Hey everyone! Not only is April the season for spring, but it's also National Financial Literacy Month! What better way to celebrate the holiday with a little spring cleaning, right? 🙂 Don't laugh – when I clean, I usually make money – either finding money in old purses, finding things I can sell, etc. Today, contributor Anum shares how you can financially prepare for your spring cleaning (use this house cleaning checklist to get a head start)!
Take your spring-cleaning routine this year beyond tidying up your lawn, sorting out your closest and clearing your garage. While you're already busy with all those other cleaning projects, it's a great time to also sort out your finances. There are a number of small tasks and important fixes out there that will improve your understanding of your money situation.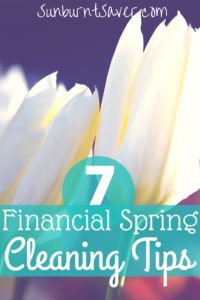 Here are seven of them:
Automate Your Bills
You can save a lot of time by automating your bills and not having to manually pay them off each month. Setting up automatic bill pay means you can focus your time and energy on something else.
Build an Emergency Fund
Before tucking away money for retirement or something fun, it's best to put aside some money for a rainy day. You'll ideally have enough in an emergency fund to cover all expenses for at least three months (and hopefully longer) in case the unexpected happens. You'll be grateful for the emergency fund in case of a layoff, emergency medical expense or car troubles.
You'll want the money to be instantly accessible, so the easiest thing to do is to put the money in a savings account. Interest rates are terrible, but that's the downside to having cash on hand.
Clean out Your Wallet or Purse
Now's the time to clean out your wallet and purse for anything you don't need. Old receipts, never used rewards cards and just about anything else you don't need should be junked or at least stored somewhere out of the way. Pay special attention to the receipts and make copies if they're important. Just stop lugging them around all day.
Check Your Credit Score
Credit scores determine your trustworthiness when it comes to taking out a loan, and a high score means you can receive a better deal. Even if you're not planning any big purchases requiring a loan in the near future, it's a good idea to check you credit score to see where you stand. The U.S. Consumer Financial Protection Bureau recommends checking your credit score annually to ensure there are no errors.
There are a number of less-than-reputable companies out there offering "free" credit scores with some strings attached. However, check out some of the more trustworthy companies to get your credit score.
Sell Some Old Stuff
If you're already going to be sorting through all the junk you own and deciding what to keep, why not make a little money from it? Even if it's just pennies on the dollar of what you paid, it's better than having to haul the stuff out yourself. Use local Facebook groups and pages like eBay to sell some of your items. If there are no buyers, donate the goods to a local nonprofit to get a small tax write-off. It's a win-win.
Consider Switching Banks
We're all creatures of habit and like to stay with what we know. That's especially true in the case of banks. This spring, though, take a closer look at your bank and what sort of fees they may be charging. Banks have gotten especially creative with fees over the years, so it might be time to switch somewhere that offers a better deal. Many banks that once offered free checking are now charging anywhere between $4 and $20 monthly to account holders.
Plan Something Big (or at Least Fun)
Getting your finances in order can be a rather dull task. That's why it's useful to have some underlying motivation for all the money you'll be saving. Maybe it's something as grand as a big vacation, a new garage door or as modest as a nice new coat. Whatever it is, pick something you'd find personally rewarding and work toward that goal beginning this spring. Treats are a great motivator when nothing else seems to work.
Adding a little spring cleaning to your financial house can be infinitely helpful in getting your money matters in order. It will be easier to save money and know how much you're spending where.
After all, if your house is clean and tidy, shouldn't your finances be, too?
How are you getting ready for your financial spring cleaning this year?