This post may contain affiliate links, which means if you click through and purchase something using my links, I receive a small commission. You can click here to read my disclosure policy ? Thank you!
When it comes to saving money on swimsuits, the old saying is actually true: you get what you pay for. Take it from this native of Phoenix, a girl who grew up with a pool and spent many hours in and out of dozens of pools. Between the heat, chlorine, and weight fluctuations, the right swimsuit will end up costing you much less in the long run than a poorly made suit.
Luckily for us frugal-minded people, swimsuit shopping doesn't have to be a costly, dreaded affair. I can't guarantee you'll love every swimsuit you try on (and yes, try them on!) but you at least will be able to save some money up front and over the long term.
These swimsuit money-saving tips aren't just for women! Surprisingly, or maybe unsurprisingly, men's swimsuits are also becoming more ornate and expensive. Of course, men don't have the plethora of choices women have, but men's swimsuits can also be pretty expensive. If you're curious about how to save money on the right swimsuit, for men and women, read on!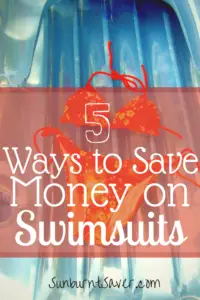 Shop Off-Season
Right before and after summertime is the best time to go swimsuit shopping. The months leading up to summer (March-now) and after (August-maybe October) are the best time to score deals on a swimsuit. Especially right after the summer, retailers are trying to clear their shelves of leftover merchandise and often put most swimsuits on clearance.
However, don't wait too long after the season to get a deal on swimsuits. By September or October, stores have moved on to the holidays and typically closed up their swimsuit deals. If you're able to combine some coupons with the swimsuit sale, you can get an even better deal!
Shop Sales
Don't fret if it's summertime and you still need a swimsuit – retailers often have sales throughout the summer as well. You may be able to score a great deal on a swimsuit right now simply because the retailer has an oversupply.
Do consider shopping online for swimsuits too, as many retailers offer online swimsuit sales that allow you to shop from the comfort of your own home. However, make sure shipping is free if you choose to order online in case you don't like the suit you ordered.
Looking for suits right now? Check out ThredUP! ThredUP is one of my favorite online sites to shop for clothes, because you can get crazy good deals on items people have owned or wore. Personally, I wouldn't buy a worn suit, but that's the beauty of ThredUP: tons of stuff on the site is brand new, never worn, with tags still attached. They're just purchases people made and didn't end up liking – it happens to all of us!
Mix and Match Your Swimsuits
This advice is more for women than men: if you want to buy a two-piece suit, consider mixing and matching your swimsuit purchases. Many stores sell swimsuit separates separately, even if they're "supposed" to be paired together. Break that rule! If you love a pair of swimsuit bottoms, but the bikini top isn't your style, pair it with another bikini top, tankini, or even an old swimsuit top you still have laying around.
One thing I like to do is match my old swimsuit bottoms (a black skirt) to a new bikini top that I purchase almost every year. It's like getting a new swimsuit every year, but I'm only buying a new top. Black bikini bottoms go with almost every top on the market, plus I get to wear my old comfortable bottoms.
You could also mix some running shorts into your swimsuit mix, too. You'll want to make sure your running shorts can get wet, won't chafe and won't be damaged by chlorine, but this is a great option for people who will be in and out of the pool. The right shorts (swimming or running) will make it easy for you to hop in and out, plus you can re-use the shorts during the year for exercise.
Consider Your Body Type
Here's when that saying "you get what you pay for" kicks in – if you've got any type of flaws you want to cover up (and most of us do!), you're going to want to pay a little more for the right swimsuit.
The right swimsuit will hold you in when you need it, won't ride up and give you wedgies, won't fall down and scare small children, and will just in general make you feel great. However, it's not impossible to find the right swimsuit for a good price. Mixing and matching can help, as can following these swimsuit tips:
Picking the right material. Most swimsuits are made out of nylon or spandex, which will work for some people, but think of material outside of the box. For example, neoprene helps to mold your body and hold in your shape. Neoprene, or a blend of spandex and nylon can be the right pick for you if you're looking for something to hold you in.
Consider different styles. Certain styles can help to minimize anything you want to hide, such as ruching around a stomach you'd like to hide, or a higher cut leg to make your legs look longer.
This is one of the best reasons to also use ThredUP – ThredUP has a ton of affordable options in different sizes, meaning whether you're small or a little bigger (junk in the trunk!), you'll find the perfect option for you.
Care for Your Swimsuits, and They Will Last!
After swimming in a pool, immediately try to rinse off your swimsuit in the sink. If you can, let it soak for an hour or so to completely remove any chlorine. If you want to do more than wash with water, you can use some gentle hand soap or detergent made for delicates.
You don't need to wash your swimming suit in the washer, and you should never put it in the dryer. Even on low heat, you'll wear out the elasticity and shorten your bathing suit's life.
You can hang your swimsuit up in the shower, or outside on a line, to dry it out. Laying it flat and letting it dry is optimum, but I've hung up suits and it's been fine.
By following these guidelines (from a pool and swimsuit expert!) you'll save money on your swimsuits and prolong their lives. Given how expensive the right swimsuit can be, it makes sense to take care of it so that you can use it for several years!
How do you save money on swimsuits, and have you mixed and matched before to get different styles and shapes?
Note: this post contains affiliate links, which means if you click on a link and purchase something, I receive a small commission. This helps keep the site running and doesn't cost you anything! Thank you for your (free!) support 🙂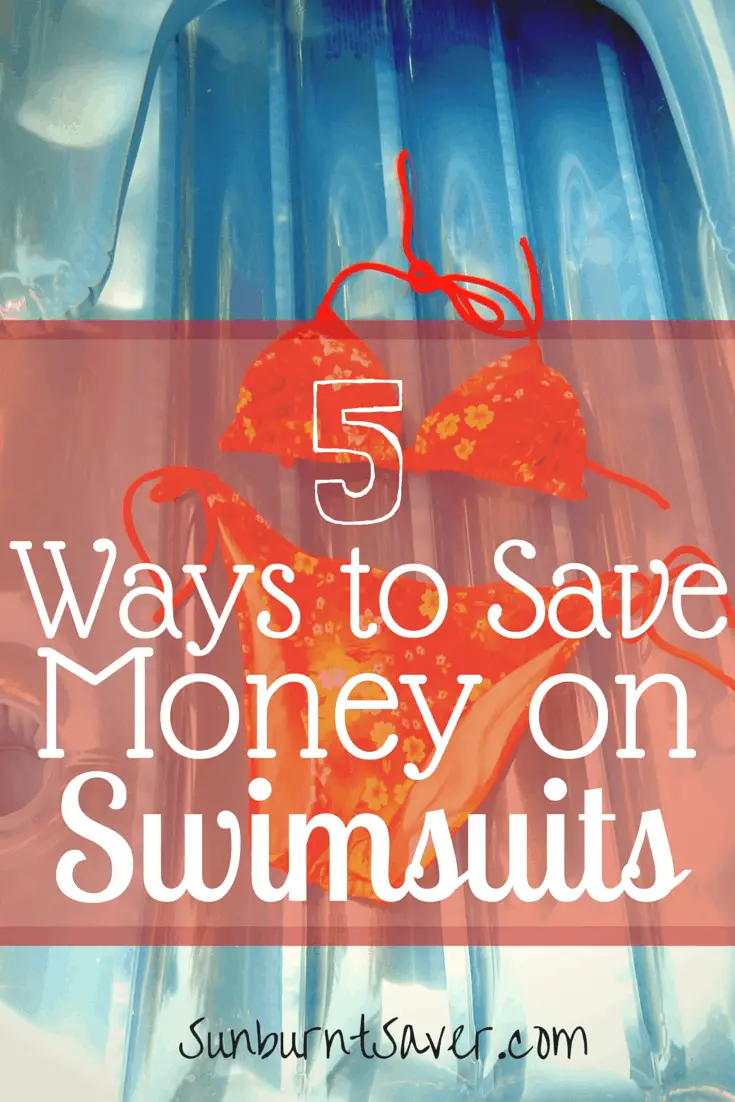 Save