This post may contain affiliate links, which means if you click through and purchase something using my links, I receive a small commission. You can click here to read my disclosure policy ? Thank you!
On Sunburnt Saver, we love to talk about side hustles – ways for you to make extra money, either outside of your full time job or on the side while living your busy life. Today, blogger Anum discusses how you can find time in your busy schedule for your side hustle. What ways do you try to find extra time throughout the day? If you're looking to create more time, check out these apps to help you be more productive!
People use their side hustle for many things — making extra cash, pursuing their dream job or carrying out a great idea that they have for a business. Whatever it is that makes you want to take on that side job, one thing usually stands in the way: time. There's no doubt that extra work means extra time that you have to be willing to give up. Sometimes it's really hard to stay productive when you do find that time, especially when you are just beginning. Here are some pointers for finding time for your side hustle.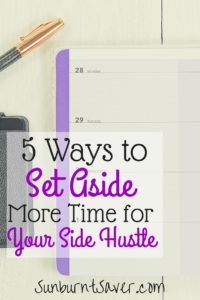 Make and Keep a Schedule
This is without a doubt one of the most important things you can do to find some extra time. Using your smartphone or a paper and pen, make a schedule and stick to it. Plan out your days from waking up to going to sleep at night. Try to follow your planned day as closely as possible and you will probably find yourself being more productive. But don't stop there! Make lists and cross things off as you complete them! There are some great planners out there that combine a scheduled day and a comprehensive to-do list. Set time apart from the rest of your day to do your new side job or hobby and don't cancel that time. Treat it like it's just as important as all your other appointments and work tasks.
Find a Time That Works for You
Just as important as the first tip, this is one that might take some trial and error. You know yourself best. Are you a morning or a night person? Both or neither? Do what works for you, because it may be completely different for someone else. If you have kids, you might want to work on your side hustle after they go to bed or wake up before everyone else and work. Make use of your time by doubling up on tasks. For example, if you take public transit to work, use that time to check your email for your side job. You could also find an app that schedules your social media posts to save you time. Whatever you decide on, map out your week each Sunday and write down specific times that you will work on your side job or hobby.
Get Rid of Your Distractions
Unplug all your electronic distractions – that's right, turn off the television and leave your phone in another room if you can. Lock yourself in a room without people and noise and devote that time to your side hustle. It is so easy to lose focus and waste time by scrolling through Facebook, Pinterest or Instagram. Take a break from social media and get your work done. Then reward yourself with a five-minute break to give your mind some rest. Once that is over, get back at it. Stay on task and don't lose focus!
Join a Support Group
Find some like-minded individuals who are also balancing time and their side hustle and get together with them for coffee or online. Share your goals with them and ask them how they make time for their side businesses. We know that support groups are powerful in so many areas of our lives when it comes to accountability. Find some people that will hold you accountable to keep hustling, and you may find yourself feeling more motivated and encouraged. Try it and see for yourself!
Ask for Help
Don't turn down favors! If someone wants to help you out, accept it! Likewise, don't be too proud or stubborn to ask. Ask someone to watch your kids for 30 minutes or an hour so that you can get a few things done. Ask for advice. You can't do this alone. Don't let busyness overwhelm you, and take one thing at a time. You've got this!
Keeping up with your side hustle takes a lot of hard work, and sometimes you just need to sit down and do it. These are just a few tips to help you make time in your life to follow your passion and make more income at the same time!