This post may contain affiliate links, which means if you click through and purchase something using my links, I receive a small commission. You can click here to read my disclosure policy ? Thank you!
Have you ever heard of target-date retirement funds? This topic came up when I was reading The Millionaire in the Next Cubicle, and I had heard the term used at work during an investment information session.
I have always been eager to start saving for my retirement. I want to be able to afford what my grandparents have done and retire into one of the retirement communities in Virginia. I think it would be a lovely way to live my golden years and I'm cautious about how the best way to save for it is. Reading about target-date funds made me wonder if I could do it. My work doesn't currently offer target-date retirement funds, but someone mentioned how it is a good 'set it and forget it' investing option, which got me curious: are there actually funds out there that you can set and forget? And would you want to?
5 Things to Know About Target Date Retirement Funds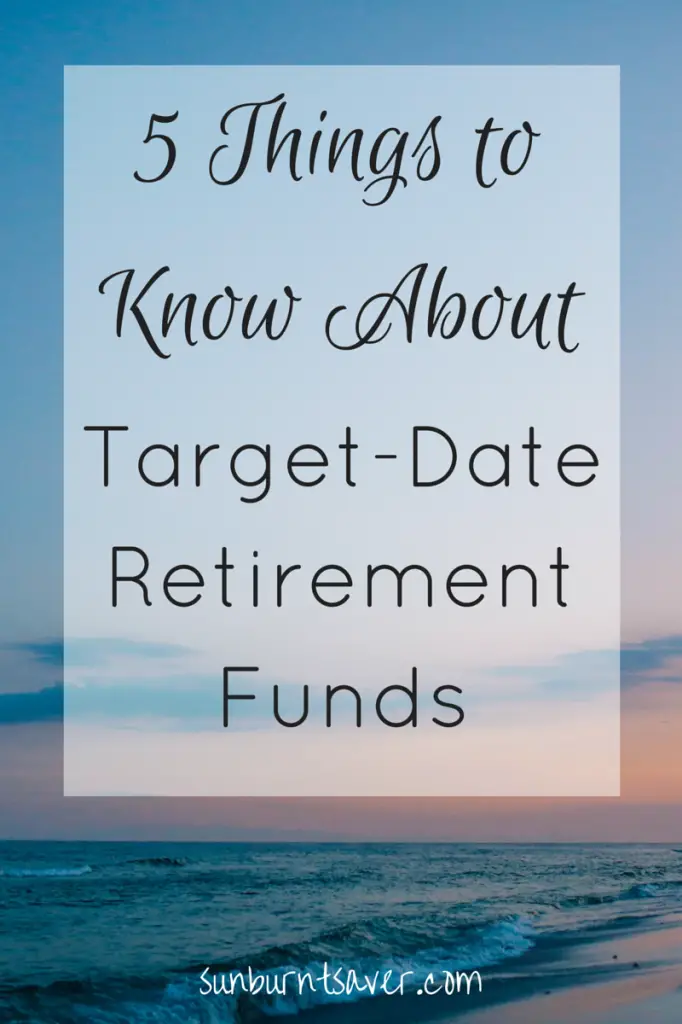 According to the SEC, target date retirement funds are also known as target date funds or life-cycle funds. They are often mutual funds and hold a mix of stocks, bonds and other investments. They are designed to be long-term investments for individuals with certain retirement dates in mind. The name of the fund often refers to its 'target date' – for example, if I planned on retiring by 50, my fund could be named 'Retirement Fund 2040' or 'Target 2040'.
Over time, the mix of investments in your target date fund shifts according to the fund's investment strategy. That is, as you approach the date of your retirement, the fund re-balances away from stocks and more towards bonds. If it were 2035, my fund would probably look a lot more conservative than it did in 2014.
As with many investments, returns on target date funds are not guaranteed. It depends on how the stock market is doing, and when your 'target date' is up, you may not have as much money for retirement as you expected. It's a good idea to keep an eye on your investments, be realistic about your future, and not depend entirely on one investment to see you through your golden years.
According to CNBC, there are more than 600 existing target-date funds out there, and each comes with its own fee structure, risk profile and asset mix. This makes performance measurement difficult – and means you will need to do some investigation into which target-date fund is right for you.
Be aware of 'to' and 'through' plans. In a 'to' fund, the asset-allocation mix for your target date retirement fund is set to reach its most conservative point at the assigned date. In comparison, the 'through' fund will continue to balance for growth well after the assigned date. In general, 'to' plans are more conservative, increasing cash and bond amounts dramatically in the last few years before the target date. The 'to' plan is generally seen as for someone who plans on cashing out the fund at the target date to purchase an annuity.
If you're interested in pursuing a target-date retirement fund investment option, always, always do your homework. Make sure to look for low-fees and check past performance. Don't forget: you can always do it yourself, balancing your portfolio every few years to be as aggressive or conservative as you need it to be. It may be a little more work than a 'set it and forget it' target date fund, but at least you will know exactly where you stand on your investments.
Personally, if work ever offers a target date retirement fund option, I would probably look into it. For now, I have my 401(k) (which I just rebalanced this year to be more aggressive), and a Roth investment account. For me, that's enough to keep track of at this moment!