This post may contain affiliate links, which means if you click through and purchase something using my links, I receive a small commission. You can click here to read my disclosure policy ? Thank you!
Your parents were right: standing up straight really is important! If you'd like to live out your years hunched over, walking slowly, and in chronic pain, ignore this post at your peril. However, if you'd like to live with full vitality, it's really important you use this post to your ultimate advantage.
As a full-time officer work and part-time freelancer, I spend the majority of my day at my desk, typing. I'm willing to bet that a lot of you are very similar – while you may take breaks to walk around, your time spent walking around likely pales in comparison to how much time you spend sitting. Some of us are lucky enough to get some exercise in, either with the kids or on our own, but even then, we can't ignore the importance of good posture throughout the day.
Keeping your body properly aligned is not only good for your health, but also helps to alleviate feelings of depression and stress, and increases your energy. If you're one of the millions of officer workers (or freelancers) who spend the majority of their time sitting at a desk, avoid this huge potential health hazard by with these 4 steps to perfect your posture.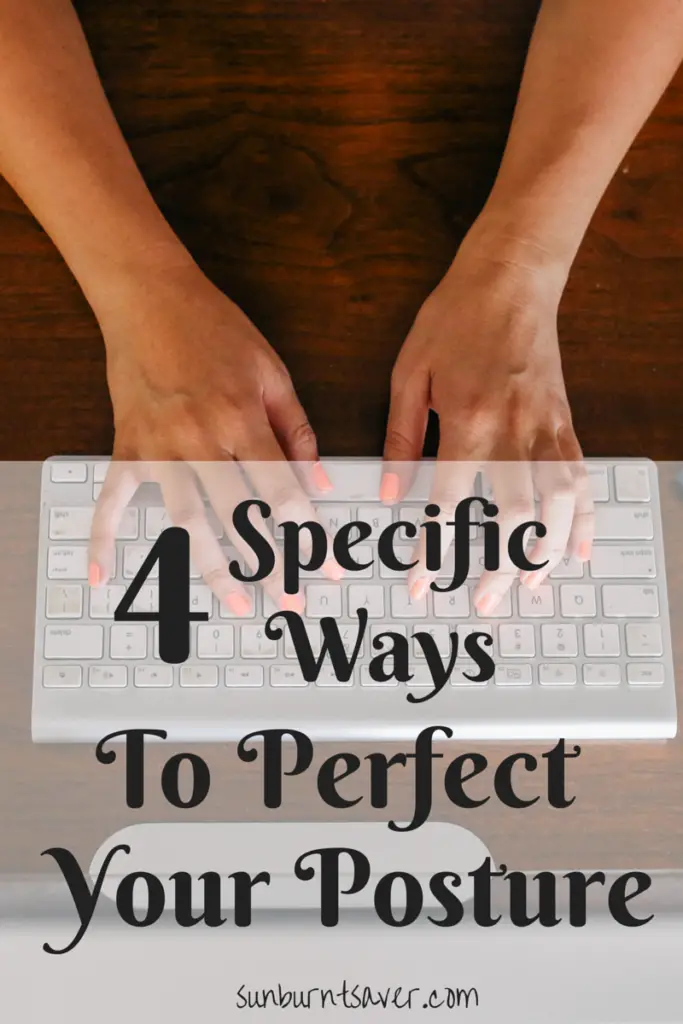 Get Up and Walk!
One of the best ways to improve your posture and health is by getting up occasionally and walking around your office. Sitting for a long period of time leads to poor circulation, which can cause a myriad of problems including deep vein thrombosis (DVT). While most people equate DVT with sitting on an airplane for a long period of time, it also can happen just from sitting too long in your office chair.
Sometimes getting stuck in your chair happens, either because you received a call or your boss decides now is a good idea to go over that project from two weeks ago. However, most of the time you're probably able to leave your desk pretty freely. If so, set a timer for yourself to stand up, stretch, or walk around once an hour. You can set this timer either on your computer (add it to your calendar) or on your phone to remind yourself.
I started doing this recently after I realized that I occasionally go 2 hours without getting up from my desk. 2 hours?! Can you believe that? I was actually pretty disappointed in myself, because usually I get up once an hour just because I drink so much water at my desk. However, since setting a timer on my phone, I definitely remember to stand up and walk around, if I'm not tethered to my phone. It's also made a difference in my snacking, as I don't get bored and start mindlessly snacking. Win-win!
Improve Your Balance at Home
One of my favorite ways to maintain balance (and perfect my posture) is through at-home exercises. This works for all the freelancers who work from home, or the lucky individuals who are allowed to telecommute from their homes!
The Huffington Post has a great at-home exercise I like to do on a semi-regular basis: "Stand near a wall or better yet, in a doorway. Adjust your posture. Then raise one leg, bending at the knee so that your thigh is parallel to the floor. Hold that position for 20 seconds. Repeat on the other side. Do NOT flail your arms or twist and splay your body in an effort to stay balanced. If you feel that you cannot hold the pose, then reach out to the wall or doorway to steady yourself. Over time you'll be able to hold the pose without gripping the wall."
When I'm feeling too lazy to do that, I'll also just do the yoga "tree pose" around the house, and that looks like this:
Try These At-Your-Desk Tips
Whether you're at your desk at the office during the workweek, or at your desk on the weekend (side hustling, FaceTiming your friends, or just bumming around Pinterest or Facebook), there are always tips you can use to stretch at your desk.
I've found these tips to be really useful for people who can't leave their desk quite as freely. When I worked as an office assistant, I basically had to be at my desk no matter, even if I was on "break" eating my snack. If you're one of those people who has to be at your desk for a long period of time, try some of these little tricks to perfect your posture:
Pull your shoulder blades back. Draw your shoulders back and down, which will naturally push your chest forward and your head higher. This will keep you from hunching and rounding your shoulders, which contributes to back pain and poor posture.
Uncross your legs! I had no idea how much this helps until I consciously started to uncross my legs. Before, I would cross my legs all the time – it was a habit. However, after working at my desk for a few months, I started to get horrible back pain. Realizing I was probably too young to have such pain, I went to a massage therapist who told me I probably was crossing my legs too much. Lo and behold, just by uncrossing my legs the majority of the day has really eased my back pain!
In this case, uncross your legs and put your feet on the ground next to each other. If your feet don't touch the ground, lower your chair or place a footrest (a small box or lid will do – trust me, I've tried it!) so that your feet are resting comfortably on the floor. This will help any lower back pain you have and help you maintain that perfect posture.
Roll your head from side to side, back and forth, and occasionally rotate your body from the waist. This post also gives you some good ideas for chair exercises, but the bottom line is to get a little movement in at your desk. Close your eyes, giving your eyes a break, and rotate your head to give your neck a little break, or do some of the exercises below (click to enlarge).

Credit to Pulse for this image.
Not sure if your posture is really that bad? Download the PostureZone app (free for the basic version), designed by a chiropractor, to pinpoint imbalances like uneven hips and take suggestions for how to improve your posture.
For the ladies (or maybe adventurous guys?), you can buy the Intelliskin Empower Sports Bra. This sports bra has elastic bands sewn into the fabric that press on different muscle groups, encouraging them to stay in proper alignment and helping you stay upright. Check it out here.
How do you make sure you get breaks throughout the day and maintain good posture? Do you have trouble reminding yourself to take breaks throughout the day?