This post may contain affiliate links, which means if you click through and purchase something using my links, I receive a small commission. You can click here to read my disclosure policy ? Thank you!
In my quest to lead a healthier lifestyle, I've been going for New York Tennis Lessons and to the gym more often for exercise. I don't know about you, but I have specific "gym clothes" I wear when I get in the zone to work out. I like cotton t-shirts, moisture-wicking pants/shorts and socks, and shoes that, you know, don't squeeze the top of my toes too much when I run. I love buying clothes and dresses, but buying gym wear is so boring!
Since going back to the gym, I've noticed my clothes are… well, lacking. Beyond faded shirts, which are really no big deal, my clothes are also starting to get holey, worn out, and are losing their elasticity. Being the frugal, I kept thinking, "oh, who cares what you wear? You're going to the local YMCA, not some fancy, expensive private club!"
While that's true, I noticed one thing about that line of reasoning: it made me uncomfortable. Physically uncomfortable. You see, I was so bent on saving as much money on my gym clothes (aka clothes I don't care about) that it was impeding my ability to actually exercise.
I spent more time dealing with blisters (because my socks were holey) and adjusting ill-fitting tops (pulling them down because they kept showing my stomach!) that I really began to dread working out.
And, you know, I already don't totally love working out as it is. Something needed to change (and no, it wasn't going to be giving up the gym!) I finally broke down and re-evaluated my gym clothes practically and reasonably. If it hurt me, or I had worn it in college (now almost 6 years ago…), it had to go.
Here is my list of how you'll know it's time to replace your gym clothes – let me know if there is anything you'd add (or take away!) to this list as well!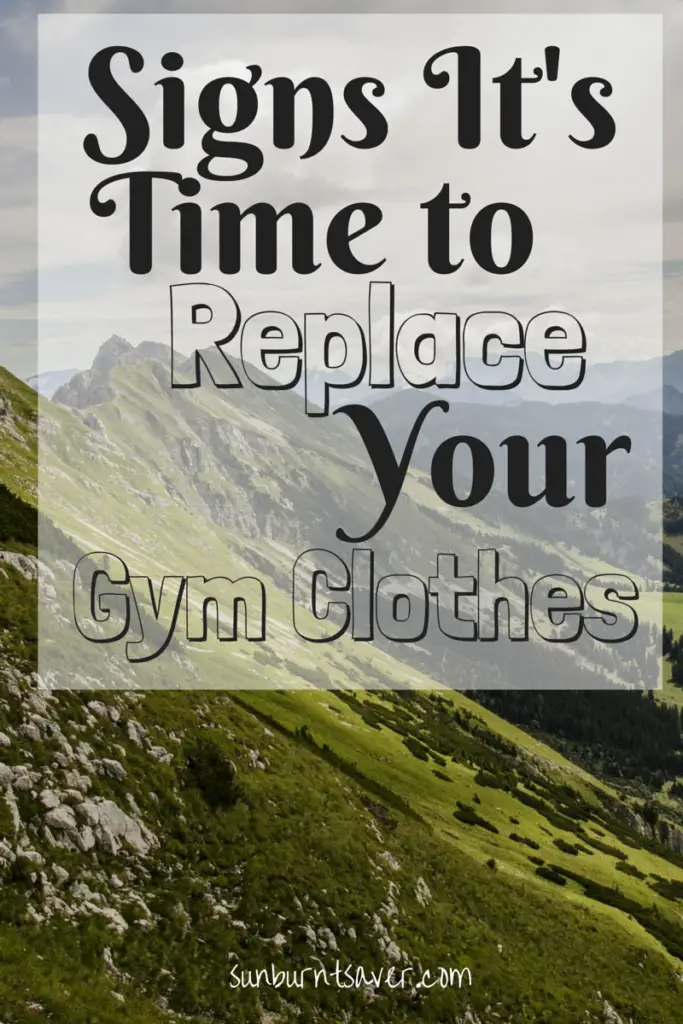 Holey Pants and Shirts
It's time to face facts, people: holey clothes just aren't cool. Even if you're trying to do ratty-chic, or show how much you don't care about how you look, just stop. Little holes here and there start to turn into bigger holes, eventually. Unless your hole is in the armpit, and then maybe you can turn the shirt into a tank top, just don't do it.
Hard and fast rule: if your pants feel loose and you have to almost constantly readjust them, it's time for new ones. If you're adjusting your shirt (like I was) down because it's shrunk in the wash, time to toss it. Definitely get rid of your pants once the fabric thins out so much that you can see through them! I don't know about you, but it's not scandalous to wear see-through pants, it's just sad.
And yes, I was rocking see-through (in the butt, no less!) pants for a while. Those pants were so comfortable! But they were also so old and needed to go. Also, I was over the creepy stares from people (or maybe they were "oh, that poor girl needs new pants" sad-stares?)
Smells that Won't Quit
When your clothes (and workout essentials) have become so grungy that they continue to smell, even after you wash them, it's time to toss it.
I've luckily never had this happen to me (or maybe my nose isn't that good, haha), but we've all been there: that one guy (or gal) who brings their grimy yoga mat to class and it smells rank. You switch positions just to get away from the smell, but the smell haunts you wherever you go. It's terrifying… and totally preventable!
To prevent funky yoga mat (or any kind of funky gym clothes) smells, always make sure to air out your gym stuff. Don't leave your clothes and mat piled up in the trunk of your car, begging to see sunlight. Let them free! Or at least toss them into your washer within a day or two (check your yoga mat washing instructions first).
Loss of Elasticity
Loss of elasticity is something that I ignored for too long (and still do to this day – it's an ongoing battle, friends!) But losing elasticity really hurts in the long run. In particular, get new socks once they start drooping or thinning out at the ball of your foot or around your toes. Take it from me – not only did I get blisters on my feet, I also got blisters on the back of my heels because my shoes were rubbing so much. Not fun!
Ladies, this one is for you: how does your workout bra feel? Does it still do its job? Or are you concerned that one day, while doing jumping jacks, you may get hit in the face by your boobs? You can avoid boobs to the face with the right bra!
If your bra is so loose that it hurts to work out, it's time to get a new one. When you're getting blisters from your falling-down-socks, it's time to get new ones. And for heavens' sake, if you're pulling up your pants every 5 minutes because the elastic band is shot, get new ones!
What About Shoes?
Ah yes, shoes! Theories abound about when you should replace your shoes. Some people say every 6 months you should replace them, some say every 200 miles, and others tell you to go on your "feelings."
When workout shoes cost $80+, who wants to buy them on a regular basis? In this case, I say go with your gut for the most part. If your shoes are causing you pain (shin splints, knee pain, back pain), it's time to get new ones. If you're lacing up your shoes tighter to make them fit better, it's time to get new ones.
Need a better rule of thumb? I like the idea that if you use your running shoes less than 4 times a week, you should be good getting new shoes every 8 to 12 months. Personally, I'm going on the year mark with my current running shoes, and I'm just starting to feel that painful (aka new shoe time) feeling.
As with the rest of your workout gear, take care of your shoes! Loosen the laces after you take off your shoes, and store them in a cool, dry place (aka not in your smelly trunk). If you can, try to rotate your workout shoes so you don't wear one pair out as much.
While it can be hard to tell sometimes when it is time to replace your gym clothes, the above guidelines are definitely a step in the right direction. Not only should you eventually replace your gym gear, you can also take better care of it with these tips, and lengthen the life of your clothes in the process.
Oh, and remember what I said about getting rid of anything from college? I may have lied a little about that… I kept two basketball shirts from my college – still long enough, comfortable, and, well, I love repping my college! That will never change 🙂
Do you have any rules about replacing your workout gear, or do you generally rely on your gut? How long have you had your workout gear, and what's your favorite piece of gear (exercise ball, old ratty t-shirt, resistance bands, etc.)? How did you know it was time to replace your gym clothes?