This post may contain affiliate links, which means if you click through and purchase something using my links, I receive a small commission. You can click here to read my disclosure policy ? Thank you!
On Tuesday, we shared our reasons for side hustling. If you haven't told us why you are side hustling (or want to side hustle) – stop! And click here to tell us why you're hustling. 😉 Trust me, by sharing your aspirations for your side hustles this year, you're much more likely to succeed!
Okay, so you know why you're side hustling: whether it's to make some extra money to put towards debt, or to supplement income like Tonya, you have a goal. But if you're not already side hustling, how can you get started making money right away?
Here are three ways you can get started with side hustling. All of these options will pay you right away, although the payouts may be small at first. Some of these ideas will allow you to charge more as you improve, while others may stay small. Either way, all of these ideas will get you some cash right away – and might be a fun way for you to earn some extra money!
Related: 16 Side Hustles You Should Start!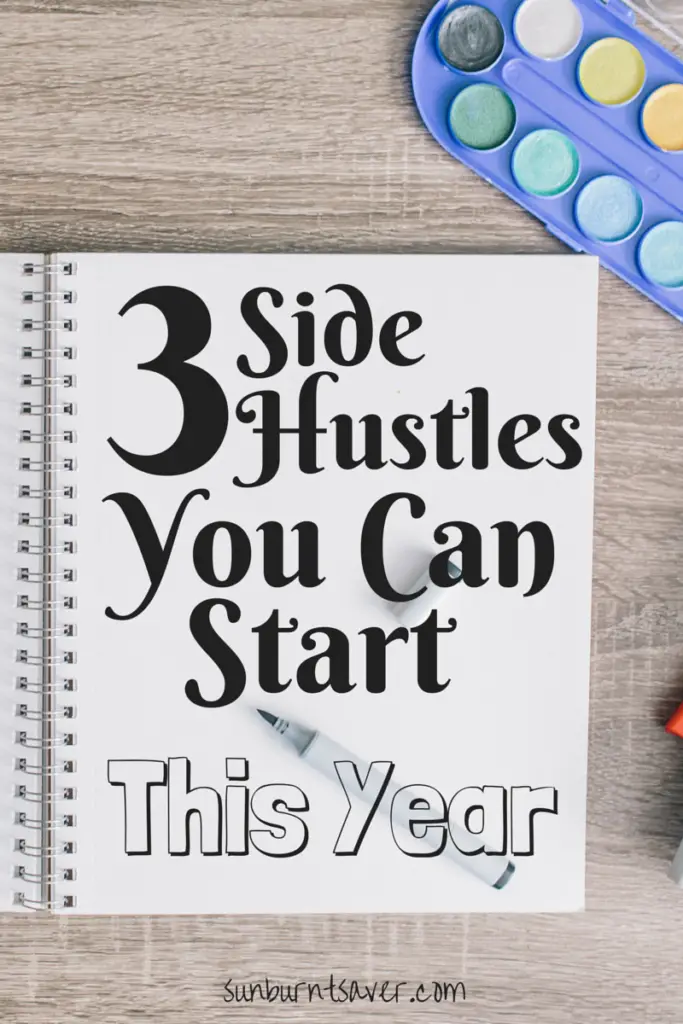 Side Hustle Idea: Writing for TextBroker
As I mentioned on Tuesday's post, if you're a decent writer and want to break into freelance writing, try Textbroker.com. With Textbroker, you're given various writing assignments paying anywhere from $5 to $50, depending on how long you've been writing and your track record for successfully completed assignments.
If you're curious about how Textbroker works from someone who currently writes for them, check out this post by Beyond Your Blog about a writer who currently makes a living writing for content mills like Textbroker.
While Textbroker is a content mill site, and not everyone thinks highly of them, one of the best parts of Textbroker is it pays, and it pays quickly. If you're looking to make money immediately from your writing skills, Textbroker is one way to go. Best yet, you will start to build a portfolio that you can use to pitch to people looking for writers.
Not sure where to find jobs after you've built a portfolio? Check out ProBlogger's Job Board. Jobs will be all over the place in terms of content, but it's a good start – and you can use your Textbroker portfolio to showcase your varied writing credentials!
Side Hustle Idea: Mystery Shop
Not into writing, but don't mind shopping? Sign up to be a mystery shopper! With mystery shopping, you will expend some time becoming qualified to be a mystery shopper, and you will spend some time in the store interacting with employees. Be prepared to get creative with your answers: you're mystery shopping, so you can't tell the truth of why you're shopping for baby gear with no baby in tow.
While mystery shopping pays little at first, you will get paid and sometimes you will get free meals out of shopping as well, if you're given restaurant or fast food tasks. Curious about the realities of being a mystery shopper? Mel at Broke Girl Rich covers how she got rich (not really) being a mystery shopper.
While you won't make a ton of money being a mystery shopper, if you like to shop, don't mind being creatively dishonest, and can type up a decent report (or check some boxes) reviewing stores, it could be the perfect side hustle to do after work or on the weekends.
In addition to being a mystery shopper, you can sign up to take surveys or participate in focus groups. FocusGroup.com, which I've signed up for and worked with, emails you with a qualifying survey. If you fit the target demographic, than Focus Group calls you and asks you to schedule a time to be part of the focus group. Within one to two hours, you've made $75-$200!
Side Hustle Idea: Review Others' Websites
Do you visit other people's websites and immediately notice things they could improve? Are you good at summarizing what others could improve on their own websites? If so, you could make $10-15 reviewing other people's websites online and through your phone.
Similar to taking surveys, you will have to qualify as a target demographic before you are chosen to review a website. Beyond that, you'll need a computer and a microphone and the ability to review and summarize websites' usability and clarity.
If you're looking to start a side hustle, any of above ideas are great ways to get you started. Even if you don't want to be a freelance writer, or mystery shopper, or website reviewer, hopefully these ideas got your creative ideas hopping!
Another similar side hustle here is reselling industry relevant websites. For example, The SEO Dentist builds websites for dentists, and you can often resell these at a mark-up to local dental clinics.
Have you ever mystery shopped, written for content mills, resold websites or reviewed websites as a side hustle? What other ways do you side hustle for quick side income?
Are you looking for more ways to make extra money? Check out my newest post on making extra money here!