This post may contain affiliate links, which means if you click through and purchase something using my links, I receive a small commission. You can click here to read my disclosure policy ? Thank you!
Today we have an excellent guest post from Earn It Save It about entering sweepstakes! Do you think sweepstakes are a waste of time, or that you would never win them? I thought so too, so I started doing it casually while watching TV.
Once I won a few things, I was like… okay, this isn't the worst way to spend 20-30 minutes! Sweepstakes don't cost money and if you do them while multi-tasking, they can be an easy way to earn extra money or cool stuff (that you can sell… or use!)
Tracy from Earn It Save It shares even more strategies today on how to maximize how you enter to win with sweepstakes. Check out her article below for more tips on how to win sweepstakes every month.
Tracy Scott is a writer at Earn It Save It where they love finding new ways to earn money and save money online. PSST! They don't shy away from earning it offline either. Their aim is to provide tips, tricks, hints and on occasion – step-by-step instructions on how to improve the lifestyles of its readers in a fiscally fun and frugal way.
So, you have been entering sweepstakes for several months, and all you have to show for it is a silly t-shirt? Let's change that.
We are going to reveal the most critical tasks you can do to make sure you win sweepstakes every month of the year. Make the changes we suggest, and you should see an increase in prize winnings in the next 90 days. As with anything, it is all about consistency.
Let's get ready to win some prizes!
Set a daily sweeps time
One of the biggest reasons you are not winning sweepstakes every month is due to an inconsistent sweepstakes schedule. You must set time each day to enter sweepstakes. We recommend a 30-minute block of time every day. Because we all have lives to lead, we do not recommend any more than 30 minutes a day. However, here's the thing, this is every day, at least six days a week. Seven days would be best.
Yes, it takes that kind of dedication to win sweepstakes on a consistent basis.
ACTION STEP: One of the best times to enter sweepstakes is in the evening when you are watching your favorite television show. Use a timer to ensure that you are not entering sweepstakes for more than 30 minutes at a time. You do not want to get burned out.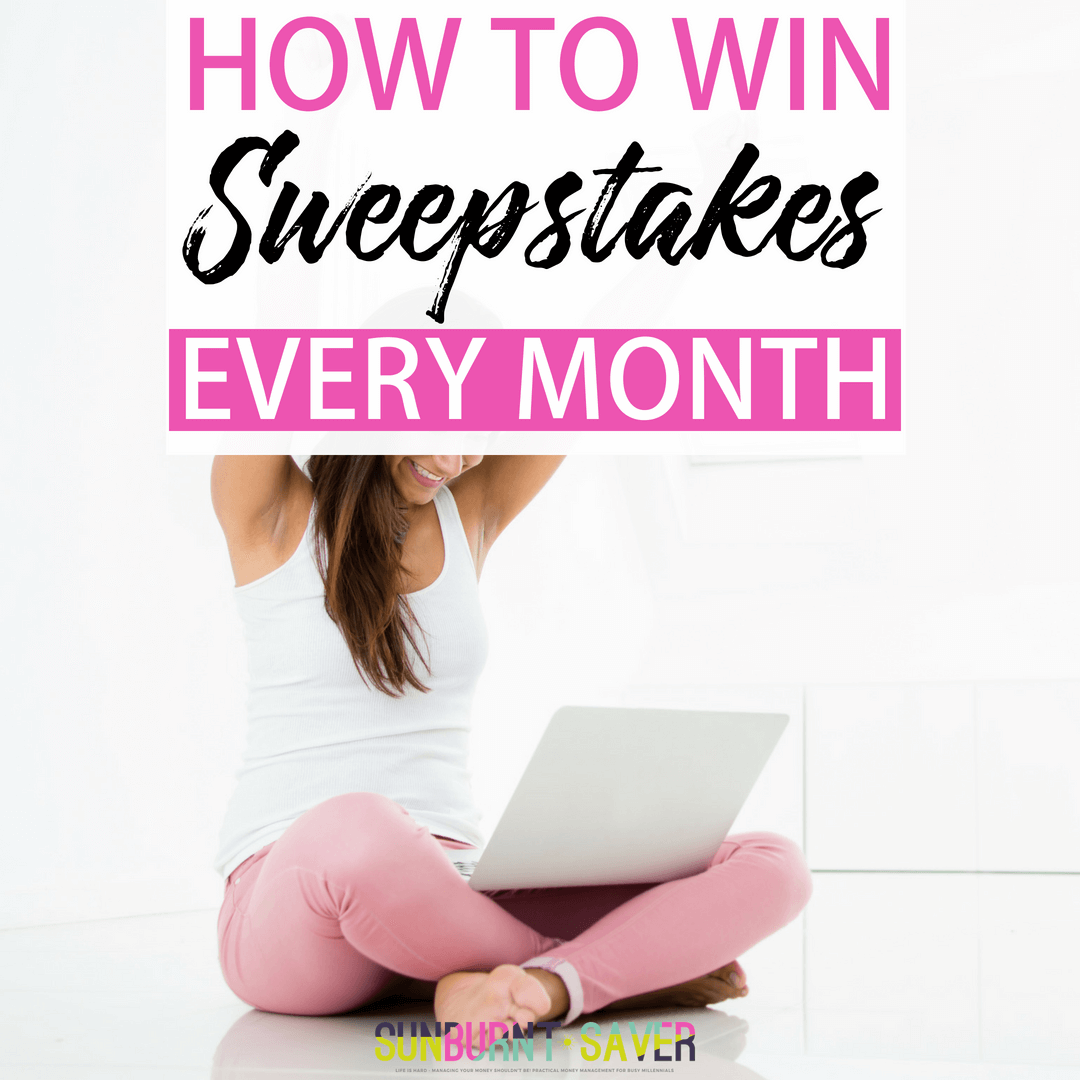 Use a sweepstakes aggregator
Don't waste time searching for sweepstakes one by one on the Internet. Use a sweepstakes aggregator instead. A sweepstakes aggregator is a website that collects sweepstakes from all across the web and posts them in one place. Two of the best sweepstakes aggregators out there are Sweetie's Sweeps and Sweepstakes Advantage.
We have used both and have had more luck with Sweetie's Sweeps. However, there's a catch.
Sweetie's Sweeps has an entirely optional "secret" site where members pay to learn about sweepstakes with limited entries. The Sweetie's Secret Sweeps Community is like gold because sweepstakes posted are usually lesser known and quick ending. Now, that is a recipe for winning sweepstakes. The lesser-known sweepstakes with short entry periods mean a better chance of winning.
At the time of this writing, the secret Sweetie's Secret Sweeps site membership costs $30 a year. Sweepstakes Advantage has a Sweepstakes Plus Community with memberships that allow you to pay monthly or annually.
Both of these aggregators allow you to access plenty of sweepstakes for free on their websites. In fact, never pay to enter individual sweepstakes. The only reason we pay for an aggregator is it saves a ton of time, and it has already weeded through and sorted the best sweepstakes.These aggregators often separate the sweepstakes by categories. The categories can include the types of prizes, how often you can enter, and the location or the state in which the sweepstakes is open.
Another popular sweepstakes aggregator is Sweepstakes Advantage. We used to use the site before we knew about Sweetie's Sweeps. Sweepstakes Advantage is a great site to win instant win games. When we were using Sweepstakes Advantage, it was our consistent winner for instant win sweepstakes.
One of the best things about sweepstakes aggregators is that you do not have to track, in a separate document, how many times you have entered or if you have already entered a particular sweepstakes. These sites let you click a box to mark your entry. Depending on which sweepstakes aggregator you use, you may be able to look at your entry history over the past few months.
ACTION STEP: Sign up for the free versions of both Sweepstakes Advantage and Sweetie's Sweeps. After a month of using both of them, decide on which one you want to use as your primary method of sweepstakes entries.
Enter local sweepstakes
Did you know that television and radio stations often sponsor monthly online sweepstakes? We did not realize this either until recently. Only a few people in our local area know about this hidden source of cash and prizes. A decent amount of our winnings come from local radio stations. We do not have to listen to win. All of our entries are submitted online.
ACTION STEP: Perform a quick Google search of your local television and radio stations and go to their contest page. Bookmark the page and visit it daily for new sweepstakes.
Read the rules
The great thing about using sweepstakes aggregators is that by default the rules dictate the categories which appear on the aggregator's website. For example, if a sweepstake is only open to Kansas residents, it will only appear in the Kansas category. Another example would be sweepstakes that limit entries to one per household. Sweepstakes aggregators have already categorized sweepstakes by entry limit.
Read the rules when entering sweepstakes that are not part of the aggregated system to make sure your entries count. Television and radio sweepstakes entries are a perfect example. Some one-entry only sweepstakes will void your entry if you enter more than once.
Set Google alerts
You can set Google Alerts for the words sweepstakes, daily entry, one-time entry, or "your city" + "sweepstakes." Google Alerts is a great way to find sweepstakes not listed on an aggregator site.
ACTION STEP: Set up your Google alerts. Not sure on how to do it? Here's a quick tutorial.
Take these simple actions to help you win sweepstakes every month. We know they work because this is precisely what we do.
Have you ever won a sweepstakes? Share your win in the comments section. We would love to hear about it.