This post may contain affiliate links, which means if you click through and purchase something using my links, I receive a small commission. You can click here to read my disclosure policy ? Thank you!
Happy (almost) Thanksgiving to all my US-readers out there! It's a few days before Thanksgiving and, if you're like many Americans celebrating the holiday, you're probably getting your feast ready. Whether you're planning the whole thing, a part, or just bringing drinks, you're sure to shell out some money to partake in this delicious holiday.
From a casual Friendsgiving to the full big-family-and-all sit-down dinner, it's almost a given that Thanksgiving will be a pretty big expense in many families' budgets this year. How much of an expense? That depends on what you'll be buying this year for your feast. Read on to see how much you may pay this year, and ways to reduce the cost of your Thanksgiving feast this year!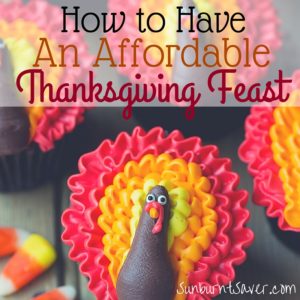 First, Are Prices More or Less Expensive Than Last Year?
Surprisingly, even though poultry producers were hit with a terrible avian flu, your frozen turkey is likely to be cheaper than your fresh turkey. This is because the frozen turkeys were raised, slaughtered, and frozen before the flu hit, making them cheaper and more plentiful.
More than 75% of us will buy a frozen turkey, but if you are set on getting a fresh turkey, expect to pay about 15% more than you did last year. Don't want to do a turkey? Ham is at an all-time low since 2009, so that might be an alternative. Can't imagine Thanksgiving without a turkey? These stores are offering incredibly cheap prices on turkey – and you might live near one!
For those of you, like me, who don't eat turkey, vegetarian and vegan feasts are still very affordable. This meal from Whole Foods is a pretty good deal: $60 for a vegan "turkey" meal for 4 with gravy, cranberry relish, mashed potatoes, and cornbread stuffing. Not too bad – if it's not already sold out!
How to Have an Affordable Thanksgiving Feast
While your turkey might be a little more expensive this year, don't worry – not everything has gone up in price! Here are a few things that have gone up, and a few that haven't:
Prices Have Increased For:
Eggs (just a little)
Potatoes
Squash
Sweet Potatoes
Stuffing
Rolls
Prices Have Decreased For:
Milk
Butter
Green Peas
Gas (not for your food, of course, but for driving to your Thanksgiving destination and beyond!)
Overall, prices are trending upward. According to the American Farm Bureau, it's estimated American families will spend approximately $52 for their Thanksgiving feasts this year, which is up $3 from the last few years (the estimate is based on feeding 10 people with all the trimmings).
You can have an affordable feast by looking for the best deals on turkey and your favorite side dishes ahead of time. While it may not be convenient, scour the online ads and see which supermarkets are offering the best deals for your recipes. You may need to drive around more, but one-stop-shopping is likely not your cheapest option when it comes to your Thanksgiving feast.
Consider making everything more potluck-like, too. Do you have to make everything yourself, or can you delegate desserts and drinks to other family members? Pies and alcoholic beverages can really add up, so having someone take care of those items would help your bottom line.
While many people would feel this is an insane request, you could also substitute some of your more expensive dishes. If apple pie is cheaper than pumpkin this year, you could choose apple over pumpkin – unless this would lead to rioting in your family, in which case it may be worth it to go for the more expensive pumpkin over apple!
Want to Go All Out?
I already mentioned Whole Foods as a complete-meal option for vegetarians, but if you want to go all out (and not worry about cooking any food yourself), you do have several options. Whole Foods offers turkey meals from $60-$140+, depending on where you live. These meals include stuffing and mashed potatoes, and are at the very least a good start to your Thanksgiving meal.
Many other supermarkets are also offering to make your Thanksgiving meal for you, but you'll want to call, email, or go in the store to see what your options are. While you're unlikely to score a great deal, you could save a lot of time and headaches by having a professional cook your meal for you!
Would you save time by having a store cook your whole Thanksgiving meal, or do you prefer to do the cooking yourself? How are you celebrating Thanksgiving this year, and what cost-saving measures are you using (if any)?