This post may contain affiliate links, which means if you click through and purchase something using my links, I receive a small commission. You can click here to read my disclosure policy ? Thank you!
The holidays are here! While it's a fun time of year, there are some people you have to buy gifts for that may make you sigh with aggravation. We all have those people who you can't find gifts for because they either have expensive taste or they just buy whatever they want when they want it. To help you out, we've found some gift ideas that everyone would love, and they are all Great Gift Ideas for Less Than $50.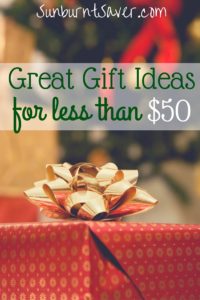 Funny Mug With Coffee – An easy gift idea for under $50
People love their coffee, and they love to put it in a funny mug they can show off to people at work. You can find many mugs online to choose from, so you can select the perfect one for your loved one.
You may need to do some investigating to find out if they brew their coffee or use a Keurig machine (we love this one!). Once you find out, you'll know what type of coffee to purchase. Stick with a medium body since not everyone likes bold or light.
Kitchen Gadgets
If the person loves to cook, you can put together a gift basket of kitchen gadgets. Look for ones that are not as popular such as an herb stripper or a KitchenArt Auto Measure Spice Carousel. Put a few together until you reach $50 and you'll have a great gift.

This may seem out of the ordinary, but it will be appreciated as soon as the person uses it. Everyone can use a little extra spend money on Amazon. Grabbing an Amazon gift card for them helps them avoid some regular household expenses or treating themselves to something nice.
Get one for $50 and you'll be all set.
Just like you can find kitchen gadgets and add them to a basket, you can do the same with body care. Pick up some body lotion, salts and some other essentials for a DIY spa experience, and you'll have a gift that will relax your loved one. Buy their, or other great baskets here. 

There's nothing like a cozy blanket during the winter months. While you may not be able to get a huge blanket for less than $50, you can certainly find a throw. Look for sales, so you can get the most for your money. Get this blanket here.
People love to light candles because they give off a relaxing glow and if they have essential oils in them, they release a sweet scent. You can usually purchase at least two candles, depending on the size, for less than $50.


Buy these relaxing candles here.
Board Games
They aren't just for kids. Look at the many board games for adults such as Battle of the Sexes or I've Never …. These games are about $25, so you can get two for a great bundle. This is perfect for friends you usually get together with for game night.

Personal Prints
If you have any great pictures of something the gift recipients like, you can always have them printed and framed. You can also have them put on a canvas. Some good ideas are pictures of the person's dog, baby or someone or something that means a lot to him or her.
You now have some great gift ideas for less than $50. Go ahead and start shopping without going broke!