This post may contain affiliate links, which means if you click through and purchase something using my links, I receive a small commission. You can click here to read my disclosure policy ? Thank you!
Mother's Day is around the corner, which means you're probably getting bombarded by ads telling you to buy things for Mom. Yeah, jewelry stores, I'm definitely going to buy my Mom those earrings that cost more than my engagement ring. Seriously, is that a thing?
Mass consumerism aside, most people do something for Mother's Day. However, a lot of the typical Mother's Day celebrations usually involve lots of money – flowers, jewelry, dinner out. Not saying you shouldn't cheap out on Mom (Mom, I am planning on doing something for you! :)), but there definitely ways to have a frugal Mother's Day.
Whether you're celebrating with your Mom, someone else's Mom, or yourself (for fur-babies and/or real babies!), you can still celebrate the day and not break the bank! Here are a few ideas for a successful frugal Mother's Day.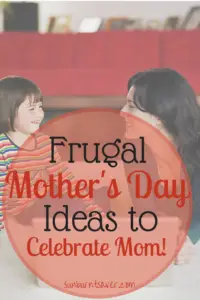 Stay Inside!
Let's face it, Mother's Day, the actual day, is insane. Whether you're going out for brunch, dinner, or anything in between, you're going to be competing for tables with lots of other people and their mothers. Why wait for 40 minutes or more just to get a table, only to find your server is tasked with serving 6 (or more) other tables and can't give you his/her full attention?
Better than that, stay inside! If you're a decent cook, offer to go over to Mom's place and cook up brunch or dinner. Personally, I'm a big fan of making breakfast or brunch for people. I'm a terrible cook, but even I can put together Bisquick pancakes. If you burn them a little, then just put on more toppings (banana or strawberry slices, chocolate chips, maple syrup) to drown out the burnt taste. Same goes for eggs – if you burn them, just add more salsa or topping of your choice to mask the burnt taste!
Really not a good cook? How about baking? You can make Mom muffins (carrot, lemon, etc. if she wants to be healthy) or cupcakes for a dessert celebration! Worst case scenario? You can buy some cupcakes or cookies at your Mom's favorite store. While you'll spend a little more money, at least you know the dessert will taste good!
But Mom Really Wants to Go Out For Mother's Day…
If Mom really, absolutely, completely wants to go out for Mother's Day (or if it's a family tradition) you might have to just do it. Be aware that some restaurants will charge more for Mother's Day "specials" though!
If you're taking Mom out to a restaurant, see if anyone is up for splitting the cost of the meal with you. Have siblings? It's time for them to chip in! What about Dad? Tell him you'll make sure to get him something good for Father's Day if he splits the cost of the meal with you.
If that's not possible, consider alternative options. Do you have to go out on Sunday, or can you take Mom out on Friday, Saturday, or even Monday? Some Mom's want to celebrate on Mother's Day proper, but many are fine with another day as long as the day is recognized. If your Mom is flexible, this is a great way to save some extra money.
Surprise Mom with Luxury
Not saying you have to get Mom a full-on spa day, but consider giving her a little treat. If I remember (which happens occasionally!), I'll book a massage for my Mom way in advance. Whenever the spa closest to my Mom offers specials, I book the discounted rate for either my Mom's birthday or for Mother's Day.
If a local spa isn't running any specials, you can always make Mom your own spa kit. Put together a tote of bath bombs (Lush's bath bombs are pricey, but amazing, or for some that are just as nice but more reasonably priced you can always try the bath bombs from amazon.com), a relaxing-smelling calendar, and some pampering lotion, and Mom now has a spa whenever she wants!
Mom too busy for any sort of spa day? If you're surprising a Mom with younger kid(s) on Mother's Day, you know what she might want? Some peace and quiet! A friend of mine is taking his daughter out to a baseball game – an all-day event, just Daddy and daughter. His wife is really looking forward to it, because she's planning on sleeping in, eating and doing whatever she wants at home, and getting some peace and quiet. Don't underestimate what a quiet day might mean for Mom's with younger children! 🙂
If Mom Likes Photos
Sometimes Mom just want photos! Maybe you live far from your Mom, or your siblings and their kids are far away, and Mom wants to be able to have more family photos. Enter: Shutterfly!
Shutterfly is almost unbeatable for anything photo-related. I say "almost" because Costco may be cheaper, but Shutterfly runs so many deals, in the long run, Shutterfly is a steal! I fell in love with Shutterfly thanks to a mention by DC from Young Adult Money. His advice? Wait for those Shutterfly deal emails, when you can pay close to nothing for photo prints, and score 50% off or more on photo-mugs, calendars, stationery and more.
For a Mom that just wants to see more pictures of your beautiful face (or your pets, children, etc.), get something from Shutterfly! Shutterfly is currently offering 50% off a custom photo book. Collect all your photos, add them in whatever order makes sense (chronological, handsomest child first, youngest kid in the back, etc.), review and approve your order, and voila! A beautiful photobook just for Mom – and no one has to know how much you paid for it 🙂
However you celebrate Mother's Day, I hope your day is fun, relaxing, productive… anything you want it to be!
What are your plans for a frugal Mother's Day this weekend? If you don't have any plans for Mother's Day, how are you avoiding the crowds this weekend?